6-Banner Sunday: IU men and women fall to Miami (FL) to end 2022-23 season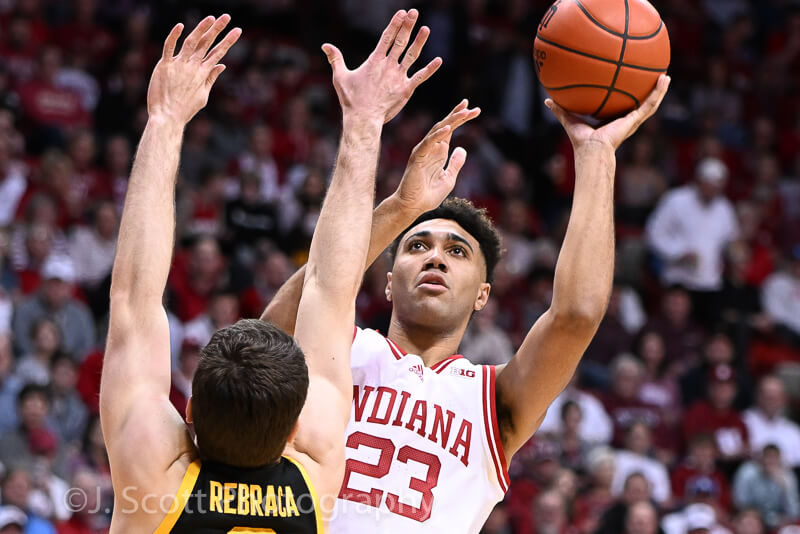 6-Banner Sunday is Inside the Hall's weekly newsletter in partnership with The Assembly Call. More than 9,000 Indiana fans receive the newsletter each week. In addition to appearing each week on the site, you can also opt to receive 6-Banner Sunday by email. A form to subscribe via email is available at the bottom of this week's 6-Banner Sunday.
Welcome to another edition of 6-Banner Sunday, a joint production between The Assembly Call and Inside the Hall, and presented by our friends at Trueblood Real Estate, where we highlight the five most essential IU basketball stories of the past week, plus take a look at how the other IU sports programs are doing.
Indiana is not a state that ever sees Hurricanes but they were taken out by a couple of them this week. Both the men's and women's basketball seasons ended abruptly last Sunday and Monday night to Miami in unexpected fashion.
With play now over, both squads will look to next season and potential help in the transfer portal for the men especially since they likely lose top talent to pro basketball. Also, Assembly Call and Inside the Hall had new shows this week. We will as usual conclude with a look at how other IU sports are doing, led by success on the diamond.
In brief news, former coach Bob Knight's team manager Dusty May has taken Florida Atlantic on a Cinderella run to the Final Four.
• Hoosiers dominated by Miami in second round NCAA tournament loss
• Women's basketball falls to Hurricanes in second round of NCAA tournament
• Transfer portal heats up
• Draft stock update for Jalen Hood Schifino and Trayce Jackson-Davis
• Assembly Call and Podcast on the Brink
• Hoosier Roundup – Strong play continues for baseball and softball
Banner #1 – Hoosiers dominated by Miami in second round NCAA tournament loss
After Indiana knocked off Kent State to reach the round of 32 for the first time in seven years, the Hurricanes defeated the Hoosiers in dominant fashion 85-69. IU fell behind early but managed to cut the lead to five by halftime. The Hoosiers continued that momentum into the final 20 minutes, led 51-49 and were within four points with ten minutes left. However, Miami went on a 9-0 run at that point and the Hoosiers never seriously threatened again.
The season ended at 23-12 and was easily the fourth most successful since IU's last Final Four appearance in 2002 (behind 2012, 2013, 2016). It also tied the 1998 season for the fifth most overall victories since 1993. The team also finished tied for second place in the conference. This equals 1996 as the highest placement Indiana has had in the Big Ten since the aforementioned '93 season outside of the 2002, 2013, and 2016 league championships. Also, a sweep over top-seed and arch-rival Purdue was a high point. However, for a campaign that started with IU as the conference favorite, there is some sense of underachievement. This is despite a season ending-injury to Xavier Johnson and multiple games missed with various ailments by Race Thompson, Trace Jackson-Davis, and Jalen Hood-Schifino.
Afterward, IU coach Mike Woodson spoke as did Hurricane headman Jim Larranaga, Justin Albers had a Minute After, Alex Bozich penned Five Takeaways, while William McDermott wrote a column recapping the 2022-2023 season.
Banner #2 – Women's basketball falls to Hurricanes in second round of NCAA tournament
As bitter as the men's team loss was for Hoosier fans, the women's team getting upset by Miami in the round of 32 was an even harder pill to swallow. While the men were likely to get bounced at some point before reaching the Final Four, the women were widely seen as the second most likely team behind South Carolina to cut down the nets and be crowned the nation's best. However, with a banged-up Mackenzie Holmes (who was named an award finalist for the top player in women's college basketball), IU struggled against the Hurricanes and fell into a hole early. They did rally and make it a thriller in the fourth quarter. However, despite tying the score several times late (including two clutch three-pointers by freshman Yarden Garzon in the final minute), Destiny Harden hit a short jumper in the last five seconds for a 70-68 Miami victory.
The season ended for IU at 28-4 and topped the most wins in program history by four games. It also featured the first Big Ten Championship in 40 years in what was the toughest the league has ever been. It had five top-15 teams and three are still alive in the Elite 8. Still, the Hoosiers failed to advance to the Sweet 16 for a third consecutive season despite being a number-one seed for the first time. The defeat was also the final game for Hoosier legend Grace Berger. Inside the Hall's Amanda Foster had a column recapping Berger's spectacular career. Also, Assembly Call had an article for subscribers of its Community recapping 2022-2023. The closing thought sums up for Indiana fans what can happen as an Elite squad in March Madness once you become the hunted: "Upsets happen all the time in the NCAA Tournament but Indiana has not been good enough to experience them at the rate other schools do. If this high level of success keeps up, it will happen again, and for IU fans that should be the goal for both basketball teams on campus".
Another massive success for the women's team was at the box office. The team saw 145,868 fans come to watch in Assembly Hall this season, beating the old record of 86,149 by nearly 60,000. Also, an individual average of 8,104 smashed the old mark of 4,726. 2022-2023 also saw the four largest and seven of the 10 highest attended games in program history including the first-ever sellout. The team exceeded 10,000 fans six times and had spectators in the balcony on four different occasions. Before this season, the Hoosiers had only gone over 10,000 twice and needed the balcony once.
Also because of the terrific campaign, IU coach Teri Moren was named a national coach of the year finalist.
Banner #3 – Transfer portal heats up
With a bow now on 2022-2023, both teams look ahead to next year.
For the men, the transfer portal will need to be a godsend with stars Jackson-Davis (who was named an award finalist for the top player in college basketball) and Hood-Schifino almost certainly off to the NBA, and Thompson and Miller Kopp having their eligibility expire. With that said, the transfer portal can both give and take away. Already sparingly used Logan Duncomb has announced he is moving on and others may follow. Inside the Hall has compiled a list of all players transferring in the Big Ten and info on the portal in general. As for who Indiana might bring in, both Towson's Nick Timberlake and Harvard's Chris Ledlum have been linked to the Hoosiers. IU has also been connected with two familiar names in Minnesota's Jamison Battle and Wyoming's Graham Ike. So far no one has committed to Indiana, but the team figures to be busy searching for reinforcements in the portal given the personnel losses.
For the women, their team is in terrific shape to once again compete for a national title in 2023-2024. Besides Berger, every major contributor returns. A big key though will be keeping Holmes' knee healthy during another March run after it has flared up late in each of the last two seasons. With two highly-ranked freshmen coming in and few open scholarships, the team figures to use the portal to a minimum although they may add a couple of bodies there. Player movement on the women's side can be tracked on this website.
Banner #4 – Draft stock update for Jalen Hood Schifino and Trayce Jackson-Davis
As mentioned above, Jackson-Davis and Hood-Schifino will almost certainly be in the NBA draft in June. Inside the Hall complied a list of where both might be taken this summer.
Hood-Schifino figures to hear his name called first given that his skill set fits perfectly in the NBA as a point guard. Projections have him going in the first round anywhere between 11th and 27th. Jackson-Davis meanwhile is projected lower. Sources have him taken anywhere between 29th at the very end of the first round to 58th in round two.
Banner #5 – Assembly Call and Podcast on the Brink
Assembly Call and Inside the Hall both had new shows this week. ITH's Podcast on the Brink recapped IU's season with Rick Bozich.
Meanwhile, Assembly Call had shows following both Miami games. AC Radio was also on the air Thursday to discuss the beginning of the offseason and the transfer portal.
Banner #6 – Hoosier Roundup – Strong play continues for baseball and softball
• Baseball continued its hot play with wins over Indiana State and in their Big Ten opener against Ohio State to improve to 15-7.
• Softball beat Maryland on a walk-off hit to open conference play for their 13th straight win.
• Men's Tennis swept arch-rival Purdue to open Big Ten play.
• Water Polo lost to USC but beat Whittier on Saturday.
• Swimming and Diving finished fourth at the National Championships.
• Track and Field competed at the Raleigh Relays.
• Rowing had its opening competition at Oak Ridge last weekend and won three of four races this weekend.
• Field Hockey announced their spring exhibition schedule as well as a new assistant coach.
• 75 Hoosier athletes were named Winter Academic All-Big Ten.
Thanks for your continued support for The Assembly Call and Inside the Hall. We'll be back next weekend with a new roundup.
Now go enjoy yourself a 6-banner Sunday.
Aaron (Ari) Shifron
Assembly Call Contributor
Filed to: