The Minute After: Miami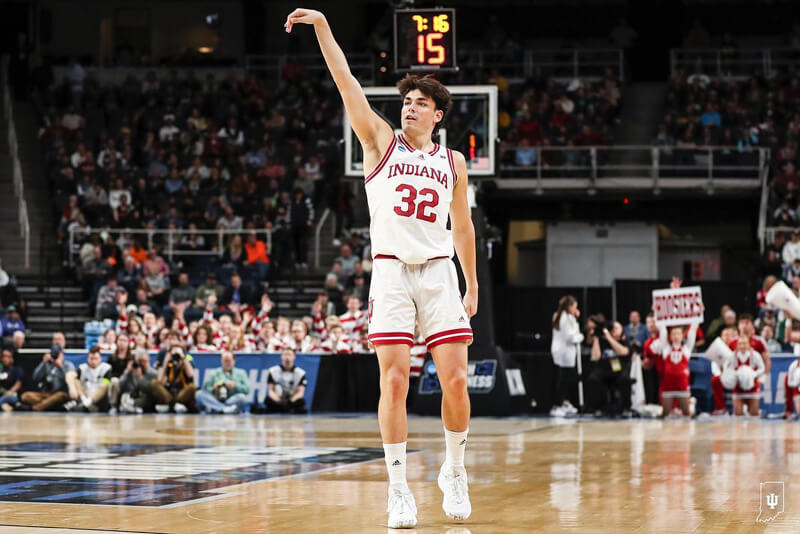 Editor's note: Ryan is out on paternity leave. Justin Albers will be writing The Minute After in his absence.
Thoughts on an 85-69 loss to Miami (FL):
Indiana advanced to the round of 32 for the first time in seven years – a tangible sign of improvement for a starving program. But in the end, the Hoosiers were who they were all season – a good but not great team that needed to play harder than their opponents to win at an elite level.
That didn't happen on Sunday night. Miami punched Indiana in the mouth early, and played harder than the Hoosiers for most of the game in an 85-69 win in the NCAA tournament's round of 32.
It was a bad sign that Indiana coach Mike Woodson had to tell his players to stop complaining so much within the first 10 minutes of the game. Moments later, with the Hoosiers in a 13-point hole early, Woodson yelled at his Trayce Jackson-Davis to wake up.
"This is big-time basketball," Woodson said of what he told his team during an early television interview.
You shouldn't have to remind your team (and first-team All-American) of that point at this point of the season, playing the ACC champs with only 32 teams remaining in the NCAA tournament. These Hoosiers had never been here before, and perhaps that had something to do with how they played.
But ultimately, the flaws that hurt Indiana all season reared their ugly head again against the Hurricanes. In Friday night's 'The Minute After', I wrote that Indiana needed to clean up one or both of its weaknesses to beat an offensive power like Miami – one being the offensive rebounding and the other being production from its bench. Unfortunately, the Hoosiers didn't clean up either one.
Indiana gave up 19 offensive rebounds to one of the smallest teams in the country in 13-seed Kent State on Friday, but the Golden Flashes missed 24 shots around the basket, and scored only 11 points off of those 19 second chances.
That had to be corrected to beat a top-20 offense like the Hurricanes – who are also not a big team – but it wasn't, and Miami took full advantage. There's no other way to say it. Indiana players repeatedly stared at Miami players when shots went up rather than putting bodies on them, and unlike Kent State, the Hurricanes made Indiana pay for the mistakes.
Miami had 20 offensive rebounds – including an astonishing 15 in the decisive second half – and turned them into 29 second-chance points (17 in the second half). The Hurricanes showed up ready to play, and after the Hoosiers responded to take a second-half lead, Miami shifted into a gear the Hoosiers either couldn't reach or were unwilling to go to on Sunday night.
Indiana was outrebounded 48-31 by the smaller Hurricanes, including 31-17 in the second half. The Hurricanes rebounded a staggering 51 percent of their misses. Miami looked the part of a team coming off an Elite Eight performance last year, and conversely, the Hoosiers looked the part of a team that was just happy to be in the tournament last year.
Indiana's bench, which has been an issue all season, was outscored 14-0 by Miami on Sunday after scoring only four points in Friday's first-round game. The Indiana bench was 0-of-7 from the field (all seven attempts came from Tamar Bates) in 33 total minutes. Bates was 0-of-13 in two NCAA tournament games.
Assuming he returns to Indiana, Bates will be one of the top returning players for the Hoosiers, joining Trey Galloway, Malik Reneau and, potentially, Xavier Johnson. If you're an Indiana fan, you hope this postseason experience inspires him in the offseason.
As for this season, it ends in a disappointing fashion. As I've written several times, this team was capable – maybe even Final Four capable – but their margin for error was incredibly slim. Woodson had to ride his stars all season long, and they were great. Jackson-Davis went for 23 points, eight rebounds, and five blocks on Sunday – he had 10 blocked shots in two tournament games – but he couldn't do it by himself against an elite offensive team.
Jalen Hood-Schifino, who most expect to declare for the NBA draft, finished with a respectable 19 points, but shot just 8-of-22 from the field and started the game slowly. His lackluster defense early helped Miami build a quick double-digit lead.
Hood-Schifino is a freshman – it's unfair to put all of the blame on him. But because of Indiana's lack of depth, the Hoosiers needed more from him to advance to the Sweet Sixteen. Indiana's bench never really materialized this season, and it showed. But Miami's bench isn't deep either. This game was won on the glass, and the Hoosiers didn't show up ready to compete at the level required to beat an athletic Miami team.
It's a sad end to what was a terrific career for Jackson-Davis, who put together one of the best careers in the illustrious history of the Indiana program. Indiana fans will not settle for a round of 32 exit – and they shouldn't – but Jackson-Davis played a large role in getting the Hoosiers back where they should be.
Now it's Woodson's job to take them even further in the future.
(Photo credit: IU Athletics)
Filed to: 2023 NCAA tournament, Miami (FL) Hurricanes