The Minute After: Kent State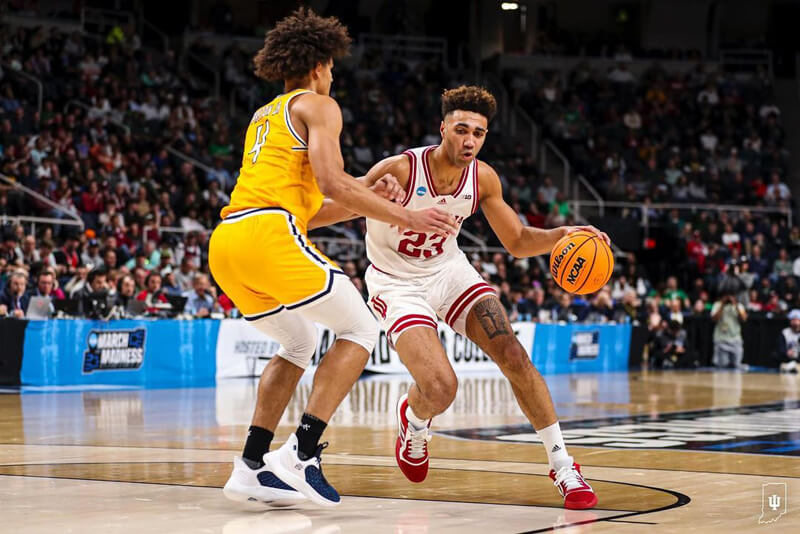 Editor's note: Ryan is out on paternity leave. Justin Albers will be writing The Minute After in his absence.
Thoughts on a 71-60 win against Kent State:
This Indiana team had waited a long time for an opportunity like this – and the Hoosiers made the most of it on Friday night.
For the first time since 2016, Indiana advanced to the NCAA tournament's round of 32 with a 71-60 win over 13-seed Kent State in a game it led for all but 15 seconds. The fourth-seeded Hoosiers will play 5-seed Miami on Sunday evening.
Given what we've seen through the first two days of the NCAA tournament – and what the Indiana program has experienced over the last seven years – you can't take anything for granted. The Indiana seniors made sure that didn't happen on Friday.
Desperate to avoid ending their collegiate careers without a true NCAA tournament win, Indiana's veterans were locked in against the Golden Flashes. Sixth-year senior Race Thompson was spectacular from the start, scoring 10 of his season-high 20 points in the first 6 minutes and 16 seconds. He brought a calmness that helped the Hoosiers settle in against a dangerous Kent State team.
Miller Kopp, a fifth-year senior, played one of his most complete games of the season – finishing with 13 points and five rebounds in 36 minutes – including three big 3-pointers, each coming after Kent State had made a little run.
And then there was Trayce Jackson-Davis, who took over the game down the stretch and killed the Golden Flashes' spirit for good. After back-to-back Jalen Sullinger 3-pointers cut Indiana's lead to eight with 9:16 left, Jackson-Davis scored three consecutive baskets over the next 97 seconds – including two highlight reel dunks.
The first-team All-American showed off all of his skills in front of a national audience, finishing with 24 points, 11 rebounds, five assists and five blocks. Jackson-Davis blocked two shots in the game's first three minutes, and after that, his sheer presence around the rim forced a ton of Kent State misses.
"This team can score the ball," Indiana coach Mike Woodson said of Kent State during his postgame television interview. "Our defense was really good tonight."
The opportunistic Hoosiers turned that defense into easy offense against a team they clearly believed they could take advantage of in transition. Indiana hasn't run a ton this year – the Hoosiers entered the game averaging under 11 fastbreak points per game – but by the midway point of the second half, they had outscored Kent State 14-0 in that category (they finished with 16 fastbreak points).
The Hoosiers also diminished one of Kent State's key strengths by taking care of the ball. Indiana turned it over just seven times against a team that entered the game ranked in the top 20 nationally in forcing miscues.
The Hoosiers have some things to clean up between now and Sunday. They've struggled to keep opponents off the offensive glass for most of the season, allowing teams to rebound 27.8 percent of their misses entering Friday (152nd nationally).
It was an issue again against the much smaller Golden Flashes, who collected 19 offensive rebounds – good for a staggering 40 percent of their misses. Luckily for the Hoosiers, Kent State missed a ton of shots around the basket – the Golden Flashes were 11-of-34 on dunk or layup attempts – and only turned those 19 opportunities into 13 second-chance points.
Kent State missed 47 shots in total (22-of-69), and while some of them can be attributed to Indiana's defense – and Jackson-Davis' presence – you simply can't expect a team to miss so many open shots as we move forward in the NCAA tournament. Allowing that many second-chance opportunities is a recipe for disaster – but the Hoosiers got away with it against Kent State.
The Hoosiers will also need more production from their bench, which generated only four points on 2-of-11 shooting against the Golden Flashes (Tamar Bates was 0-of-6). For Indiana to keep advancing, one or both of those weaknesses must be improved.
Timeouts are longer in the NCAA tournament so the starters can get plenty of rest, but when you repeatedly defend hard (and well) for 30 seconds only to give up offensive rebounds, you're bound to grow fatigued.
On this night, though, Indiana did enough to win and advance to Sunday. Now, the Hoosiers will get a shot at the co-ACC champion Hurricanes, who escaped with a 63-56 win over Drake on Friday. Miami is one of the nation's top offensive teams, so the Hoosiers will not only need to bring the same defensive intensity they had against Kent State, but finish possessions with hard-fought rebounds.
If they do that, there's a good chance these talented Hoosiers will still be dancing next weekend.
(Photo credit: IU Athletics)
Filed to: 2023 NCAA tournament, Kent State Golden Flashes