What they're saying: A look at the current NBA draft stock of Jalen Hood-Schifino and Trayce Jackson-Davis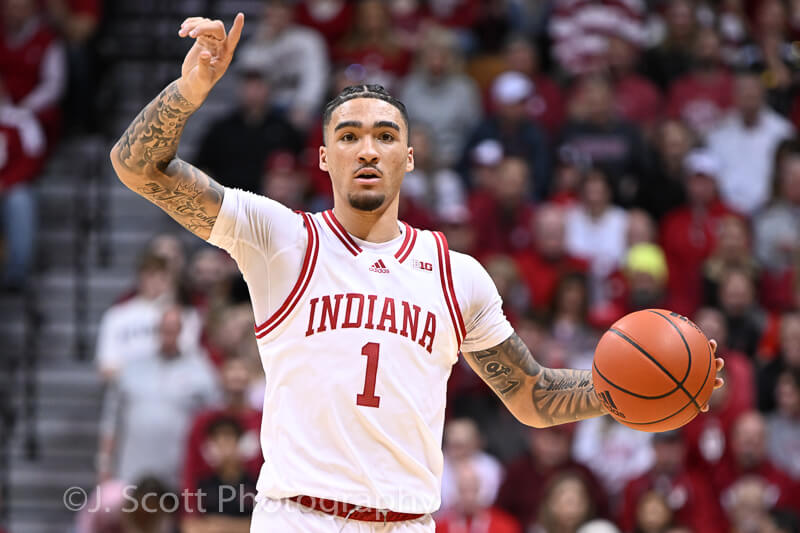 Trayce Jackson-Davis has already announced that he will not return to Bloomington for a fifth season. The expectation is that Jalen Hood-Schifino will depart the IU program after one season for the NBA draft.
This year's NBA draft will take place on Thursday, June 22 at the Barclays Center in Brooklyn, New York.
Here's a look at where each player currently stands in several of the latest mock drafts and big boards (information compiled at 8 a.m. ET on Thursday, March 23):
Jalen Hood-Schifino
• ESPN.com, Jonathan Givony: No. 12
• The Athletic, Sam Vecenie: No. 17
• Bleacher Report: Jonathan Wasserman: No. 19
19. Jalen Hood-Schifino (Indiana, PG/SG, Freshman)

Some of Hood-Schifino's weaknesses were exposed in the NCAA tournament, from his athleticism to his shot selection and decision-making. But there is too much to like about a 6'6″, 215-ball-handler who has an easy time separating into pull-ups, shot 40.8 percent on 196 of those attempts and can also set the table with his vision and flashy, live-dribble passing.

He did have some trouble at the rim this season, but he executed enough acrobatic finishes that highlight an ability to compensate for explosion with finishing craft. NBA coaches will just want him to focus on cutting down on turnovers and defensive lapses.
• The Ringer, Kevin O'Connor: No. 11
At his best in the pick-and-roll. He plays with great pace, using his screen to get into the middle of the floor, where he can pull up from midrange or dissect the defense with various passes to his rolling big.

Good midrange pull-up shooter capable of draining shots off movement. If he's successful in extending his range behind the NBA line, he could become a drop-coverage killer.

Though he's not a great at-rim finisher yet, he doesn't shy away from contact. With his size and midrange touch, he has the potential to become a foul magnet.

Versatile defender with a muscular frame and great technique. He does a nice job of sliding his feet laterally to stick with his opponent, whether it's out of an isolation or when fighting over screens.

Handsy defender who pokes on the ball, breaks up handoffs, and is capable of racking up deflections off the ball.
• NBADraft.net: No. 25
• Yahoo Sports, Krysten Peek: No. 19
Hood-Schifino has been patient with his development during his freshman season and scouts are watching the freshman guard more closely. His first step is more explosive than what meets the eye and he's a reliable point guard who makes the right decision when the ball is in his hands and moves well off the ball, connecting on 37% of his 3-point attempts this season.
• SBNation, Ricky O'Donnell: No. 27
• USA Today, For The Win: No. 15
Jalen Hood-Schifino has recently become one of the hottest names in scouting circles, especially after the freshman exploded for 35 points against Purdue on Feb. 25.

He needs to improve his shot selection and get better at finishing near the rim, but it's hard to ignore a point guard with a high-feel for the game in the pick-and-roll.
• HoopsHype, Aggregate Mock Draft: No. 25
Indiana's Jalen Hood-Schifino previously had the highest jump in the last aggregate mock draft, skyrocketing 27 spots up the board to conclude this edition of the first round, and he's once again moved up.

With the league trending towards bigger point guards, Hood-Schifino's height and 6-foot-10 wingspan intrigue NBA talent evaluators. He's been inconsistent as a shooter but showed enough flashes that some NBA scouts believe he can become a serviceable shooter from NBA three-point range over time.
Trayce Jackson-Davis
• ESPN.com, Jonathan Givony: No. 30
• The Athletic, Sam Vecenie: No. 38
• Bleacher Report: Jonathan Wasserman: No. 31
31. Trayce Jackson-Davis (Indiana, PF/C, Senior)

No shooting improvement makes it difficult to picture upside with Jackson-Davis, but there is still value tied to his self-creation and passing from the post. Between his ability to score one-on-one around the key, finish rolls, find teammates and block shots, that should be enough for Jackson-Davis to provide serviceable frontcourt depth.
• The Ringer, Kevin O'Connor: No. 30
• NBADraft.net: No. 29
• Yahoo Sports, Krysten Peek: No. 45
• SBNation, Ricky O'Donnell: Not ranked in top 30
• USA Today, For The Win: No. 58
• HoopsHype, Aggregate Mock Draft: No. 46
Filed to: Jalen Hood-Schifino, Trayce Jackson-Davis