"Giving them hope": 2022-23 Hoosiers to be remembered for changing the course of the program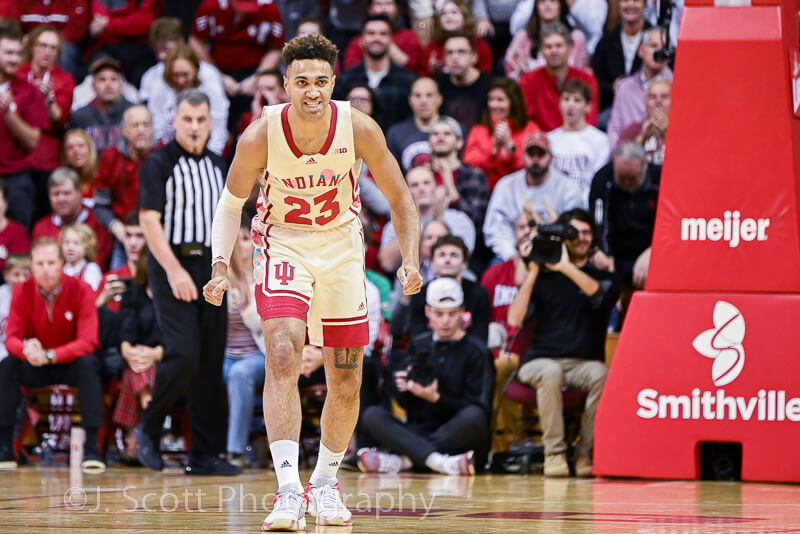 ALBANY, N.Y. — In a single file line, Indiana's Race Thompson, Miller Kopp and Trayce Jackson-Davis walked out of Indiana's locker room. Eyes red, shoulders slumped and heads down.
About an hour earlier, Jackson-Davis covered his eyes with his right hand as he began to cry after subbing out with 1:30 left to play. Kopp followed and covered his face with a towel. Thompson was left on the floor when the final buzzer sounded. He stood in the corner opposite of Indiana's bench and slowly walked off the floor. At some point, reality began to sink in.
Everyone knew at some point this spring, it was coming. These three Hoosiers in tears. It could have been tears of joy as they hoisted a trophy. Or perhaps it would be an NCAA tournament round of 32 loss to Miami (FL).
The latter happened on Sunday.
The Hoosiers were defeated by the Hurricanes 85-69 at MVP Arena. The game is a story in itself. No one doubts that Indiana didn't play well. But on a season-ending loss, the "hows" and "whys" don't carry much weight. If any at all.
The person feels more important than the player. Over the past two years, Kopp, Thompson and Jackson-Davis have grown and changed. So has Indiana's basketball program. The Hoosiers qualified for their second straight NCAA tournament appearance for the first time in seven years.
"Just two years ago we were getting booed in our home city, Indianapolis, off the court in the Big Ten tournament. Just being in this moment two years later is really special to me. To have the Indiana fans on your back and just cheering for you and giving them hope. Which is something this program hasn't had in a while," Jackson-Davis said postgame. "It was really cool to be a part of that… and I know this guy right next to me (Mike Woodson) is gonna make sure that things stay in the right direction."
Hope.
It's hard to deny that optimism has grown around the Indiana basketball program. The program is in a vastly different world than it was two years ago. Jackson-Davis didn't just leave his legacy in the record books, he left it in the hearts of everyone who counted on him, saw him play and raised the roof after a big dunk in Assembly Hall.
Thompson never gave up on Indiana when it seemed like he so easily could have. He battled through countless injuries and established himself as a consistent part of the program for six years.
Kopp enthralled fans with his ambiguous personality, keeping his coaches and teammates constantly on their toes. He took Assembly Hall's breath away when he took a big 3.
Together, this Indiana group impacted a lot of people. After a loss, it's easy to think of everyone that was let down and wonder what could have been done differently. Sometimes the devastation of letting someone down feels heavier than the act of losing itself.
But, on the flip side, there have been so many times when a strangers day was made when they got to watch the 2022-23 Hoosiers play. That's what will be remembered about the team. Not how they struggled to rebound against the Hurricanes. People might remember that for the next couple of days. But a year or two from now, people will remember the sweep of Purdue, making the NCAA Tournament as a four seed and even beating Michigan on Senior Day. Maybe this group will also be recognized as a turning point in Indiana basketball history.
"I told the guys in the locker room how much I love them and respect them for playing for me this year," Woodson said. "And the kind of season we had was a promising season. We had a good year. We made a step forward from where we were a year ago."
Indiana can build off of this season. It didn't end how they wanted, but it's something they can grow from. Last year, Indiana squeaked into the Big Dance. This year they were a lock and a four-seed. That's progress.
Progress is also people caring. The coaches, fans and players all care. When Indiana was booed out of Lucas Oil Stadium in the 2021 Big Ten Tournament, fans were angry. And rightfully so. Now, there seems to be a more reminiscent and sad tone. Not much anger. Hope is a big part of that.
It feels as if there's something to look forward to next winter.
"We were finally playing Indiana basketball again," Jackson-Davis said. "And just giving the fans something to cheer for."
Fans will continue to cheer for Indiana. Just as many more players will continue to play for the cream and crimson. Others will coach the Hoosiers, too. But someday, someone may ask you about Trayce Jackson-Davis, Miller Kopp, Race Thompson and the 2022-23 Indiana Hoosiers. Remember them for the hope they gave you, not for letting you down.
Filed to: 2023 NCAA tournament, Miller Kopp, Race Thompson, Trayce Jackson-Davis