At the Buzzer: Miami (FL) 85, Indiana 69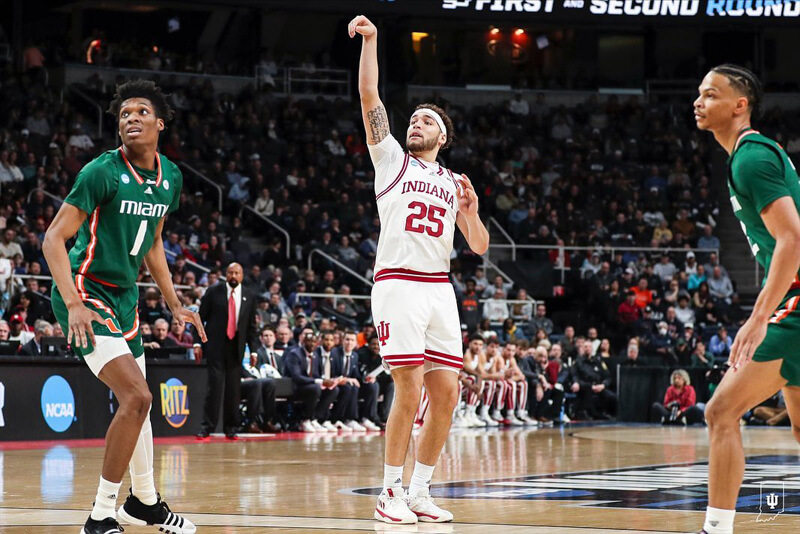 Quick thoughts on an 85-69 loss to Miami (FL):
How it happened
Indiana stumbled out of the gate in its second-round matchup against Miami (FL) on Sunday evening at MVP Arena in Albany, New York. The Hurricanes raced to a 6-o lead, forcing Mike Woodson to use a timeout less than two minutes in. Miami opened up a 13-point lead just over 10 minutes into the game at 28-15 as the Hoosiers struggled to defend off the dribble. But the Hoosiers seemed to settle in defensively as Miami scored just 12 points over the final 9:52 of the half. The Hoosiers, down 40-30 with less than two minutes in the half, closed strongly by scoring the final five points to make it 40-35 at the break. Trayce Jackson-Davis had 11 points and four rebounds while logging all 20 minutes in the first half.
Indiana scored the first eight points of the second half to grab a 43-40 lead, but Miami answered and retook the lead on a Jordan Miller jumper at 51-49 with 12:21 to play. A 3-pointer from Isaiah Wong stretched the lead to 54-49, but a bucket from Jackson-Davis got Indiana back within three at the under-12 media timeout. The Hurricanes scored the next seven points – a Jordan Miller free throw, a Harlond Beverly 3-pointer and a Wong 3-pointer to take a 61-51 lead with 8:49 to play, forcing Woodson to take another timeout. After Indiana got within seven at 65-58, Miami went on a 10-2 run to make it 75-60 with 3:26 to play. The Hoosiers got within eight after three straight 3-pointers from Jalen Hood-Schifino, but Wong and Nijel Pack scored on consecutive possessions to push the lead back to 12 for the Hurricanes. That was enough to end Indiana's season in the NCAA tournament round of 32.
Standout performer
Jackson-Davis finished his Indiana career with 23 points, eight rebounds and five blocked shots in 39 minutes.
Statistics that stand out
Miami dominated on the glass by grabbing 20 offensive rebounds and scoring 29 second chance points. The Hurricanes pulled down 51 percent of their missed shots.
Final IU individual statistics

Final tempo-free statistics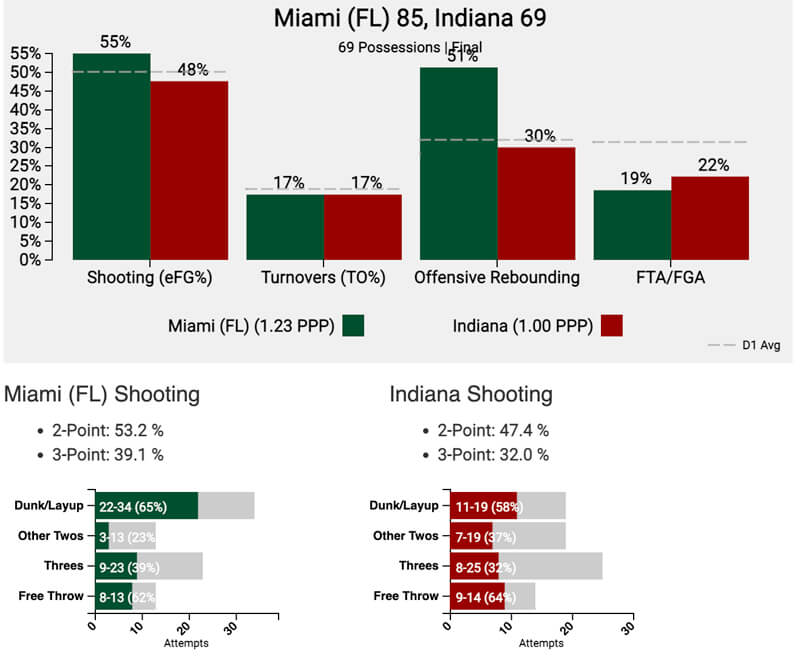 Assembly Call postgame show
(Photo credit: IU Athletics)
Filed to: 2023 NCAA tournament, Miami (FL) Hurricanes