"She's going to be one of the very best to ever put on a uniform": Grace Berger was Indiana's heart and soul until the very end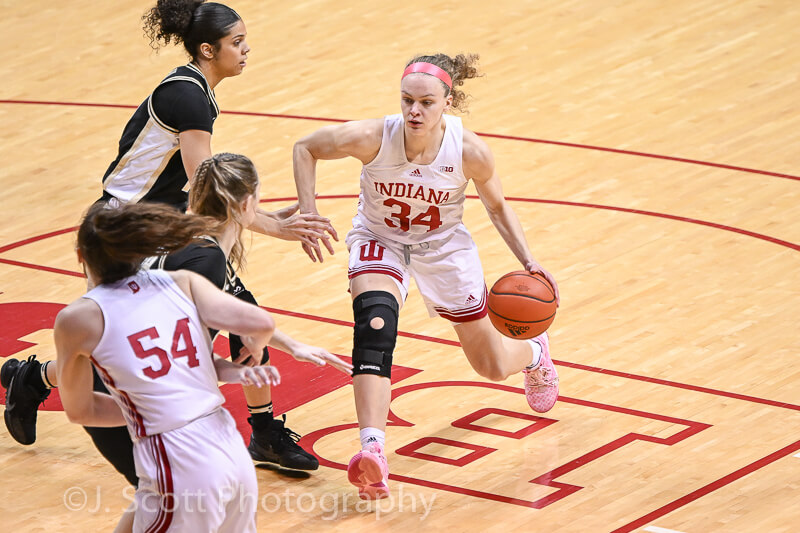 One All-American collapsed to the floor of Simon Skjodt Assembly Hall as soon as the final buzzer sounded, signaling the end of the season. Another All-American kept her composure until reaching the locker room, but the tears fell nonetheless.
Both were equally heartbroken, but for different reasons. For one, it was the final game of her Indiana career. For the other, it was the last game with one of her best friends.
"Obviously I'm upset," Mackenzie Holmes said, through tears, after Indiana's 70-68 loss to No. 9 Miami in the 2023 NCAA tournament. "You know, my last game with Grace (Berger). It's been a privilege to play with her for these last four years. I just hate that it has to end like this for her."
Grace Berger and Mackenzie Holmes are the duo that represent Indiana women's basketball — they have been for the entire season. They were the team's leaders in every sense of the word, and it was never going to be any different, not until the season was over and things had to be.
So it was no surprise that the pair of All-Americans headlined Indiana's final game of the 2022-23 season. In Monday night's loss, Holmes and Berger combined for 39 points and 15 of the Hoosiers' 29 rebounds.
They spoke calmly to their teammates and each other, let out yells and pumped their fists after success and worked as hard as they could to win the game.
But it wasn't enough, and Berger's career ended in the same place it began.
"I loved being a Hoosier, every single second of it," Berger said. "It was the best decision I've ever made."
The graduate student has a storied history as a Hoosier; the program had little success to point to when she joined five years ago. But Berger saw the potential in Teri Moren, just as Moren saw in her, and the two joined forces to create what would end up being the best three years in Indiana women's basketball history.
"(I'm) just so grateful that she decided to be an Indiana Hoosier five years ago," Moren said. "When she had a lot of different options, she chose us. And we're so grateful, and again, she's going to be one of the very best to put on a uniform."
Berger helped lead the Hoosiers to three consecutive NCAA tournaments in her time. An Elite Eight, a Sweet Sixteen and, to close it out, an appearance in the round of 32. But while some would be pleased by that, Berger and the rest of her team are not.
They had championship aspirations and believed they had a real shot at getting there. A loss in the round of 32 was not what they wanted or expected from themselves. A loss like Monday's — one that came down to the buzzer and showcased just how much fight the Hoosiers had — was the last thing they wanted to endure.
So while Berger will go down in history as one of the best players to grace the floor of Assembly Hall, it'll take some time for her to be okay with that.
"I'm sad that it's ending, but I'm just very grateful that it's happened," Berger said. "There's no reason that Indiana women's basketball shouldn't be a blue blood, a top team in the country every single year. I just hope that the work I did with my teammates hopefully impacts that."
There are many nicknames for Berger, but one of the most well-known — and perhaps the best — is the "heart and soul" of Indiana basketball. Whether she was calmly directing play on the court, cheering with her teammates or being her typical introverted self off the court, Berger touched the hearts and souls of everyone around her, and in doing so, became the representative of them all.
"My first two years of college basketball, I was really lost," Sydney Parrish said. "She was a big reason why I came here. She makes everyone around her better, and she's a big reason why a lot of girls want to come here and play basketball now."
Everyone who was a part of the 2022-23 Indiana women's basketball team was impacted by Berger — there's no doubt about that. From transfers like Parrish to freshmen like Yarden Garzon, everyone benefited from the guard's stoic personality.
But few, perhaps, benefitted as much as Holmes.
The two combined for "buddy ball" down low more often than not, and they saw each other grow in their times as Hoosiers. Holmes saw Berger grow into the confident, muscled-up point guard she is now, and Berger saw Holmes become one of the best post players in the country.
Without each other, it's possible the two might not be who they are today. Indiana women's basketball definitely wouldn't be.
"She is the best teammate, and she is just the most coachable kid," Moren said. "She has a very businesslike approach, and that — because of who she is, she touches so many people."
Berger will leave Indiana with a host of awards, statistics and titles to her name. Those who watched her, played with her and coached her will all remember different things about her. But no matter what, they will all know one thing: without Berger, Indiana basketball would not be itself.
"She's helped build this program," Moren said. "We're not sitting here where we are today, we weren't sitting here a year ago, probably three years ago, without Grace Berger on this roster."
Filed to: