Five takeaways from Indiana's loss to Miami (FL)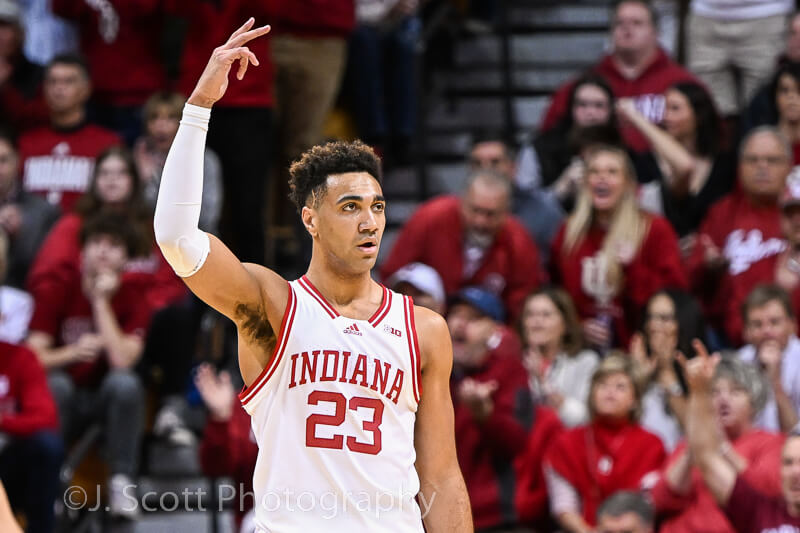 Indiana's 2022-23 season came to a close with an 85-69 loss to Miami (FL) in the second round of the NCAA tournament on Sunday. The loss at MVP Arena in Albany, New York dropped the Hoosiers to 23-12 to conclude Mike Woodson's second season in Bloomington.
Here are five takeaways from the loss to the Hurricanes:
Indiana's guards and wings were thoroughly dominated
Miami's starting backcourt of Isaiah Wong and Nijel Pack is a primary reason the Hurricanes boasted a top-15 offense entering Sunday's game. Jordan Miller, a 6-foot-7 wing, entered the game as the team's second-leading scorer and proved to be a tough cover.
From the opening tip, it was clear Miami's guards and wings were superior to Indiana's. Wong and Pack combined to score 39 points and hit six of the team's nine 3-pointers. Miller added 19 points and repeatedly used his athleticism to score at or around the basket.
Miami was able to spread Indiana out in the halfcourt and do what it wanted offensively. And even as Indiana mounted a run and briefly took the lead in the second half, the Hurricanes never panicked. Each time Indiana took the lead or tried to grab momentum, Miami answered thanks to the composure of its backcourt.
After the Hoosiers took their largest lead at 43-40 with 17:42 left, the Hurricanes quickly scored four straight points to reclaim control. From the 16:08 mark to 13:42 remaining, Miami answered each Indiana bucket and never let the Hoosiers gain any separation.
And when it was time to deliver the knockout blow, Miami's guards were there to administer it. Back-to-back 3-pointers from backup guard Harlond Beverly and Wong stretched the lead to 10 with 8:49 to play. Indiana never recovered.
Second chance points were the difference
Despite having a first team All-American in Trayce Jackson-Davis and a size advantage in the post, Miami owned the glass against Indiana.
The Hurricanes grabbed 20 offensive rebounds and scored 29 second-chance points. The performance of Norchad Omier was particularly impressive. The Arkansas State transfer had 17 rebounds in 26 minutes.
It was such a dominating performance, all Jackson-Davis could do postgame was credit the Hurricanes.
"They're a great offensive rebounding team," Jackson-Davis explained. "They've got athletes. They would shoot shots. Everyone was crashing. They didn't have guards getting back. Everyone was going to get the ball. Omier played really well on the offensive glass to bring energy and wedging people under, myself included. They were playing relentless on the glass. So they punished us, and that's what they did honestly."
Defensive rebounding was an issue most of the season for Indiana.
The Hoosiers finished the season ranked outside of the top 200 in defensive rebounding percentage, according to KenPom. In Big Ten play, Indiana ranked just 12th in the conference on the defensive glass.
Jackson-Davis carried Indiana all season
While Sunday's loss was an unfortunate ending to the career of Jackson-Davis, his brilliance this season can't be overstated.
The decision of Jackson-Davis to return to Indiana the past two seasons was the primary reason the Hoosiers reached the NCAA tournament in two consecutive seasons.
The Center Grove product arrived in 2019 and will leave the program four seasons later in a much better place than when he arrived.
While Jackson-Davis was outstanding last season as a junior, he took his game to another level as a senior. Even in defeat on Sunday, Jackson-Davis scored 23 points on 7-for-10 shooting from the field and 9-for-11 from the free throw line.
"He's meant a lot to this program. I don't think we're sitting here today if it wasn't for Trayce Jackson-Davis," Woodson said last night. "He could have left two days after I got the job, but he decided to stay on board. He worked his butt off. I pushed him on and off the court. A lot of nights and days, it wasn't pretty for him, but he got better. He benefited from it, and our team benefited from it."
Indiana's bench production underwhelmed – again
Indiana talked about its depth as a strength in the preseason.
While there were flashes of production from Malik Reneau, Tamar Bates, Jordan Geronimo and Kaleb Banks, consistency from the bench never materialized.
On Sunday, Indiana's bench logged 33 minutes and scored zero points. A failure to develop a productive bench was one of the disappointments this season.
As the offseason begins, it's a critical time for roster building for next season. Miller Kopp and Race Thompson have exhausted their eligibility. Trayce Jackson-Davis and Jalen Hood-Schifino are expected to move on to the next level.
That leaves Trey Galloway and Xavier Johnson, if his waiver to play is granted, as the two lone returnees with legitimate starting experience in the Big Ten.
Indiana must adequately evaluate what it has in each of its returning players and address its shortcomings in the transfer portal.
Mike Woodson has steadied the ship in Bloomington
There was plenty of scrutiny when Woodson was hired to lead the Indiana program. He had no experience at the college level, which is different than coaching in the NBA.
But Woodson has brought stability over his first two seasons at the helm.
He's had several major wins on and off the court. In recruiting, he's landed multiple five-star prospects and got Jackson-Davis to return for two years, leading to two postseason appearances.
On the court, Woodson is 3-1 against Purdue and won a pair of NCAA tournament games over his first two seasons. While those feats may not meet the expectations of some IU fans, they do represent progress.
Speaking at the podium following last night's loss, Woodson seemed well aware that his job will get much tougher this offseason as he reshapes a roster and tries to reach the postseason again next winter.
"It was fun times coaching those guys this season," he said. "But they're going to move on, and I've got to figure out our next move as far as our program and moving this program forward."
Filed to: 2023 NCAA tournament, Miami (FL) Hurricanes, Mike Woodson, Trayce Jackson-Davis