6-Banner Sunday: Xavier Johnson will not return this season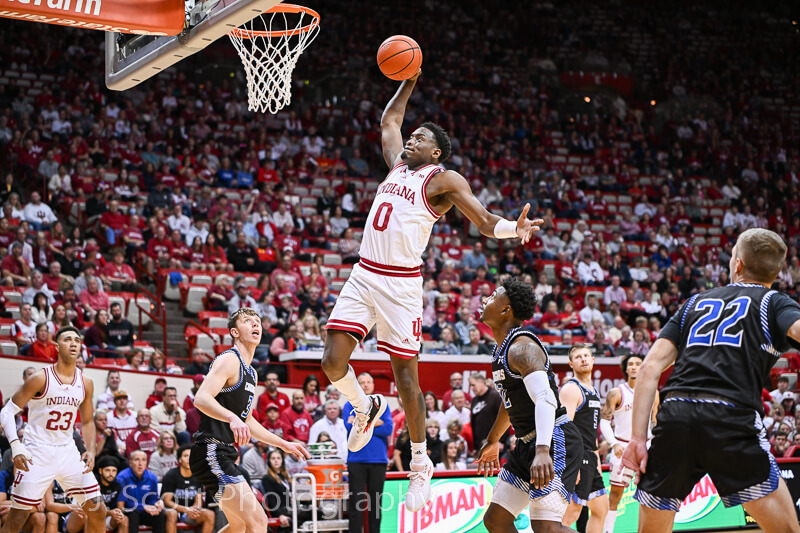 6-Banner Sunday is Inside the Hall's weekly newsletter in partnership with The Assembly Call. More than 9,000 Indiana fans receive the newsletter each week. In addition to appearing each week on the site, you can also opt to receive 6-Banner Sunday by email. A form to subscribe via email is available at the bottom of this week's 6-Banner Sunday.
Welcome to another edition of 6-Banner Sunday, a joint production between The Assembly Call and Inside the Hall, and presented by our friends at Trueblood Real Estate, where we highlight the five most essential IU basketball stories of the past week, plus take a look at how the other IU sports programs are doing.
It was a tough week to be an Indiana basketball fan on the court and off. Not much went well, whether it be the announcement of Xavier Johnson being done for the year or the performance on the court for both the men's and women's basketball teams.
Besides this, more bracketology came out and Assembly Call and Inside the Hall had their normal shows. We will as usual conclude with a look at how other IU teams are doing led by a big coaching announcement for IU football.
In a brief headline, IU coach Mike Woodson had his normal radio show last Monday.
• Xavier Johnson will not return this season
• Hoosiers dominated by Iowa
• Women's basketball has a rough week
• Updated bracketology
• Assembly Call and Podcast on the Brink
• Hoosier Roundup
Looking for tickets to upcoming Indiana games? Vivid Seats has you covered. This week Indiana hosts Michigan today to close the regular season. Vivid Seats is a full-service provider – with an industry-leading customer service team, reachable by phone or online during extended business hours. (These links are Inside The Hall affiliate links, so a commission will be paid to ITH if you click and make a ticket purchase.)
Banner #1 – Xavier Johnson will not return this season
While there was hope that the Hoosiers would get starting point guard Xavier Johnson back before the season ends, that will not materialize. On Saturday, IU announced that Johnson was done for the year and would instead apply for a medical hardship waiver.
Johnson is right on the border of being eligible for that if the NCAA grants it. If this happens, Indiana would have a huge piece heading into 2023-2024 with freshman Jalen Hood-Schifino likely headed to the NBA. With a couple of key contributors out of eligibility (Miller Kopp, Race Thompson) and another headed to the NBA (Trayce Jackson-Davis), a potential return by Johnson would be huge.
IU said Johnson would go through senior day as well. However, that was before Saturday's news and it is unclear whether that is still the case given it is up in the air if the medical redshirt will be granted.
Banner #2 – Hoosiers dominated by Iowa
Following their biggest win of the season against Purdue, IU put up their worst performance of 2023 with a 90-68 beatdown against Iowa. The Hawkeyes and Northwestern are the only conference teams the Hoosiers have yet to beat in the Woodson era.
The loss appeared to take the Hoosiers out of contention for a double-bye in the Big Ten tournament. However, carnage in the league over the last few days has put that back into play if Indiana beats Michigan today (4:30 p.m. ET on CBS). For that to happen, all IU needs is a loss on Sunday from Maryland, Northwestern, or Iowa to go with their own victory.
After the debacle against the Hawks, Woodson spoke as did Iowa coach Fran McCaffery, Inside the Hall had a photo gallery, Justin Albers wrote a Minute After, Zion Brown put together a Film Session, Alex Bozich penned Five Takeaways, while Amanda Foster produced a column about the team's lack of defense.
Banner #3 – Women's basketball has a rough week
After everything has seemingly gone right for all of 2022-2023 season, this week saw the first major adversity at a potentially bad time. It started on Sunday with a loss to Iowa on a buzzer-beater by Caitlyn Clark in a terrific game that was an instant classic.
Despite obtaining the number one seed in the Big Ten tournament, it went pretty badly for the Hoosiers in Minneapolis. On Friday, it started with a huge deficit and narrow escape against a middling Michigan State squad. Saturday against Ohio State in the semi-finals saw a major collapse where the Hoosiers blew a 20-point lead. After dominating the Buckeyes and shredding their signature press in the last few matchups, IU succumbed to it big time in the loss Saturday.
Assembly Call was one of the few Indiana media outlets on site both days and had articles for subscribers of its Community. Meanwhile, Foster provided remote coverage for free after both contests.
The bright spot of the week was the team winning several postseason conference awards.
Banner #4 – Updated bracketology
After a tough week, the question is where IU's basketball teams are regarding their potential March Madness outlook. Before the loss to Iowa, Assembly Call and Inside the Hall's bracketologist Andy Bottoms had Indiana as a four seed in the Midwest Region starting in Albany which would feed into Kansas City. The Hoosiers still have time to rebound and try to improve their seeding with today's Michigan game and the Big Ten Tournament. However, it appears the team has some work to do to help their cause and get their preferred destinations in Columbus the first weekend and Louisville the second weekend.
Meanwhile, the women are out of time and await their fate on Selection Sunday to see if they will hold onto their second number-one seed. If they do so they would head to Greenville S.C if they advance past the opening weekend. However, they might have to travel to Seattle instead for the Sweet 16 if they fall further. Either way, they will open at home in Assembly Hall for the first two rounds. They are helped by the fact that several other teams fighting for number-one seeds succumbed early in their conference tournaments in LSU, Maryland, Stanford, and Utah. ESPN bracketologist Charlie Creme tweeted he thinks Indiana will hold onto a spot on the top line despite their loss on Saturday.
Banner #5 – Assembly Call and Podcast on the Brink
Both Assembly Call and Inside the Hall had new shows this week. ITH's Podcast on the Brink previewed today's Michigan matchup with Dylan Burkhardt.
Meanwhile, Assembly Call had a postgame show following the Iowa contest, Thursday night AC Radio, as well as a special episode with Sam Vecenie previewing the NBA draft. Doing The Work was on air following all the women's games this week.
Banner #6 – Hoosier Roundup
• Football announced a new co-offensive coordinator to work with Walt Bell.
• Baseball won three out of four games this week beating Texas, Butler, and Georgetown but fell to top-10 East Carolina.
• Softball won two out of three this week.
• Women's Tennis beat Belmont.
• Men's Tennis lost to Princeton.
• Water Polo lost to Pomona-Pitzer and Stanford.
• Track and Field will have three athletes compete at the NCAA Indoor Championships.
• Swimming and Diving will have eight competitors at the NCAA Championships.
Thanks for your continued support for The Assembly Call and Inside the Hall. We'll be back next weekend with a new roundup.
Now go enjoy yourself a 6-banner Sunday.
Aaron (Ari) Shifron
Assembly Call Contributor
Filed to: