Five takeaways from Indiana's loss against Iowa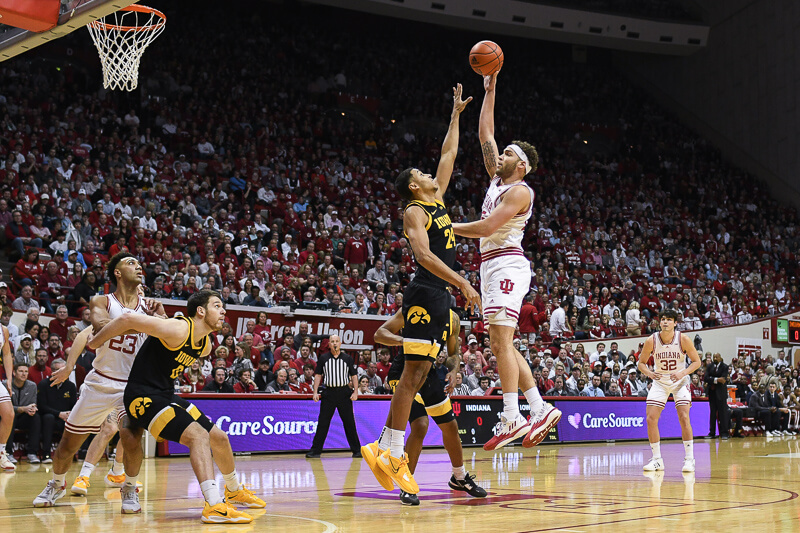 Indiana fell to 20-10 overall and 11-8 in Big Ten play with a 90-68 blowout loss against Iowa on Tuesday at Assembly Hall. The Hawkeyes led wire-to-wire.
Here are five takeaways from the loss:
This was Indiana's worst performance of the season
Several of Indiana's losses this season have been non-competitive. Losses at Kansas, Rutgers, Penn State, Maryland and Michigan State were all varying degrees of ugly. But Tuesday's performance was the worst of the season.
The Hoosiers entered Tuesday's game with a 14-1 home record, the lone blemish a one-point setback against Northwestern in early January. That record now stands at 14-2 after Iowa entered Assembly Hall and did what it wanted in a 22-point thrashing.
The tone was set from the opening tip as the Hawkeyes raced to an 8-0 lead, forcing Mike Woodson to use a timeout in the opening two minutes. Aside from a brief period in the first half when Indiana got within three, the game was never competitive. Iowa did whatever it wanted against the Hoosiers.
After its best win of the season on Saturday at Purdue, Indiana had momentum and a chance to finish the regular season strong with two home games.
Instead, Indiana failed to show up in a game that will have major implications on its Big Ten tournament seeding.
Iowa dominates Indiana on 3-pointers
Indiana's 3-point shooting percentage is much improved in Woodson's second season.
But the Hoosiers don't take enough 3-pointers for it to matter much. In Tuesday's loss to the Hawkeyes, Indiana was outscored by 33 points from the perimeter.
Iowa made more 3-pointers (13) than Indiana attempted (11).
Through 30 regular season games, Indiana gets 23.4 percent of its points from 3s, which ranks 342nd in the country.
In Big Ten play, Indiana has attempted 264 3-pointers. IU's opponents have attempted 419. And the Hoosiers are being outscored by 108 points from the perimeter in conference play (5.7 points per game).
Jalen Hood-Schifino was thoroughly outplayed by Tony Perkins
The best guard on the floor in Tuesday's game was wearing black and gold.
Tony Perkins, a Lawrence North product, put together a dominant performance. Perkins finished with 23 points, 10 rebounds and eight assists in 36 minutes.
The Indianapolis native repeatedly burned Indiana freshman Jalen Hood-Schifino on back cuts in the first half and got to his spots whenever he wanted throughout the game.
Perkins got to the free throw line 10 times. Hood-Schifino didn't attempt a free throw. Perkins shot 7-for-12 from the field while Hood-Schifino went just 4-for-14.
As great as Hood-Schifino was at Purdue with 35 points, his porous defensive effort against Perkins was problematic.
Jackson-Davis becomes Indiana's all-time leading rebounder
Trayce Jackson-Davis reached a major individual milestone on Tuesday night.
With his 13 rebounds against the Hawkeyes, Jackson-Davis is now Indiana's all-time leading rebounder with 1,096.
Jackson-Davis passed Alan Henderson and Walt Bellamy, previously the top two on the list.
Tuesday's double-double of 26 pounds and 13 rebounds for Jackson-Davis was the 48th of his career. It was also, according to IU, his 22nd career game with at least 20 points and 10 rebounds.
Jackson-Davis, of course, wasn't focused on this accomplishment in the aftermath of Tuesday's disappointing loss.
"Obviously everybody is upset after the game last weekend and coming back and doing this, it's not what we stand for," Jackson-Davis said. "Everyone's upset. That's not much to be said. We just have to come in tomorrow and come in Thursday and work."
Xavier Johnson warms up and is in uniform
Mike Woodson said Monday on his weekly radio show that Xavier Johnson wasn't going to play on Tuesday at Iowa.
But hours before the game, Johnson was on the Assembly Hall floor in a full sweat getting up shots and going through drills.
Johnson, as Woodson said, didn't play against the Hawkeyes. But he certainly looked close to returning.
The IU point guard was testing his foot in warmups and went up for several dunks.
The timing to bring back Johnson, however, is tricky. The Hoosiers have just one regular season game left and the Big Ten tournament before the NCAA tournament begins.
But after Tuesday's brutal loss, the return of Johnson could bring some much-needed energy for Sunday's regular-season finale.
Filed to: Iowa Hawkeyes, Jalen Hood-Schifino, Trayce Jackson-Davis