The Minute After: Iowa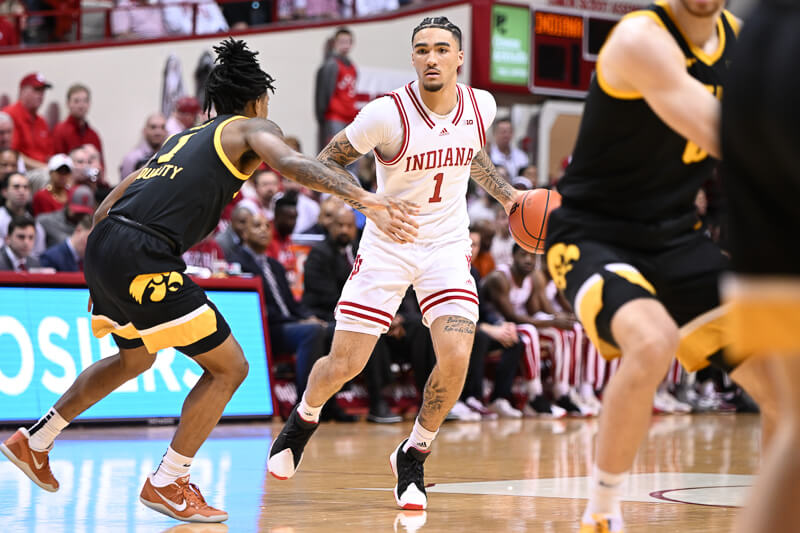 Editor's note: Ryan is out on paternity leave. Justin Albers will be writing The Minute After in his absence.
Thoughts on a 90-68 loss against the Hawkeyes:
There's no other way to say it – this was a pathetic performance from Indiana – a team that has been lauded (and rightly so) for being one of the hottest teams in college basketball and a trendy pick to go deep in the NCAA tournament.
The No. 15 Hoosiers entered Tuesday night's game against Iowa winners of 10 of their last 13 – and fresh off a season sweep of rival Purdue with an emotional win at Mackey Arena on Saturday.
On Tuesday, Indiana looked like a team that had spent the previous two days hearing how great they were and feeling too good about themselves.
To put it bluntly, the Hoosiers (20-10, 11-8) looked like a team still drunk off of Saturday's win. And Iowa made sure the hangover was especially rough.
"We left our game in West Lafayette," Indiana coach Mike Woodson said afterward. "It's unacceptable the way we played tonight. I apologize to our fans. That was a bullshit performance tonight."
Indiana's 90-68 loss was tied for the worst during the Woodson era – and it was the Hoosiers' largest home loss in over four years (January 2019). They've given up 90 or more points only three times during Woodson's tenure – and two of them were to Iowa this season. (The other was a two-overtime loss to Syracuse last season).
The Hoosiers have now lost four straight to the Hawkeyes, and in those four games Iowa has scored: 80, 83, 91, and 90 points. Iowa's onslaught started early on Tuesday night.
The Hawkeyes jumped out to an 8-0 lead less than two minutes into the game, and while Indiana made a couple first-half spurts, it never truly challenged Iowa.
The Hawkeyes picked apart Indiana's defense all night long – with little resistance – a troubling reality for a team that hangs its hat on the defensive end.
The Hoosiers have built this impressive season by being as resilient as any team in the country, making Tuesday's loss disappointing. They never adjusted to a single thing Iowa was doing.
Tony Perkins made a living with easy layups off back cuts from the start, and yet the Hoosiers continued to turn their head time after time, losing sight of Perkins and giving him perhaps the easiest 23 points he's ever had.
Kris Murray was hot all night, and it was clear early that Indiana's defense would have to key on him. Instead, Woodson repeatedly left Miller Kopp on an island against Murray, who made the same move repeatedly and easily got past Kopp with his superior foot speed. Murray went for 26 points in 32 minutes.
Everything seemed so hard for Indiana, and so easy for the Hawkeyes.
Iowa was 13-of-23 from beyond the arc. Indiana was 2-of-11. The Hoosiers were just 9-of-27 (33 percent) from the field in the second half. Jalen Hood-Schifino, brilliant in his 35-point masterpiece at Purdue, continued his inconsistent freshman season with a 4-of-14 shooting night (eight points).
But make no mistake – while Iowa made shots, this game was more about the lack of effort and attention to detail for the Hoosiers.
The edge wasn't there. The decision-making was questionable, at best. Iowa was quicker to almost every loose ball, more decisive in every movement. The Hoosiers were flat-footed, lethargic, and whatever the opposite of 'locked in' looks like.
"You saw the same game I did — they were doing everything they wanted to do," Woodson said. "How about playing some defense? That was non-existent tonight. They came in here and kicked our ass — it was just that simple."
The Hawkeyes outrebounded Indiana 39-27. And even after a first half where they gave up 47 points, the Hoosiers were within striking distance early in the second half. Trayce Jackson-Davis – who filled up the box score with 26 points, 13 rebounds, five assists and four steals – cut it to a nine-point deficit with 19 minutes still to play.
But the Hoosiers never came close to making this a competitive game – something you rarely see in Bloomington. Instead, things only got worse as the night went on, and Indiana was never in the game in the second half. By the time we reached the under-16 media timeout, Iowa's lead had grown from nine to 21.
The night (appropriately) ended with Peyton Sandfort blowing a kiss to the Assembly Hall crowd after his fifth 3-pointer, and there was nothing the Hoosiers could do about it but drop their heads and wait for the beating to end.
Indiana learned a lesson the hard way on Tuesday night. Mature teams – teams that advance deep into March – lock back in after big wins like the Hoosiers had on Saturday. Those teams beat teams like Iowa at home in an environment like Assembly Hall.
The Hoosiers were served a huge slice of humble pie on Tuesday night – the question is, should teams with high postseason aspirations need to be humbled like this at this point in the season?
Just hours before the calendar turned to March, Indiana looked like a team playing an exhibition game. Woodson and the Hoosiers have four and a half days off to get right before their regular season finale against Michigan, and they need it. It's time to reset and get back to the fundamentals.
The question, at least for me, isn't whether the Hoosiers can sustain excellence. The question is: Can they sustain excellent effort and focus, regardless of what happened on the previous play or in the previous game?
We'll find out soon enough.
Filed to: