Indiana's senior class a sign of progress, hope and change in the program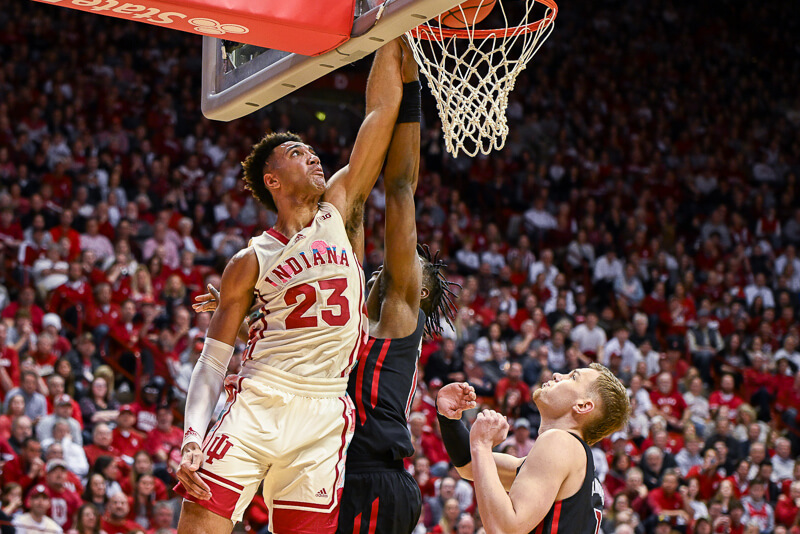 Last March a teary-eyed Race Thompson walked onto Assembly Hall's floor with an arm around each of his parents. His mother Stephanie clutched onto a bouquet of flowers as Thompson grabbed the microphone and began his senior speech.
He struggled to work through what he wanted to say.
At the time, the forward was unsure whether he would return to Indiana for another year. Eventually, he decided to wear the cream and crimson for one more year. However, similar to his early career at Indiana, Thompson has gone through some injuries this season and still seems to be working his way back to full health.
"Coming off that knee injury… I haven't quite felt like myself," Thompson said Friday. "I can get through almost anything. Mentally, and physically. I've grown a lot as a person and I'm really grateful for my time here. Playing for coach (Mike) Woodson has been great. We've been able to build a relationship on and off the court to where he always tells me I'm his son. He's my dad away from home… I'm just extremely grateful that I came back here and played for a coach like him."
Six Indiana seniors will be honored after the Hoosiers host Michigan on Sunday and will say goodbye to Assembly Hall for the last time.
Thompson, Jackson-Davis, Xavier Johnson, Miller Kopp, Nathan Childress and Michael Shipp have different stories. But to this point, their stories have brought them all to the same place: Bloomington. They've all become intertwined with the candy stripe pants they wear each gameday. They've all won some big games. They've all lost some, too. More importantly, they've done it all together.
After Archie Miller was fired after the 2020-21 season, Thompson entered his name into the transfer portal along with many other Hoosiers. Jackson-Davis was one Woodson conversation away from entering his name into the NBA draft. Both of them decided to return and see what Woodson could offer. He's offered them more than enough.
Woodson had only been Indiana's head coach for one week when he pulled then-sophomore forward Jackson-Davis into his office. Woodson and Jackson-Davis watched film, and the newly appointed coach showed the All-American areas he could improve and how he could help him get better.
It worked. Jackson-Davis told Woodson he would return to play for him the next day.
"That kind of set the stage for where we are today because he could have left if he wanted to and gone anywhere in the country," Woodson said. "The fact that he made the commitment to come back and allow me to coach him, that means more to me than anything."
Perhaps that conversation was the single biggest moment in Woodson's tenure so far. Assembly Hall will say goodbye to one of the all-time great Indiana Hoosiers on Sunday.
Jackson-Davis has had an exceptional career as a Hoosier. He's the program's all-time leader in blocks and rebounds. The Indiana native is fourth all-time leading scorer and quickly approaching Don Schlundt for third. All these numbers have made him an All-American and the poster boy and face of the program for four years.
Thompson has been the glue guy for most of his career in Bloomington. Since coming to Indiana in the summer of 2017, the 6-foot-8 Minnesota native has started 86 games and averaged 22.2 minutes a contest.
Kopp and Johnson started at Indiana with Woodson at the beginning of last season. He sought after them in the transfer portal, as both were hoping to win, grow and learn in a new environment. Johnson has missed most of this season with a broken foot, whereas Kopp has stepped up in a big role for Indiana this season while facing adversities.
Kopp, the sharpshooting Texan, has made 94 3s in the cream and crimson and has grown into a confident and steady player in his time at IU. Johnson hasn't seen the floor since he broke his foot at Kansas in December but shows nothing but love and excitement for the surging freshman Jalen Hood-Schifino who has taken over his point guard duties.
"When you look at X, you look at Race and Trayce and Miller, you know, they have all made big contributions to our ballclub," Woodson said. "It's a lot of games they played over their four years of college a lot of studying off the floor. It's a lot that's entailed, and when you go to school and play sports, man, they put in a lot of work."
"I couldn't be more proud of a group of guys. They are going to be well-missed when they leave here."
Thompson, Jackson-Davis, Kopp and Johnson gave Indiana the pulse it desperately needed after the Miller era. They've won some games, which helps. But, Indiana basketball's future is far brighter than where it was two years ago. This senior class is why.
No one expected the rebuilding of the Indiana program to be easy. The Hoosiers are on their way to qualifying for their second straight NCAA tournament for the first time since back-to-back appearances in 2015 and 2016. That's progress. Having a national player of the year contender and sweeping Purdue is progress. So is getting players like Jackson-Davis and Thompson to come back in the first place and put Indiana basketball back on the national stage.
Woodson may get much of the praise, but as senior day approaches, the importance of the time and effort put in and the hope instilled by these players speaks for itself. Each has played a pivotal role in the rebuilding of the program.
Thompson was Miller's first recruit. He's been one of the constants from that era of Hoosiers basketball. Indiana will finally say goodbye to him and five of his teammates after the end of the season.
But, this group won't be forgotten for the hope and life they've given that cathedral on E. 17th Street.
Filed to: Miller Kopp, Race Thompson, Trayce Jackson-Davis, Xavier Johnson