Indiana mounts second-half comeback in 94-85 win against Michigan State in Big Ten tournament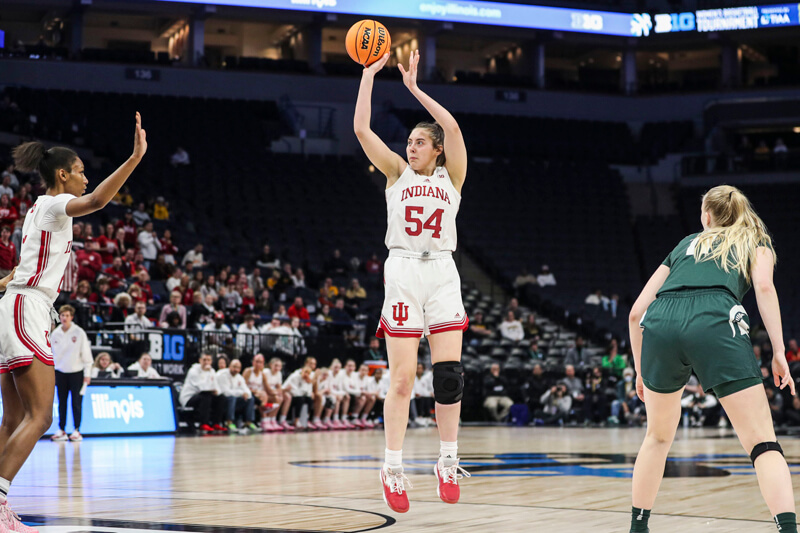 Indiana women's basketball is a team composed of athletes incapable of panicking, losing their cool or feeling the pressure.
That has never been a question, and neither has Indiana's ability to mount a comeback and have players step up when necessary.
So when Mackenzie Holmes went to the bench with five fouls as Indiana led Michigan State 83-72 with one minute to go, the only question was, "who is going to step up now?".
The answer: Chloe Moore-McNeil.
Moore-McNeil made nine free throws in the last 46 seconds of the game, cementing Indiana's 94-85 victory against the Spartans. It was in no way the Hoosiers' best game of the season — in fact, it may have been their worst — and yet in the most important moments, they did what needed to be done.
"We're not proud of how we came out in that first half, I don't think any of us are," Mackenzie Holmes said postgame. "But the fact that we were able to kind of weather the storm a little bit and keep our foot on the pedal, keep chipping away at the hole we dug ourselves, was really special."
Indiana started the first quarter looking completely unlike the team everyone in the country had witnessed throughout the season. The defense was slow, shots weren't falling and rebounds and turnovers favored Michigan State.
The Spartans were rolling, and the Hoosiers were sleeping.
Michigan State couldn't miss from beyond the arc, and Indiana simultaneously couldn't make 3-pointers or find ways to keep the Spartans from shooting them. After one quarter, the Hoosiers trailed 24-14. At halftime, they narrowed Michigan State's lead to 40-34, but the Hoosiers still didn't quite look like themselves.
But in keeping with the season's theme, Indiana came out of halftime renewed, refreshed and ready to compete.
"We needed to fix our minds," Teri Moren said. "That was it. We just needed to fix our attitude, we needed to fix our minds."
Heading into halftime, only Mackenzie Holmes and Sara Scalia were major contributors offensively; Holmes led the team with 16 points, and Scalia had eight. Sydney Parrish and Grace Berger were a combined 0-for-6, and Yarden Garzon only had three points to her name.
But on the first possession of the third quarter, Garzon hit a 3-pointer to bring Indiana within three points of tying. With just under four minutes left in the quarter, Scalia and Garzon hit back-to-back shots from beyond the arc to tie and take the Hoosiers' first lead since their opening possession.
Indiana outscored Michigan State 25-18 in the third quarter, and while it wasn't quite as dominant of a third quarter as Indiana has had in the past, it got the job done. And even more importantly, it set the Hoosiers up with the lead with 10 minutes left.
Despite a host of foul calls and free throws to throw off the rhythm of the game's final minutes, Indiana stayed collected and composed, eyes only on the prize to score 35 points in the fourth quarter.
"This is a mature team, it's a balanced team," Moren said. "They like sharing the ball."
Once again, the Hoosiers' maturity won them the game. They finished the game with 22 assists on 26 made shots, giving everyone opportunities to impact the game — and everyone did.
Berger finished with eight points, six rebounds and four assists, and Parrish recorded four rebounds and six points — on back-to-back 3-pointers to open the fourth quarter — despite their first-half woes. Garzon scored 12 points on 3-of-7 shooting from deep, and nine came in the second half.
Scalia, performing in front of her family and friends in her home state, scored 20 points on 4-of-6 shooting from beyond the arc. She was second only to Mackenzie Holmes, who scored 27 points for the 35th 20-point game of her career.
But down the stretch, the difference-maker for the Hoosiers on Friday — and not for the first time — was Moore-McNeil.
Unsurprisingly, she flew under the radar for the majority of the game. But in doing so, she recorded the second double-double of her career with 19 points and 11 assists and was a force on defense.
"(She) was just tremendous," Moren said. "Her stat line was very impressive today, and her defense is something that we certainly count on."
While the Hoosiers pulled out a win, and did so impressively, they know that can't happen in the future if they want to reach their goals. But they also know they can play much better than they did on Friday, and are determined to do so.
"That's not going to fly down the stretch here in this Big Ten tournament," Holmes said. "So we've got to learn from it, we've got to be better."
(Photo credit: IU Athletics)
Filed to: