News and notes from Mike Woodson's radio show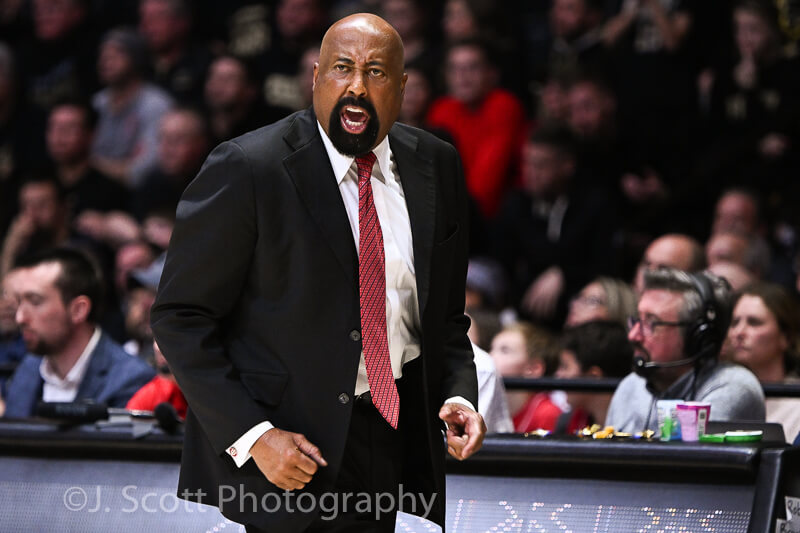 After an up and down two weeks where Indiana suffered two losses and recorded two wins — including one over Purdue at Mackey Arena — Mike Woodson joined Don Fischer for his radio show Monday night.
The two recapped Indiana's win over Purdue and previewed the Hoosiers' matchup with Iowa Tuesday night.
Here's a recap of this week's show:
• Woodson on winning at Purdue: "It was very, very special. Because just like it's hard to win in Bloomington, it's hard to win in Purdue. Their fanbase, they're great. But Indiana's fanbase is better. It's been that way for years."
• Woodson praised Indiana's defense in the second half of Saturday's game against Purdue, saying they did "everything right from a defensive standpoint."
• Jalen Hood-Schifino played all 40 minutes against Purdue, scoring 35 points and grabbing seven rebounds. Woodson on his standout performance: "That damn freshman we got was pretty damn good."
• Woodson on Hood-Schifino's ability to play as Indiana's main point guard: "We've been playing so short-handed, when you think about this 13-game run…For a freshman to step in and be as poised as Jalen has been says a lot. Because there's a lot of pressure there."
• Woodson on Indiana's success: "Make no mistake about it, Trayce Jackson-Davis has put us in this position."
• Indiana is 10-3 in its last 13 games, a feat Woodson credits to the "supporting cast" as well as Jackson-Davis and Hood-Schifino. "A lot of it has to do with the fact that the guys are committed, they pull for each other…my staff has done a tremendous job in preparation and helping me get through games. It's been a total team effort across the board."
• On Indiana's defense: "I've said it from day one, if you can build a defensive system…and you rebound the ball, you put yourself in the position to be in it every game."
• On the Hoosiers' offensive production against Purdue: "Our offense was truly clicking…guys were making shots, we executed extremely well out of timeouts. And that was the difference."
• Woodson said big keys to the victory over Purdue were getting stops when necessary and not turning the ball over, which led to good offense.
• Jackson-Davis only scored 10 points against Purdue, all of which came in the second half. Woodson said when Purdue double-teamed him, it cut off passing lanes and made things more difficult.
• On Jackson-Davis' performance: "He still had seven assists…the beauty about it is Trayce didn't try to force anything. He just let the game come to him. In the second half, he was phenomenal in terms of playmaking and getting the ball where it needed to go. He just sacrificed his game, which was kind of nice, and the surrounding parts benefited from it."
• On Jackson-Davis having the second-most assists on the team: "At the NBA level, I let my centers, my power forwards handle the basketball in the open floor. Because it's a way of speeding up the game, to get quick strikes."
• No player outside of Indiana's starters saw more than 11 minutes on the floor against Purdue. Woodson on the decision to roll with his starters: "I was basically coaching based on what I saw. And in a game like that that was close, once we caught up, you just can't have any miscues. And once we got the lead, they were screaming at me 'Hey, man, we need to get this guy out,' and I just ignored them…it worked out."
• On Indiana's increased proficiency from beyond the arc: "Far cry from last year. I mean, we were awful shooting the 3-ball last year, and had the same looks…that's based on a lot of work this summer, these guys putting in work."
• On Indiana's position in the Big Ten with one week of regular season play remaining: "There's a lot of basketball to still be played. And that's the beauty about Big Ten, and college basketball in general. You gotta take one game at a time and see where it leads you. But we've put ourselves in this position based on the last 13 games, so I'm happy (with) the way we've been playing, but we still have a long way to go."
• Woodson said there is a chance Xavier Johnson could still play this year, but he won't play Tuesday against Iowa. Woodson said they're still waiting for the final approval from doctors and training staff, and they'll gauge on Sunday where Johnson is.
• Woodson said if Johnson were to return, he wouldn't be able to play long minutes. Woodson also emphasized the need for good chemistry on the floor and not wanting to "mess it up".
• On Johnson's mindset throughout recovery: "He's been positive. He's put the work in to get to this point, to get back out on the floor. So I think he's in a good space mentally, and only time will tell based on how he plays when we put him back in the game."
• On how Indiana has to play against Iowa: "You still got to commit on both ends of the floor, defensively and rebounding the ball, and you have to finish."
• In closing: "We gotta send a shoutout to Teri Moren and the women's team. Because they've had a hell of a season…they played their butts off to win the Big Ten title and that's special."
Filed to: Mike Woodson