Indiana's defense nonexistent in 90-68 loss to Iowa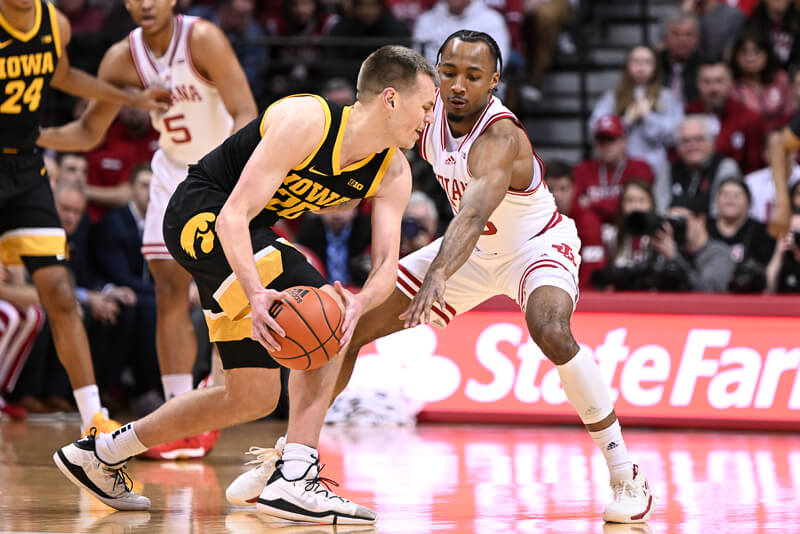 Shoes squeaked on the floor for everyone in Simon Skjodt Assembly Hall to hear. Seats were half-full, with most fans sitting with arms crossed or looking at their phones.
No, this wasn't an hour before Indiana's game against Iowa started. It was with under four minutes left in the game.
Day in and day out, Mike Woodson preaches about how defense wins games. He emphasizes the need to rebound, play aggressively and finish on both ends of the floor. In Tuesday's 90-68 loss, Indiana did none of that.
It was arguably the Hoosiers' worst loss of the season, and they didn't look prepared from the opening tipoff. Expectations were high coming off a highly successful defensive outing against Purdue on Sunday, but instead of building off that win, it was a letdown of epic proportions.
"We just left our game in West Lafayette," Woodson said postgame. "It's just unacceptable the way we played tonight."
Iowa got off to a quick 8-0 start, quickly taking the energy out of Assembly Hall. The Hawkeyes went on to lead by as much as 25 points, never relinquishing enough points to allow the Hoosiers to come within single digits.
Indiana shot 25-for-58 from the floor and 2-for-11 from 3-point range, unable to make routine layups and jump shots.
But on the other end of the floor, Indiana looked even less together. And that was where the game was lost. Whether it was lagging on simple plays, getting crossed up or not fighting for rebounds, the Hoosiers let the Hawkeyes steamroll their way to almost everything.
Perimeter defense was almost nonexistent, allowing Iowa to shoot 13-for-23 from deep. Kris Murray and Payton Sandfort each made five 3-pointers, and even when the Hoosiers knew who they should be guarding, they couldn't finish the job.
"It was just a full meltdown of our defensive gameplan," Trayce Jackson-Davis said. "They exploited it and they took shots, so credit to them."
Fans grew less and less pleased with the show they were witnessing, and some of the biggest grumbles came in the first half when Tony Perkins scored on three consecutive possessions with almost exactly the same play each time.
Jalen Hood-Schifino, tasked with guarding the Indianapolis native, was caught off guard each of those three times, failing to recognize Perkins' backdoor cut. Perkins read Hood-Schifino, and the rest of Indiana's defense, with ease throughout the game to finish with 23 points. He was one of four Hawkeyes to finish in double figures.
Perkins also led his team with 10 rebounds. The only player who was more successful on the boards than him was Jackson-Davis; he grabbed 13 boards while scoring 26 points for yet another double-double.
In doing so, Jackson-Davis also became the program's leader in rebounds. But it wasn't enough, because virtually no one else on Indiana stepped up. Even Jackson-Davis struggled at times to contain Iowa or keep up with the pace the Hawkeyes set, and no matter how many timeouts Woodson called, the Hoosiers couldn't regroup or adjust.
"They played up-tempo," he said. "We were playing at their pace, and they took advantage of it."
The Hoosiers were able to keep up with the pace of play in previous games, just barely losing in Iowa City 91-89. But with Tuesday's loss, the Hoosiers fell to 0-4 against the Hawkeyes under Woodson.
Tuesday's game elicited many questions from everyone, inside and outside of the program. Why didn't Indiana attempt more 3-pointers after seeing how successful Iowa was from deep? Why did Indiana's defense fail? What does this loss mean for seeding and the postseason?
But the biggest one is simply this: what happened? And why?
Even Woodson doesn't know.
"Nothing we did defensively worked," he said. "We just — we weren't there for some reason, and I've got to figure it out."
Filed to: Iowa Hawkeyes