6-Banner Sunday: Indiana passes test with road win against Xavier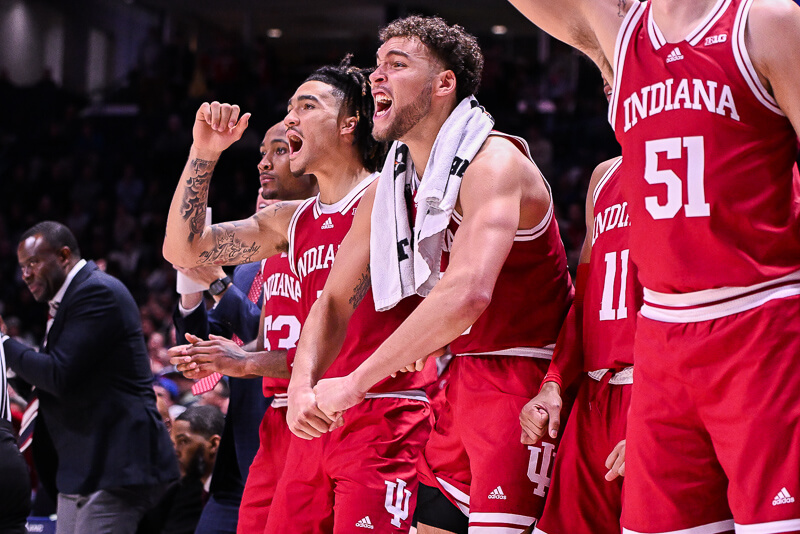 6-Banner Sunday is Inside the Hall's weekly newsletter in partnership with The Assembly Call. More than 9,000 Indiana fans receive the newsletter each week. In addition to appearing each week on the site, you can also opt to receive 6-Banner Sunday by email. A form to subscribe via email is available at the bottom of this week's 6-Banner Sunday.
Welcome to another edition of 6-Banner Sunday, a joint production between The Assembly Call and Inside the Hall, and presented by our friends at Trueblood Real Estate, where we highlight the five most essential IU basketball stories of the past week, plus take a look at how the other IU sports programs are doing.
While the big game against Xavier was the main story this week, a few other items of note occurred as well. This included a donor giving a major NIL gift, the normal shows from Inside the Hall, Assembly Call, and Mike Woodson, and a look at former Indiana players in the NBA. We will as usual conclude with a look at how other IU sports are doing where three other Hoosier teams won on the last play just like the men did in basketball.
• IU passes first major test against Xavier
• Anonymous donor to help with NIL
• Podcast on the Brink, AC Radio and Doing The Work
• Mike Woodson radio show recap
• Hoosiers in the NBA
• Hoosier Roundup – Final play victories across IU athletics
Looking for tickets to upcoming Indiana home games? Vivid Seats has you covered. This week Indiana takes on Miami (OH) at Gainbridge Fieldhouse before hosting Little Rock and Jackson State in Bloomington. Vivid Seats is a full-service provider – with an industry-leading customer service team, reachable by phone or online during extended business hours. (These links are Inside The Hall affiliate links, so a commission will be paid to ITH if you click and make a ticket purchase.)
Banner #1 – IU passes first major test against Xavier
In a hostile environment on the road dotted with only a small bit of red, the No. 12 ranked Hoosiers pulled out a thrilling 81-79 win against the Musketeers led by their All-American Trayce Jackson-Davis. Jackson-Davis , a Wooden Award candidate, scored 30 points and took apart Xavier's solid big men inside. Xavier Johnson also had a great game by chipping in 23 points. Malik Reneau built on his strong play from early this year by adding 12 points. Indiana was at its best when they played Jackson-Davis and Reneau together as the Musketeers could not compete against two elite scorers in the post.
The game saw IU nearly get blown out in the first half before Johnson led a late rally to get the contest within two points as they headed into the locker room. In the final 20 minutes, the game went back and forth. The Hoosiers pulled out to a quick eight-point lead early in the half, before Xavier rallied. IU once again built a seven-point advantage with just over four minutes left but the Musketeers would not go away and closed within one point on a 3-pointer with under 60 seconds to go. After Indiana was unable to score on the other end, the home team had two chances at the win. The first time, a jump ball gave possession to IU before two missed free throws by Reneau led to an missed short jumper by Xavier in the closing seconds and allowed the Hoosiers to escape.
Afterward, IU coach Mike Woodson spoke as did Xavier headman Sean Miller. Also, Jamie Owens had a photo gallery, Ryan Corazza had his Minute After and Film Session, Alex Bozich penned Five Takeaways, and Amanda Foster and William McDermott had feature columns on the game.
Indiana will look to improve to a perfect 4-0 today at 5:30 pm on BTN when they face Miami (OH) in Indianapolis at Gainbridge Fieldhouse.
Banner #2 – Anonymous donor to help with NIL
The big story away from the court was a huge boost to IU's NIL efforts. This contribution gives a dollar-for-dollar match on all Indiana donations that go towards NIL for up to $1 million through the end of the year.
The supporting gift was announced by Hoosiers For Good and Hoosiers Connect which are the main organizations that help Indiana Athletics raise money for NIL.
Banner #3 – Podcast on the Brink, AC Radio and Doing The Work
Podcast on the Brink and Assembly Call both had shows this week. Rocco Miller came on with Inside the Hall on Wednesday to preview the Xavier game.
As for Assembly Call, AC Radio and a postgame show following the victory against the Musketeers were recorded in the last few days.
Also, Doing The Work discussed the IU women's huge victory over Tennessee on the road which Amanda Foster wrote about in detail. The team is now in the top 10 nationally and also defeated Bowling Green on Thursday to improve to 4-0. Also, star players Grace Berger and Mackenzie Holmes were named to the Wooden Award Watch List. They host Quinnipiac at home today at 1 pm on BTN+.
Banner #4 – Mike Woodson radio show recap
Mike Woodson had his Monday radio program as he does most weeks. The show discussed various topics and had a guest appearance by former fan favorite and now IU team and recruiting coordinator Jordan Hulls.
Banner #5 – Hoosiers in the NBA
With the NBA season now roughly a month old, Inside the Hall looked at how former Hoosier players are doing. This season has six former players in the league who once wore the cream and crimson. This includes OG Anunoby (Raptors), Thomas Bryant (Lakers), Eric Gordon (Houston), Romeo Langford (San Antonio), Victor Oladipo (Miami), and Noah Vonleh (Boston).
Banner #6 – Hoosier Roundup – Final play victories across IU athletics
• Football pulled off a massive comeback against Michigan State and won a thriller in double overtime that came down to a defensive stand on the final play inside the IU 10-yard line.
• After being defeated last weekend against highly ranked Minnesota, volleyball went to the wire and won on the final possible point for a 15-13 five-set win against Northwestern. This triumph tied IU for the most conference victories (seven) in the Steve Aird era with three games left. If the team can come away victorious in any of their final three matches it will be the most Big Ten wins in 12 years. They also announced a three-person recruiting class that includes the daughter of well-known University of Cincinnati football coach Luke Fickell.
• Wrestling pulled out a 22-13 upset win against ranked Princeton in a match that went down to the end. They also announced their upcoming recruiting class.
• Men's Soccer managed to get a top 16 seed and bye in the NCAA tournament for the ninth straight season despite falling to Rutgers in the Big Ten Championship. They face St. Louis today at noon on ESPN+ as they look to move on to the Sweet 16 for the eighth time in as many years.
• Cross Country competed at the National Championships in their final meet of the season.
• Swimming and Diving took part in the Ohio State Fall Invitational.
• Softball announced its upcoming recruiting class.
• Field Hockey also announced their upcoming recruits.
• Women's Soccer had six players earn CSC First Team All-District.
Thanks for your continued support for The Assembly Call and Inside the Hall. We'll be back next weekend with a new roundup.
Now go enjoy yourself a 6-banner Sunday.
Aaron (Ari) Shifron
Assembly Call Contributor
Filed to: