"He had an unbelievable game": Xavier Johnson arrived when Indiana needed him most against Xavier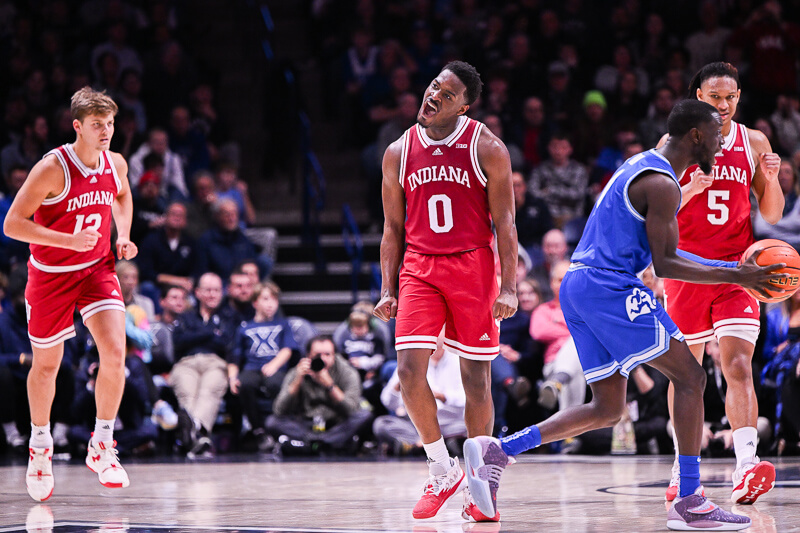 CINCINNATI – With three minutes to go in the first half and Indiana down four in its first road test of the season, Xavier Johnson shuffled his feet on the right wing and made Indiana's first 3-pointer of the contest. Then, he twirled around to face Xavier's bench and looked at the Musketeers as he skipped back on defense.
Technical foul. Almost immediately, Johnson brought his elbows into his chest and his palms faced the ceiling of the Cintas Center as he pleaded his case to the official, Larry Scirotto.
Whether it was a reasonable call is debatable, but the whistle helped lead Xavier to four quick points. The Musketeers made both free throws and knocked in a 2-point hook shot.
"Well again, I think I addressed that. I'm gonna stay on them about that because that can be the difference in winning and losing games," said Mike Woodson, addressing Indiana's two technical fouls, the other one coming from Malik Reneau. "I mean if you make a shot, you're supposed to make a shot. If you make a dunk or a layup, that's what you're supposed to do. So you don't have to taunt and do all the unnecessary things that get us in trouble.
"That's just not professional to me."
The technical foul, however, didn't define Indiana's night or Johnson's night. The Hoosiers squeaked past Xavier for an 81-79 win. Johnson was a huge part of that.
The senior point guard finished the night with 23 points, 10 attempts from the foul line, seven rebounds, and two 3-pointers while only missing one shot from the field. Johnson was surgical in the pick-and-roll as he made the right read and used his speed to drive to the basket and cause chaos under the rim.
Indiana's offense looked stale and slow in the first half. In remnants of last year, Woodson turned to his two leaders, Johnson and Trayce Jackson-Davis, to execute when the Hoosiers needed a bucket. Aside from Johnson, Indiana shot 2-of-12 on 3-pointers. Johnson's driving ability racked up foul trouble for the Musketeers and made up for a sluggish performance from the rest of IU's wings.
Xavier guard Souley Boum, who was tasked with guarding Johnson, found himself with four fouls with 17:30 to go. You can credit Johnson with that.
When Indiana needed a bucket Friday night, Johnson was the one who answered.
This is the Xavier Johnson that Indiana fans met toward the end of last season. The rim attacking, the hard-nosed defense, 3-point shooting and effort on Friday were commonalities last February and March.
But even as Johnson asserted himself as the best guard on the floor for much of the second half, he had moments down the stretch that showed room for growth.
With less than two minutes to go, Indiana had built a six-point lead. In what felt like it could have been a game-sealing possession, Johnson air-mailed the ball to Jackson-Davis on the right block and it was intercepted by Colby Jones. The Xavier guard raced down the floor in transition, got underneath the rim and was fouled by Johnson as he layed it in to make it a one-possession game.
Head-scratching plays like this aren't new for Johnson. But, at the end of Friday night, the good from Johnson outweighed the bad.
"Well again, I mean he was sporadic here and there. But for the most part, he was solid," said Woodson postgame. "I was on X a lot, especially after he got the tech… he did all the things we needed him to do to help secure this win, so I'm pleased."
Through Indiana's first two games, Indiana didn't need the best version of Johnson.
"I told Xavier (Johnson) after the game — you don't have to do it all this year," said Woodson after Indiana's home opening win.
Against Morehead State and Bethune-Cookman, Johnson combined for 11 points, six fouls and only three made field goals. But against Xavier, he looked like an All-Big Ten player.
After games like this, Indiana fans get a taste of what type of player Johnson can be when he's on.
"He had an unbelievable game," said Indiana freshman forward Malik Reneau postgame.
Unbelievable is an accurate description.
The game looked as if it was in the palm of his hands with waves of good and bad from Johnson flashing. But maybe this year's narrative around Johnson differs from last year's. He doesn't need to be a superhero for Indiana to play well this season. When Indiana needed him most, he delivered.
The "sporadic" and volatile play from Johnson isn't going anywhere, it's who he is. Johnson has proven he can turn it on when he needs to, and that's exactly what he did Friday night.
Filed to: Xavier Johnson