News and notes from Mike Woodson's radio show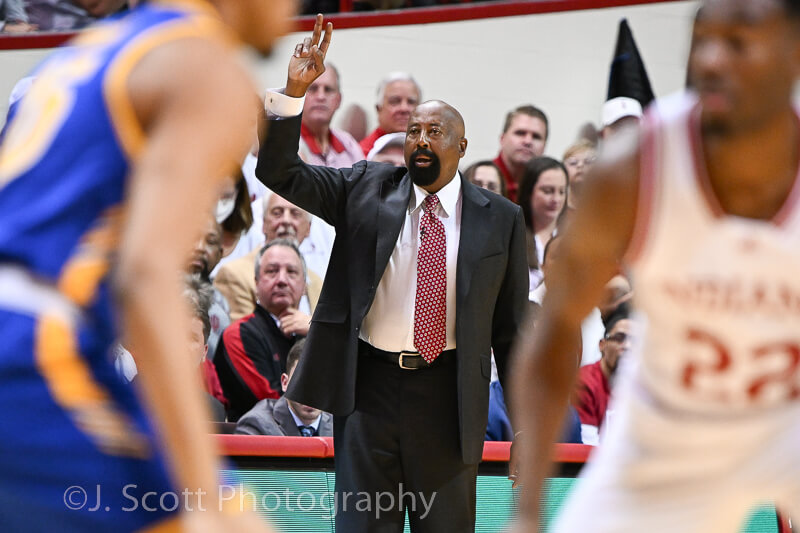 "Inside Indiana Basketball with Mike Woodson" returned after a week off as IU's second-year coach sat down with the voice of the Hoosiers, Don Fischer.
Jordan Hulls, IU's team and recruiting coordinator, joined Fischer in the final segment of the show.
• Woodson said the bench changed the dynamic of the first two games after both contests were competitive early on.
• Woodson noted that IU's freshmen are still behind a little bit, but pointed out that their competitiveness has helped make up for it early on in the season
• On Reggie Theus, Woodson joked: "He cheats a lot in golf. I think sometimes he's got holes in his pocket. He can't find his ball and it appears where he thinks it is. We've got to keep an eye on him."
• Woodson said IU was able to overwhelm Bethune-Cookman with its size, experience and athleticism.
• Fischer asked Woodson if IU can divulge what it pays opponents like Saint Francis, Marian and Bethune-Cookman to come to play in Bloomington. Woodson said he wasn't able to. (Here are the numbers, via an open records request.)
• Woodson said he's been most impressed with Indiana's assists so far. He said that was a struggle last season and it shows guys are sacrificing for the team's sake. "That becomes contagious."
• On the bench production so far: "Those guys are hungry. They want to play. I can't give everybody big minutes."
• Woodson said coming into the season he played into his mind the rotation and who was going to play. "Based on how the game is going will determine how I rotate players in."
• With the switching that IU does on defense, Woodson pointed out that it can put bigs out onto the perimeter and put IU at a disadvantage on the glass.
• On Miller Kopp: "He's made a lot of shots. Especially in transition where you can't get matched up."
• On 3-point shooting: "When you've got open 3s, you've got to make them. Last year we struggled in that category."
• On Trey Galloway: "He plays so hard, especially with the things we want done on the defensive end." Woodson also said Galloway put in a lot of work on his perimeter shot in the offseason.
• On CJ Gunn's fearlessness: "I was kind of that way as a freshman. We've just got to get him comfortable… I'm pleased with how CJ has played."
• Woodson on allowing big guys to bring the ball up the floor: "I don't want robots. I want basketball players that can make plays."
• On Gabe Cupps: "He's just a solid point guard that knows how to run a team. And he wins. He wins titles."
• On Jakai Newton: "He's tough. And he can really score the basketball."
• Woodson says he's still recruiting for next season. He says IU will lose Johnson, Jackson-Davis, Thompson and Kopp after this season.
• Woodson said he'll be out recruiting on Tuesday in Florida at Montverde Academy.
• Woodson on Xavier: "Watching them on film, they really play extremely well together. They've got some veteran guys that have been around a while."
• On approaching the first road game of the season: "I tell our players, the road is different. You've got to have a mentality on the road that you can't turn the ball over, get good shots and you really gotta defend and rebound the ball."
• Woodson said IU had officials into practice today and scrimmaged a little bit. IU will be off on Tuesday as Woodson is on the road recruiting and will "get back at it" on Wednesday in preparation for Xavier.
• Hulls says a big part of his job is underclassmen recruiting, building relationships and notes that he puts together schedules for official visits and unofficial visits is something he plays a big part in. Hulls played professionally in Poland, Kosovo, Belgium and Germany before returning to Bloomington.
• Hulls says he wouldn't have come home for "anything but this job." Notes that he likely would have played another two or three years or until his knees gave out.
Filed to: Mike Woodson