Trayce Jackson-Davis steps up, leads Indiana to key road win against Xavier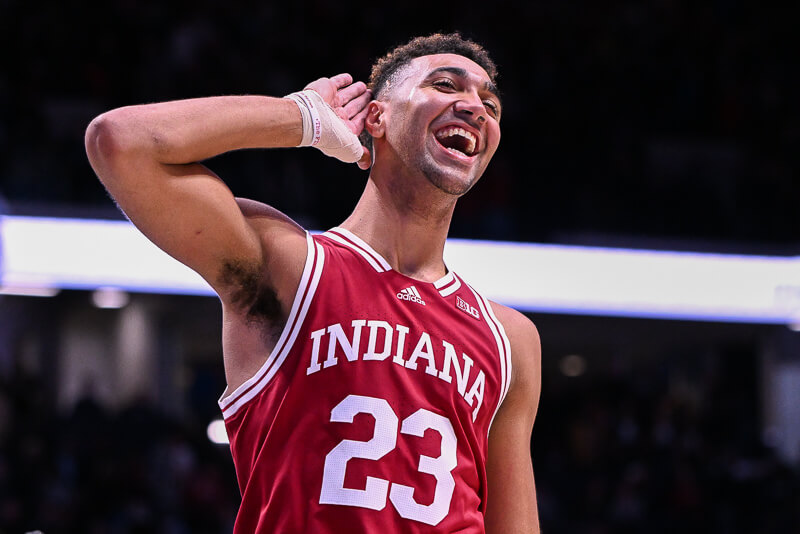 Trayce Jackson-Davis' return to Indiana for the 2022-23 season sparked surprise, happiness and excitement. As the season approached and Jackson-Davis continued to receive preseason accolades and placements on countless watchlists, the anticipation only grew.
In Indiana's first two regular season games, Jackson-Davis played just over 20 minutes, scoring 15 points against Morehead State and 21 points against Bethune-Cookman. His contributions certainly helped Indiana to dominant victories in both games, but he didn't always go all out — because he didn't need to.
Friday night, Indiana needed Trayce Jackson-Davis to go all out. He stepped up and did just that.
In the Hoosiers' 81-79 victory over Xavier at the Cintas Center, Jackson-Davis scored 30 points on 13-of-16 shooting to go with six rebounds and three blocked shots. He played 37 minutes, the only Hoosier to play more than 29.
"He's capable of doing that," Mike Woodson said postgame. "We've just got to consistently get him to do it every night. I don't know if he's going to get 30 every night, but we got him to play at that high level to help us win."
Part of the reason for that playing time? Jackson-Davis was simply ultra-comfortable on both ends of the court. On offense, he slipped under the basket for layups and defensively, he read the Xavier offense to swat the ball away and alter shots at the rim.
The Musketeers struggled to contain the 6-foot-9 big man for much of the night. Jackson-Davis forced the Xavier defense to collapse on him multiple times just to get a stop. The fourth-year big man was playing at top form, and it was a good thing he did, because he barely had anyone to back him up.
Only two of his teammates scored in double figures as Xavier Johnson finished with 23 points and Malik Reneau added 12. However, Reneau only came into his own in the second half, leaving Johnson and Jackson-Davis to carry the weight in the first half.
"That's just the biggest thing about me coming back," Jackson-Davis said. "Sometimes, especially in games like this, it's our first road test, some of the younger guys haven't played in this hostile environment situation but I have. So I took the load tonight, and it's something I'm willing to do whenever I need to."
Jackson-Davis came out quick and strong, scoring eight of Indiana's first ten points to start the game. But when he went to the bench after about eight minutes of playing, the Hoosiers missed having him on the floor.
Xavier jumped out to a multi-basket lead and none of the IU players on the court looked comfortable. Missed layups, missed 3-pointers and missed free throws put Indiana in a nine-point deficit with Jackson-Davis on the bench.
So, with nine minutes left in the half, Mike Woodson called upon his All-American. Jackson-Davis came back in the game just as he left — confident and comfortable — to score nine points and help bring Indiana within two points heading into the break.
The second half saw an Indiana team that, as a whole, played more aggressively and worked harder to find a good rhythm. But while the game remained close and Indiana fought to pull out the win, the offense didn't change.
Jackson-Davis scored 13 points, Johnson scored 12 and Reneau scored 10. Only two other Hoosiers scored in the half, for a total of eight points.
"They pushed us to the max," Woodson said about Xavier's play style. "But I thought Trayce and Xavier, coming down the stretch, they really brought it home for us."
Clearly, Jackson-Davis stepped up once again. He did have help, but not all of the help he should have. And perhaps more importantly, not all of the help he'll need in the future against challenging opponents.
One of the storylines for Indiana entering the season was the potential for major impact players in the starting lineup and off the bench. But outside of Reneau's performance, Indiana's first true competition effectively shut down Indiana's bench and most of its starters.
While Friday's game certainly showed things to improve upon, Indiana showed its grit and determination to walk away victorious, and Jackson-Davis showed he's going to do whatever he can, and whatever it takes, to help his team win.
Filed to: Trayce Jackson-Davis