Five takeaways from Indiana's win at Xavier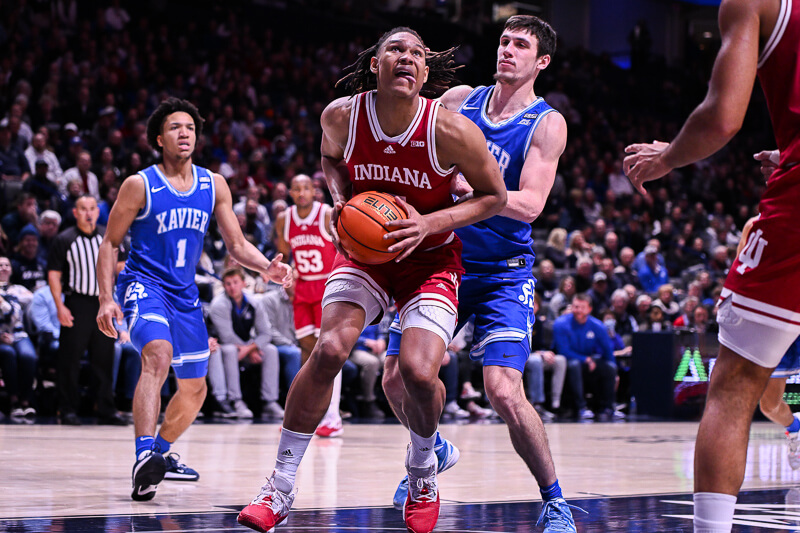 Indiana improved to 3-0 with an 81-79 win against Xavier on Friday night at the Cintas Center.
Here are five takeaways from the win:
Indiana dominates in the paint
The frontcourt battle was a key storyline entering Friday's game between Indiana and Xavier. And the dominance of the Hoosiers in the paint proved to be a key factor in the outcome.
Indiana outscored Xavier 50-40 in the paint in its victory. As good as the Musketeers were in the paint at times, the Hoosiers were even better.
"Our defense wasn't good enough," Xavier coach Sean Miller said postgame. "We just couldn't handle Indiana in the paint."
Indiana shot 56.5 percent on 2s in the win, which is a major reason the Hoosiers scored 1.14 points per possession. Once the ball got inside, it often ended with a layup, dunk or a trip to the free throw line.
The three leading scorers for Indiana – Trayce Jackson-Davis, Xavier Johnson and Malik Reneau – shot a combined 23-of-30 (76.6 percent) on 2s.
Trayce Jackson-Davis took his game to another level
Friday's performance from Jackson-Davis was one of his best in an IU uniform.
His 30 points were a game-high. He shot 13-of-16 from the field. And Xavier had no answer for him once he got position in the post or got a full head of steam going towards the rim.
Jackson-Davis's lack of a perimeter game has been much discussed throughout his career. His play in Friday's win showed why he's an elite player at the college level without taking a shot outside of 10 feet.
Xavier knew where the ball was going all night. The Musketeers still couldn't stop the preseason All-American.
"Because of how much experience he's gained in college, it's really hard to double-team him," Miller explained postgame. "Maybe more difficult today than it would have been a year, two or three years ago.
"So because of that, you have to guard him one-on-one. The way he plays, he's as almost adept off the lane driving as he is in the low post … his efficiency, it's hard to overcome that."
Malik Reneau makes a major impact in first road game
Malik Reneau stood out for Indiana through the exhibitions and first two regular season games. But the competition wasn't nearly the same caliber as what he faced on Friday night.
The 6-foot-9 freshman had an impressive performance in the first big game of his young career. The Montverde Academy product was Indiana's third-leading scorer with 12 points in 16 minutes. He shot 5-of-8 and also grabbed six rebounds.
Although Reneau had a few forgettable moments like a technical foul and two missed free throws down the stretch, he proved why he's a major upgrade for the program's frontcourt.
"He got in foul trouble, but I mean, I trust him. He's solid," Mike Woodson said. "I played him with the four fouls knowing that if he fouled out, I still got an ace in the hole with Race (Thompson)."
Indiana's defense had its share of struggles
Friday's defensive performance from Indiana wasn't on par with many of its efforts from last season.
The Hoosiers had the Big Ten's best defense a season ago. When IU won games last season, it typically did so because it could get stops.
But those stops weren't frequent enough on Friday, which will be a teaching point for Woodson when he reviews the film from the narrow road win.
Indiana surrendered 79 points and 1.11 points per possession, which typically wouldn't be enough to beat a quality team.
With three more tough non-conference games and the start of Big Ten play around the corner in early December, Indiana has work to do to improve defensively.
This win should age well
Xavier isn't expected to be an elite team this season. Still, the Musketeers certainly showed the talent and competitiveness to contend in the Big East and for an NCAA tournament berth.
With experience at every position and a coach who knows how to win in Sean Miller, Xavier will win plenty of games this season.
And Indiana should want that to happen to increase the value of Friday's triumph.
Non-conference road wins against legitimate competition are difficult to attain in college basketball. Indiana now has one on its ledger and will get another opportunity next month when it travels to Kansas.
"You've gotta give them a lot of credit," Woodson said of Xavier. "That team is good. They're big and physical and they play hard and they can make shots. They pushed us to the max."
Filed to: Malik Reneau, Mike Woodson, Trayce Jackson-Davis, Xavier Musketeers