The Minute After: Xavier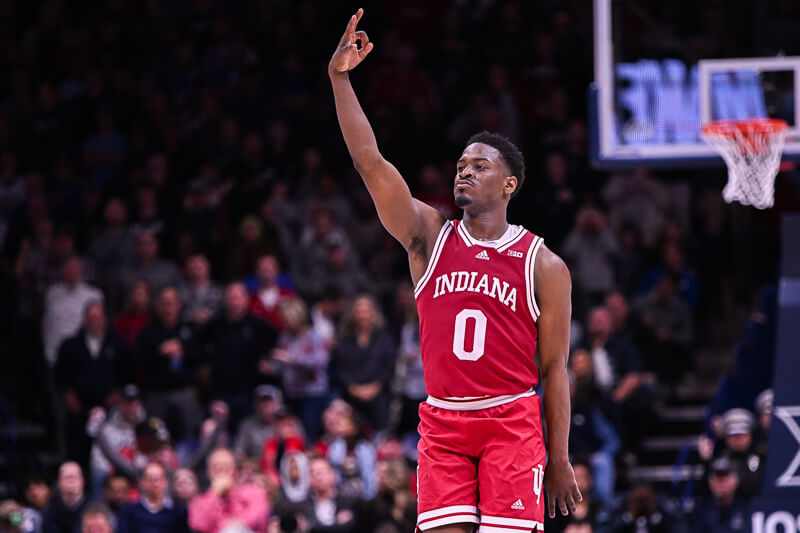 Thoughts on an 81-79 win against the Musketeers:
Whew.
Indiana survives tonight in a hostile road environment, showing just enough grit and moxie to pull out a hard-fought win against a good team. There is plenty to clean up and room for improvement. But victories like these are far from easy and never guaranteed.
A win is a win, Indiana's first in this fashion in 20 years. Hats off to Mike Woodson and the Hoosiers.
Indiana was shaken early, the Cintas Center crowd and Xavier's defense getting the best of the Hoosiers early. The ghosts of Indiana's past arrived quickly. Trayce Jackson-Davis isolated off the right block and double-teamed, his teammates failing to hit shots around him as the Musketeers applied pressure. Indiana's bench, which looked so strong and together against lesser foes, crumbled tonight in the first half, and Woodson rightly pulled the plug on the experiment. Indiana's dominant defense showed cracks as Xavier got hot from outside and won the battle down low.
With Jackson-Davis under pressure and the shots not falling, Indiana turned to a familiar, if inconsistent spark plug: Xavier Johnson. Johnson had yet to get it going offensively this season, but his play tonight was essential. IU's point guard helped steady the Hoosiers' offense in the first half, as he broke down the defense for buckets of his own and assisted Jackson-Davis in the pick-and-roll.
So despite a start with Indiana back on its heels, the Hoosiers trailed by just two at halftime. And by the time the second half got going, Indiana began to find its way. The defense picked up and frustrated Xavier. Indiana asserted itself more on offense, forcing the issue and picking up several early fouls to find itself in the bonus before the under-12 timeout.
Like the first half, Johnson and Jackson-Davis were the difference over the final 20 minutes. The duo combined for 25 points on 9-of-12 shooting in the second half. With Indiana down two with 6:49 to go, Johnson drilled a 3-pointer. Just over a minute later, he was fouled and made two free throws. On Xavier's ensuing possession, he stole the ball on a bad pass by Adam Kunkel and scored at the other end for two to put Indiana up five with 5:13 to go. Malik Reneau, Indiana's other second-half star, scored on IU's next possession to put Indiana up eight with 4:11 to go.
After starting ice cold, Miller Kopp knocked in a 3-pointer from the left corner after a Jackson-Davis skip pass out of a double team came his way. That made it an eight-point lead for Indiana with 2:25 to go.
But the final two minutes and change proved uneasy.
Johnson made a bad pass to Jackson-Davis, who wasn't even looking. Colby Jones stole it easily, took it down the court, and scored with an and-1 to boot, Johnson committing the foul after his turnover. Souley Boum drilled a 3-pointer to close it to a one-point Indiana advantage with 56 seconds left. Reneau missed two free throws with 12 seconds left and Indiana still clinging to a one-point advantage.
The Musketeers had no timeouts left on their ensuing possession, Kunkel just missing a driving lay-up with four seconds to go, a Johnson rebound securing the victory for Indiana.
Johnson, Jackson-Davis and Reneau scored 35 of Indiana's 43 points in the second half, as the Hoosiers needed every single one to hang on.
Indiana passes its first test of the season, starting out 1-0 in its tough four-game non-conference slate with North Carolina, Arizona and Kansas still on deck.
"The schedule's is what it is," Woodson said post-game. "We can't run from it."
Filed to: Xavier Musketeers