6-Banner Sunday: IU beats Belmont in "secret scrimmage"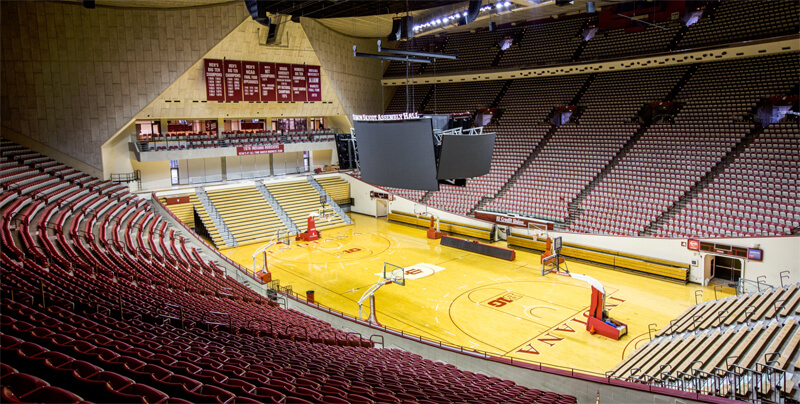 6-Banner Sunday is Inside the Hall's weekly newsletter in partnership with The Assembly Call. More than 8,000 Indiana fans receive the newsletter each week. In addition to appearing each week on the site, you can also opt to receive 6-Banner Sunday by email. A form to subscribe via email is available at the bottom of this week's 6-Banner Sunday.
Welcome to another edition of 6-Banner Sunday, a joint production between The Assembly Call and Inside the Hall where we highlight the five most essential IU basketball stories of the past week, plus take a look at how the other IU sports programs are doing.
While very few saw it, IU opened its season unofficially with a "secret scrimmage" against the Belmont Bruins in Louisville on Saturday. While not much is known about what happened, enough information was leaked afterward on Twitter for fans to see what the result was.
Perhaps even bigger though was the first known return of "The General" to a Hoosier practice since IU coach Mike Woodson took over. In addition, the top games in Assembly Hall history will be revealed, the Hoosiers number one remaining target for the 2022 class will make his college decision, and Inside The Hall continues its player previews. As usual, we will conclude 6-Banner with a look at the results of other IU sports.
Podcast On The Brink had two episodes this week. One was with Bart Torvik and the other with Matt Cox. Also, this week's Assembly Call radio can be heard here and the first episode of the new Grace Berger Show here.
• IU beats Belmont In "Secret Scrimmage"
• Bob Knight attends Practice
• IU to unveil top games ever at Assembly Hall
• Noah Clowney to announce college decision this week
• Inside The Hall player series continues
• Hoosier Roundup
Banner #1 – IU beats Belmont in "Secret Scrimmage"
Not much information is known about the game, but the Hoosiers met up with the Bruins between their campuses in Bloomington and Nashville. The "secret scrimmage" took place in Louisville which is about 100 miles from IU and 175 miles from Belmont.
The few available results came courtesy of WDRB's Rick Bozich who tweeted that IU won by 11 per his "secret source". Other information to come out of the tweet was that the Hoosiers shot 11-for-11 from the free-throw line, 8-of-23 from long range, and out-rebounded the Bruins by eight. Also of note is 11 of IU's 13 players were available for the scrimmage although it is unknown which two missed the game.
IU star Trayce Jackson-Davis did not provide any results or info from the game itself but did tweet out three happy faces afterward to presumably indicate he approved of the performance from the team.
Banner #2 – Bob Knight attends practice
Fans have wondered if Bob Knight would be a regular at Assembly Hall now that his former player Mike Woodson is the head coach. After shunning the program for many years following his firing, Knight returned for the first time publicly in 2020 to be honored during the Purdue game.
Since that day, the legendary head coach seems to have gotten closer with the place he once roamed the sidelines. This week Knight celebrated his 81st birthday and also attended a practice. It is unknown if he has been around the program at other times, but this is his second known appearance following the emotional return during halftime in the game against the Boilers.
Banner #3 – IU to unveil top games ever at Assembly Hall
Assembly Hall opened in 1971 and will have been around 50 years when this season tips off. To celebrate this milestone for the building, IU announced it will unveil a top game played there during each home contest this season. The following day, IU's social media channels will release an expanded version of the account of the game that will include commentary from players who participated in that game. The No. 1 game ever will be revealed on senior day against Rutgers on March 2.
As part of the announcement, the women's team will do the same thing at their home games with their No. 1 game revealed on senior day against Iowa on February 20. This game against the Hawkeyes could also go a long way towards determining who wins the Big Ten Title as both IU and Iowa are among the favorites to take the conference crown.
Banner #4 – Noah Clowney to announce college decision this week
Following the commitment of Jakai Newton to the 2023 class last week, the Hoosiers await another decision from a top recruiting target in the coming days. This time the choice will come from Noah Clowney on Monday at 5 p.m. ET and he is IU's top remaining target for the 2022 class. Indiana has already secured commitments from Jalen Hood-Schifino, Kaleb Banks, and CJ Gunn for this class which is ranked No. 12 in the nation according to 247Sports. If Clowney were to choose the Hoosiers, it would enhance this ranking further.
Clowney is the No. 62 player in the 2022 class according to the 247Sports Composite Rankings and he is down to Alabama, IU, and Virginia Tech for his choices.
Banner #5 – Inside The Hall player series continues
Inside The Hall continues to preview each IU player individually as the season nears. This week the site profiled Khristian Lander, Jordan Geronimo, Anthony Leal, Trey Galloway, and Trayce Jackson-Davis.
As well as the player preview, Jackson-Davis was also named to the preseason All-Big Ten team and an AP All-American.
Banner #6 – Hoosier Roundup
• Men's Soccer continues its late-season surge with victories over Wisconsin and VCU. They go for a Big Ten Title against Maryland today. As a result of their strong play of late and seven straight shutouts, goalie Roman Celentano received an award as did defender Daniel Munie. Also, senior Spencer Glass was named a finalist for the CLASS Award.
• Football continued its struggles this season with a loss to Maryland.
• Volleyball beat Rutgers before falling to Minnesota and Northwestern.
• Field Hockey beat Ohio while Kira Curland was named Big Ten Freshmen of the Week.
• Women's Soccer ended its once-promising season with a loss to Purdue.
• Swimming and Diving had a strong weekend with the No. 5 ranked men's team beating three other ranked teams in Virginia Tech, Penn State, and Ohio State. The No. 11 ranked women's team also knocked off a ranked Virginia Tech team but fell to No. 10 Ohio State.
• Cross Country competed at the Big Ten Championships with the men's team finishing fourth and the women's team fifth.
• Men's Golf wrapped up their fall season with an eighth-place finish.
• Women's basketball star Ali Patberg was named to the Nancy Lieberman Award Preseason Watch List. Also, the team was picked to finish second in the Big Ten behind Maryland, and Mackenzie Holmes and Grace Berger were named to the Preseason All-Conference Team. Berger was also named to the Cheryl Miller Award Preseason Watch List and Holmes to the Lisa Leslie Preseason Watch List.
• Wrestling announced a couple of appearances on Big Ten Network this season.
Thanks for your continued support for The Assembly Call and Inside the Hall. We'll be back next weekend with a new roundup.
Now go enjoy yourself a 6-banner Sunday.
Aaron (Ari) Shifron
Assembly Call Contributor
Filed to: