Former Indiana coach Bob Knight attends practice as season tipoff nears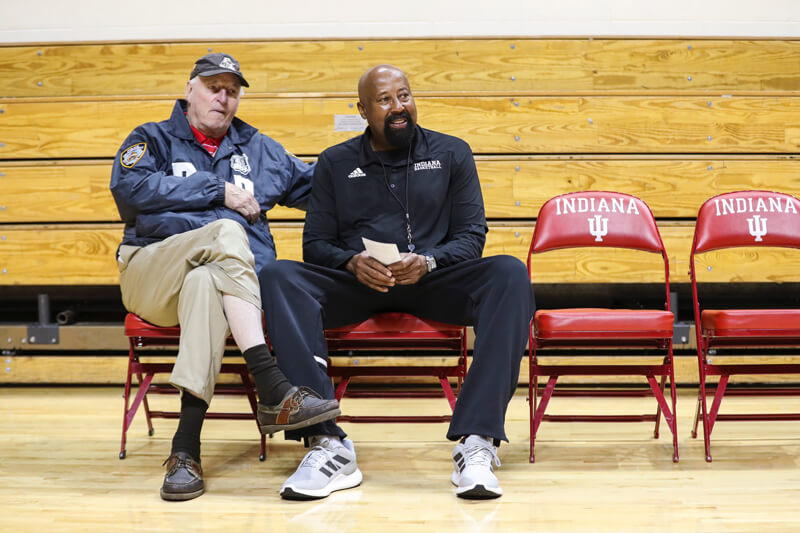 During practice in Assembly Hall on Thursday, former IU coach Bob Knight wrapped his arm around Mike Woodson. As the two sat next to each other, a smile crept across Woodson's face.
With just 12 days until the start of the 2021-22 season, Woodson posted a picture of himself and his former coach on social media Thursday night.
"Just like old times, Coach!" Woodson wrote on Twitter. "It was an honor having you at practice today Bobby Knight!"
Knight coached at Indiana from 1971-2000 before being dismissed by university president Myles Brand. During his tenure at Indiana, Knight helped lead the Hoosiers to three national championships and 11 Big Ten titles. He coached Indiana's 1976 national championship team, which is the last team to go undefeated for the entirety of a season. He was also named national coach of the year four times.
Woodson was in middle school when his story first intersects with Knight. In sixth grade, Woodson's teacher had to pay for him to attend Knight's basketball camp because he didn't have enough money to cover it on his own. When he arrived at the camp, Woodson won a 3-on-3 tournament and Knight personally gave him a T-shirt. Knight told Woodson he'd follow him during his senior year at Broad Ripple High School.
In time, Woodson earned a spot to play for Knight at Indiana, where he went on to score more than 2,000 career points and led IU to a 1979 NIT Championship. In Woodson's senior season, where he made an unlikely recovery from back surgery, he was named the Big Ten's most valuable player.
"He (Knight) took a chance on a kid out of Indianapolis," Woodson said this spring. "He taught me how to play the game of basketball from a fundamental standpoint. He taught me how to be a man on and off the floor."
After Knight was fired, though, he vowed not to return to Indiana. In 2020, however, that changed when Knight attended Indiana's game against Purdue at Assembly Hall. Woodson was right by his side.
When Woodson was hired as Indiana's head coach this spring, he set a vision to bridge the gap between the past and the present of Indiana basketball. Woodson invited Isiah Thomas to a recent practice and Hoosier Hysteria. He started a tradition at practice where the team looks up at the program's championship banners. He frequently mentions Knight at press conferences. And now, Woodson brought Knight to practice.
"I've been chosen to be the coach here and I'm going to try to tie it all together to make it all work," Woodson said this spring. "And we all will be one big family and win basketball games."
Filed to: Bob Knight, Mike Woodson