'One big family': Mike Woodson's vision to unite Indiana's past with the future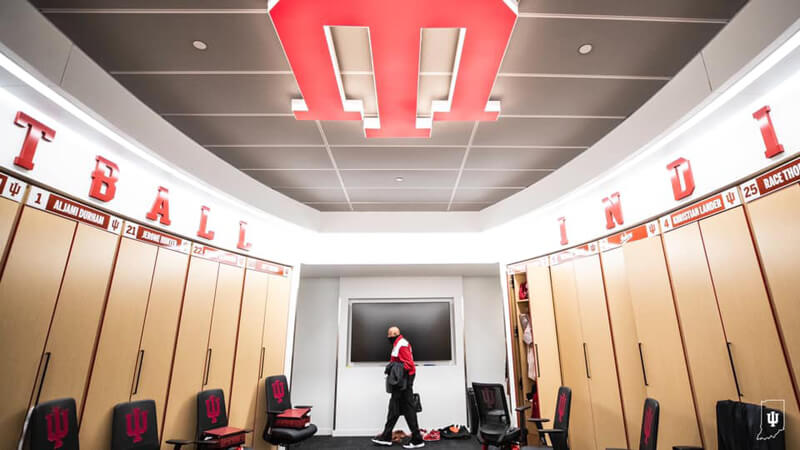 It was exactly two weeks ago that IU athletic director Scott Dolson laid the groundwork for what he was looking for in the next head coach at Indiana. A key component was the ability to connect Indiana's illustrious, but fading past, to its future. During the process, Dolson created a "vision document," outlining his goals for the new hire.
What was clear is that Dolson didn't want Indiana's history, with five national championship banners and decades of dominance, to be forgotten. But Dolson also didn't want it to be dwelled upon. Rather used as a springboard for finally running down the success that has been elusive since the turn of the century.
And thus, two weeks later, after Dolson was holed down in his basement, on the phone nearly nonstop, even to the point where his wife had to bring him meals, he found his man.
On Monday morning, Mike Woodson was officially introduced as the 30th men's basketball head coach in Indiana history. In that move, the two sides of Dolson's logic come crashing together. Dolson pulled from a former player, one who was guided by the most prominent pillar of IU basketball, Bob Knight. It now spins to the future, with Woodson at the helm.
"It's going to be my job to bridge the gap between young people who don't know who coach Woodson is," Woodson said. "And I'm going to bring all the old-timers back, like the old days, the gap between old and new."
First, you have to begin with the "old." The first person Woodson mentioned Monday morning, growing a little bit teary-eyed, was Knight, as he recounted memories of his childhood and young adult life. Woodson grew up with 12 brothers and sisters in Indianapolis, where basketball, like for so many others, was supreme.
In middle school, Woodson's sixth-grade teacher had to pay for him to attend Knight's basketball camp because he didn't have enough money to cover it on his own. When he arrived at the camp, Woodson won a 3-on-3 tournament and Knight personally gave him a T-shirt. Knight told Woodson he'd follow him during his senior year at Broad Ripple High School.
Knight followed through and Woodson enrolled at Indiana in 1976. He went on to score more than 2,000 career points, leading IU to a 1979 NIT Championship. In his senior season, he was named the Big Ten's most valuable player.
"He (Knight) took a chance on a kid out of Indianapolis," Woodson said. "He taught me how to play the game of basketball from a fundamental standpoint. He taught me how to be a man on and off the floor."
After his playing career at Indiana was complete, Woodson spent time bouncing around the NBA for 11 seasons. Then he got into coaching, serving as an assistant for Cleveland, Philadelphia and Detroit before taking over as the head coach for the Atlanta Hawks in 2004 and Knicks in 2012. He coached all-timers like Carmelo Anthony, Chris Paul and Blake Griffin, among others.
Woodson's decision to enter the field of coaching was influenced by the experiences he had with Knight.
"I had something to offer some young kid as a coach on and off the floor because I like to think of the years that I played here at Indiana University," Woodson said.
During his professional tenure, playing and coaching, Indiana was always on Woodson's mind. He'd always check in to see how the Hoosiers were doing. When Knight returned to Assembly Hall in 2020 for the first time since he was fired, Woodson was there with him.
"We laid the groundwork for where we are today and those players should never, ever be forgotten and in my heart, they won't ever be forgotten," Woodson said.
But now Woodson has to quickly turn his focus to what's next and the many concerns that come with his hiring. Among them is that Woodson has never coached at the collegiate level and is 63 years old. Knight is often an afterthought in the minds of recruits and there's a significant age-gap between Woodson and the kids he's coaching. Woodson, though, doesn't see it as a problem.
"At the end of the day, coaching is coaching," Woodson said. "…I honestly believe I can go in a kid's home and be able to relate because of what I've gone through in my career. And I have a story to tell, I do. If that kid is willing to listen and he buys into my story, I think I can get him to come to Indiana University."
Woodson has already delivered a pitch to the current Indiana players, six of whom are in the transfer portal. After the official announcement of his hiring yesterday, Woodson flew to Bloomington and immediately met with the team. On Monday, he will meet with the players individually.
This is just the surface of the relationships that Woodson hopes to build. Woodson has, and always will, he said, had an open door policy with players. When Dolson wanted to interview him for the coaching opening on Zoom, Woodson told him he would only meet in person. Dolson flew out to see him.
Woodson talked about embracing the new-age game, filled with 3-point shooting and positionless basketball. Here, again, it blends with the "old" when he said also wants to bring back former players to foster culture.
"I've been chosen to be the coach here and I'm going to try to tie it all together to make it all work, and we all will be one big family and win basketball games," Woodson said.
On Sunday, when Woodson arrived in Assembly Hall, he wore a red and white jacket with Indiana's National Championship years on the back. He walked through an empty locker room where there will be future wins and defeats. He strolled down the concourse where next season it will hum with fans again.
Woodson was turned toward the glass panels facing the campus, and with Indiana's history quite literally stitched onto the back of his jacket, he looked toward the future.
(Photo credit: IU Athletics)
Filed to: Mike Woodson