6-Banner Sunday: Indiana posts 2-1 record in 2020 Maui Invitational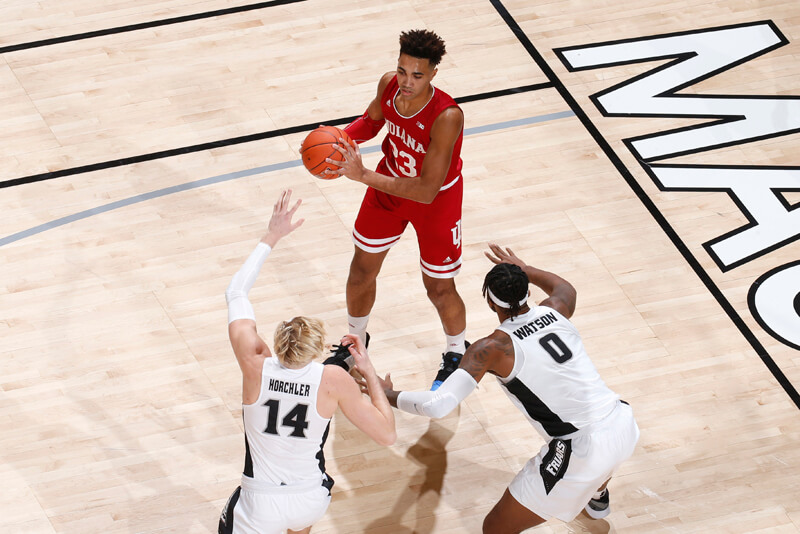 6-Banner Sunday is Inside the Hall's weekly newsletter in partnership with The Assembly Call. More than 7,500 Indiana fans receive the newsletter each week. In addition to appearing each week on the site, you can also opt to receive 6-Banner Sunday by email. A form to subscribe via email is available at the bottom of this week's 6-Banner Sunday.
Welcome to another edition of 6-Banner Sunday, a joint production between The Assembly Call and Inside the Hall where we highlight the five most essential IU basketball stories of the past week, plus take a look at how the other IU sports programs are doing.
After playing three games in three days in the Maui Invitational earlier this week, Indiana returned to Bloomington with a 2-1 record in the event. It wasn't the championship run that they had hoped for, and it certainly wasn't perfect, but the bottom line is that the Hoosiers built their resume with two wins against potential NCAA Tournament teams.
The Hoosiers put up strong performances on the first and third days with a dismal outing against Texas sandwiched in-between. After a relatively slow start to the season, Trayce Jackson-Davis broke out with a terrific 31-point game against Stanford on the final day. Jackson-Davis made the All-Tournament team, averaging 20 points and 5.7 rebounds per game.
Race Thompson and Armaan Franklin have also stood out as key pieces early in the season. Thompson put up a career day in the Maui opener against Providence and Franklin sparked the Hoosiers' defense against Stanford. Senior big man Joey Brunk, who is dealing with back soreness, still hasn't played this season.
Now, the Hoosiers have a one week break before their next test, when they travel to Tallahassee to take on Florida State in the ACC/Big Ten Challenge on Wednesday night at 9:15pm on ESPN2.
You can listen to reactions from the Maui Invitational on this week's editions of Assembly Call Radio and Podcast on the Brink. You can also check out a recent interview with former Hoosier Jordan Hulls here.
In recruiting news, Tennessee-Martin graduate transfer Parker Stewart included Indiana in his final four schools. The guard averaged 19.2 points and 3.8 assists per game last season.
Also, IU announced TV designations for games the rest of the season and times for the remaining games in December.
• Indiana closes Maui Invitational with win over Stanford
• Armaan Franklin shines in final tournament game
• Hoosiers trounced by Longhorns in semifinals
• Indiana impresses in opening round win
• Race Thompson's development on full display
• IU Sports Roundup
Banner #1
Indiana closes Maui Invitational with win over Stanford
The Hoosiers closed out their time in Asheville, North Carolina with a decisive 79-63 over the Cardinal on Wednesday afternoon. With the win, Indiana took third place in the event and more importantly, bounced back after a dreadful loss to the eventual champion Texas.
After a subpar start to the season, sophomore Trayce Jackson-Davis broke out with a career-high 31 points, including 10-16 from the field and an efficient 11-14 from the free-throw line. Jackson-Davis' superb outing was highlighted by a one-handed alley-oop slam off an inbound pass from Khristian Lander.
"We needed to jump-start him and he knew that," head coach Archie Miller said after the game. "And the good part about Trayce is he's extremely coachable. You're able to coach him hard and I think being able to explain some things with our team last night, we needed that."
The Hoosiers also showed statistical improvement after the loss to Texas. Against Stanford, Indiana shot 52 percent from the field, 33 percent from 3-point range and 80 percent from the free-throw line. They also tallied 20 assists and outrebounded the Cardinal 34-26.
Banner #2
Armaan Franklin shines in final tournament game
Over the last two years, the development of sophomore guard Armaan Franklin has been a rather interesting story to follow. As a freshman, he was thrown into the starting lineup at the beginning of the season when Rob Phinisee and Devonte Green were sidelined with injuries. But Franklin struggled with his shot and confidence, and toward the end of the year, he barely saw any playing time.
This season has been a different story, though. Franklin, who worked his way back into the starting lineup, has played with confidence and a tenacity that wasn't frequently present last year. It was especially evident in the win over Stanford, where Franklin scored 13 points, grabbed eight rebounds and handed out five assists while playing all 40 minutes.
"And one of the things that I love about Armaan right now is a year ago at this time I was begging him to rebound," Miller said after the game. "I was begging him to mix it up and get it dirty."
Not only did Franklin ignite the Hoosiers on the offensive end, but he also stymied potential lottery pick Ziaire Williams. He held Williams to just four points on 1-of-10 shooting and 0-of-5 on 3-pointers. As a team, Indiana held Stanford to 35 percent from the field. It was all spearheaded by the energy of Franklin.
"Becoming one of the best defenders we have," Miller said. "He's guarding bigger players, smaller players, all over the floor. He's accountable right now. He's playing much tougher."
Banner #3
Hoosiers trounced by Longhorns in semifinals
Indiana's 66-44 loss to Texas was concrete proof of why Indiana fans are still frustrated with Archie Miller in his fourth year at the helm. Bad shooting and a stagnant offense, which have been present in past seasons, surfaced again against Texas.
The Hoosiers were dominated by the Longhorns from the start with Texas' length and athleticism proving to be too much. Indiana shot a horrid 24 percent from the field and 20 percent on 3-pointers. They gave away the ball 14 times while only recording six assists. On the glass, the Hoosiers were brutally controlled 48-29.
Jackson-Davis was the only Hoosier to score in double-figures. It all came together to be the lowest scoring effort from an Indiana team in almost 11 years.
"They beat us in every one of those phases and at the end of the day we were dominated in those little things," Miller said. "You combine the fact that our offense couldn't get anything going, to me, over the long course of the game, they wore us down."
If that wasn't bad enough, senior captain Al Durham landed awkwardly on his ankle in the second half and didn't play the rest of the game. On the following day against Stanford, Durham took part in pregame warmups but didn't play.
Banner #4
Indiana impresses in opening round win
Back on Monday, Indiana started the Maui Invitational off with a 79-58 win over Providence. The Hoosiers were in control for a majority of the game thanks to a well-balanced scoring attack.
Race Thompson led the way with 22 points, Durham put in 19, Jackson-Davis contributed 12 and Phinisee added 11. The game was arguably Phinisee's best performance in Asheville as he struggled for a majority of the following two contests. As a team, the Hoosiers also shot 36 percent from three and 75 percent on free-throws, while only committing nine turnovers. Indiana's defense also held the Friars in check.
"I thought they came down here really together and excited," Miller said after the game. "I think we played that way. I think that you got a chance to see that our older guys brought confidence to the floor."
Banner #5
Race Thompson's development on full display
Following Indiana's win against Providence, Archie Miller said that junior Race Thompson's efforts in the offseason were some of the most impressive that he'd ever seen.
Over the summer, Thompson transformed his body and expanded the versatility of his game. He also spoke out in support of racial justice and attended peaceful protests in his home state of Minnesota. When Thompson returned to Bloomington, he was named a team captain. Director of Athletic Performance Clif Marshall said it was almost like Thompson "flipped a switch."
"His emergence, to me, is one of the special things about this off-season and just watching him get a little bit of reward for what he did," Miller said. "… I'm so happy for him just because of his development the last eight months, his attitude, his leadership, and how he plays is how he practices every day."
On Monday, Thompson dominated Providence, scoring 22 points and pulling down 13 rebounds in a career-high 35 minutes. With Trayce Jackson-Davis having a relatively quiet game and Joey Brunk sidelined due to a sore back, Thompson stepped up in a big way.
"I thought he was the player of the game by far. He was the best player on the floor," Providence head coach Ed Cooley said after the game. "Manhandled us. Absolutely manhandled us."
Banner #6
IU Sports Roundup
No. 12 IU Football's dream season rolled on with a win in Wisconsin for the first time since 2001. Also, No. 13 Women's Basketball continues to be equally impressive in their early season games.
• Football won in Madison 14-6 to clinch at least second place in the Big Ten East, which is the highest finish in conference for the Hoosiers since 1987. The historic season continued to bring in awards, as starting RB Stevie Scott was named Big Ten Offensive Player of the week and IU star CB Tiawan Mullen was awarded Scholar Athlete of the Month for December.
• Big Ten favorite Women's Basketball is on pace for a terrific season as they held Samford to just 26 points in a blowout win. They will face a ranked Kentucky team in their first big test of the season today. Off the court, honors are coming in with star G Ali Patberg named a top 30 candidate for the Wooden Award Player of the Year for the entire sport.
• The D1 Baseball Site wrote a feature story on the Hoosiers.
• Feature story with new Volleyball freshman Britt Soudan.
• IU's Pfau Course was ranked third best new course in the country by Golf Digest.
Thanks for your continued support for The Assembly Call. We'll be back next weekend with a new roundup.
Now go enjoy yourself a 6-banner Sunday.
Tyler Tachman – Student Intern The Assembly Call
Filed to: