Five takeaways from Indiana's win over Providence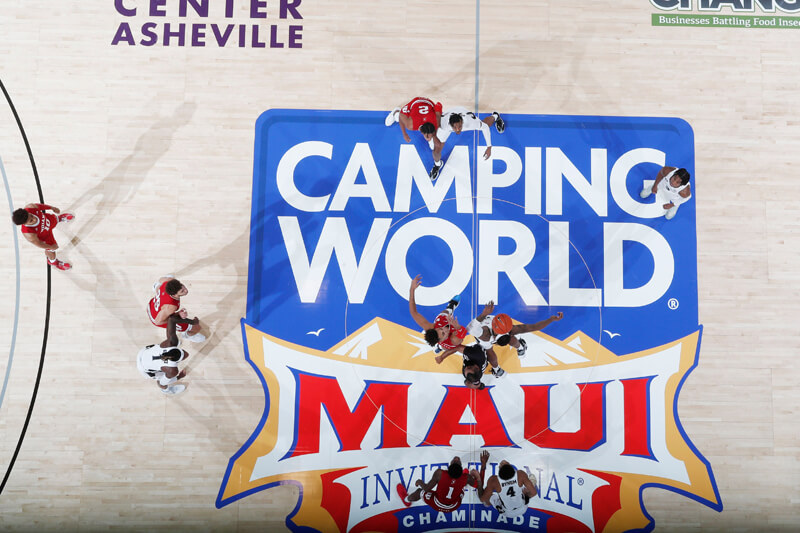 Indiana improved to 2-0 by throttling Providence 79-58 on Monday afternoon in the Maui Invitational at Harrah's Cherokee Center in Asheville, North Carolina. The victory set up a matchup between the Hoosiers and No. 17 Texas on Tuesday afternoon.
Here are five takeaways from the win over the Friars:
· Thompson manhandles Providence: When asked about the performance of Indiana redshirt junior Race Thompson on his postgame Zoom press conference, Providence coach Ed Cooley was blunt.
"I thought he was the player of the game by far. He was the best player on the floor," Cooley explained. "Manhandled us. Absolutely manhandled us."
Thompson was the subject of much praise in the offseason for his work ethic, but no one expected Monday's performance. The Minnesota native turned in the best performance of his career to date by a large margin.
He bullied Providence at the rim for 22 points. He grabbed 13 rebounds – eight on the offensive end – and showed more bounce and athleticism than he's ever shown in an IU uniform. On an afternoon in which Trayce Jackson-Davis wasn't at his best and Joey Brunk remained sidelined with a sore back, Thompson carried the load in the paint for the Hoosiers.
"He used his off-season as well as any player I've ever been around, transformed his body, he worked on his game," Archie Miller said postgame. "You can tell his touch, his offense confidence, he's much more offensively confident."
· Hoosiers capitalize on turnovers and continue to value the ball: The turnover differential wasn't huge between Indiana and Providence – the Hoosiers committed nine and the Friars had 13 – but the discrepancy in points off of turnovers was substantial.
Indiana scored 17 points off of turnovers to just three points off of turnovers for Providence.
The total number of turnovers for Indiana in its first two games – 17 – is notable. The Hoosiers are turning it over on just 12.1 percent of their possessions through their first 80 minutes of the season. Junior point guard Rob Phinisee has logged 53 minutes without a turnover and has seven assists.
In his postgame comments, Miller called limiting his team's turnovers to nine "essential" and after three straight seasons ranking outside the top 125 nationally in turnover percentage, it's an early trend Indiana needs to continue.
· Shooting improves in game two: After a dreadful shooting performance from both the 3-point and free throw line in last week's season opener against Tennessee Tech, Indiana showed improvement in Monday's win.
The Hoosiers knocked down 75 percent of their free throw attempts and 35.7 percent of their 3s against Providence. Thompson's aggressiveness was a big reason Indiana was able to get to the free throw line 24 times.
On the perimeter shooting front, Al Durham Jr. led the way with a 3-of-5 performance from deep. After shooting 38.3 percent on 3s last season as a junior, Durham Jr. will look to improve his 3-point shooting percentage year-over-year for a fourth straight season as a senior.
· Backcourt locks down Providence's guards: In addition to their stellar offensive performances, the backcourt duo of Durham Jr. and Phinisee along with Armaan Franklin set the tone defensively in IU's victory.
The starting backcourt of the Friars – Jared Bynum and David Duke – combined to shoot 6-of-20 from the field.
Indiana's guards were disruptive and aggressive all afternoon and never let Providence's guards get comfortable. The Friars had only seven assists in the game and failed to run their offense effectively for any sustained period.
"Seven assist in 40 minutes? Seven assists," Cooley said in his postgame press conference. "That may be lowest since I've been at Providence. I may be off by one or two, but you got seven assists in the game, it's going to be really, really hard to win if you can't share the ball."
· A quick turnaround – and difficult opponent – awaits on Tuesday: Indiana will have to quickly forget about Monday's win as Texas, currently ranked in the top 10 of the KenPom ratings, presents a substantial challenge in the Maui Invitational semifinals.
The Longhorns have legit size, length and athleticism and boast one of the nation's best defenses. Picked to finish fourth in the Big 12 in the preseason, Texas is experienced and well rounded.
On Monday, the Longhorns squeaked past Davidson 78-76 in the opening game of the Maui event. Texas had six players score in double figures in the win, including all five starters.
"I know that they have a talented group back, very athletic and long and have some experience coming back, and Shaka (Smart) does a tremendous job," Miller said. "They play, have always played and will play hard for him and offensively I know they're going to be very, very fast and they're going to be talented, so this is going to be game where we're really going to have to answer the bell."
(Photo credit: Maui Invitational)
Filed to: 2020 Maui Invitational, Aljami Durham, Providence Friars, Race Thompson