Five takeaways from Indiana's win over Stanford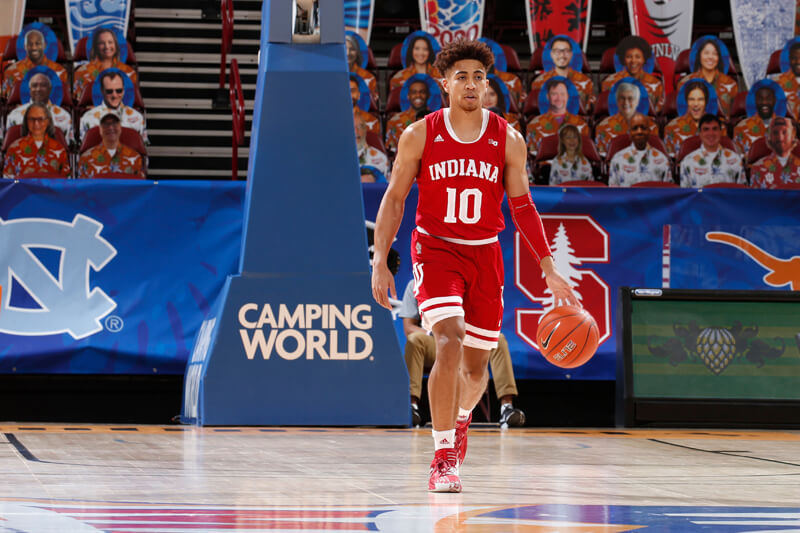 Indiana bounced back from Tuesday's loss to Texas with a strong performance to close out the 2020 Maui Invitational. The Hoosiers started off well offensively and routed Stanford 79-63 to capture third place on Wednesday afternoon.
Here are five takeaways from the win over the Cardinal:
· Trayce Jackson-Davis shows he can be dominant: Indiana sophomore forward Trayce Jackson-Davis received no shortage of preseason accolades. He was named to the preseason all-Big Ten team and is on numerous watchlists for national player of the year awards.
But through IU's first three games, Jackson-Davis was inconsistent.
On Wednesday, he left no doubt on who was the best player on the floor at Harrah's Cherokee Center. The Center Grove product set the tone early and never relented on his way to a 31-point, six-rebound afternoon. Jackson-Davis was an efficient 10-of-16 from the field and 11-of-14 from the free throw line.
In his postgame comments, Archie Miller said Jackson-Davis needed to get "lit up a little bit" after Tuesday's jarring loss to Texas.
"We needed to jump-start him and he knew that," Miller said. "And the good part about Trayce is he's extremely coachable. You're able to coach him hard and I think being able to explain some things with our team last night, we needed that."
While Miller didn't specify what was discussed following the Texas loss, it was clear Jackson-Davis was a different player on Wednesday. He played with more force in the paint and finished better at the rim. He was demonstrative and showed emotion after his dunks. It was the type of performance that Indiana is going to need more frequently from its best player if the Hoosiers hope to contend in an ultra-competitive Big Ten race.
· Indiana leaves Asheville with two quality wins: In a season where non-conference schedules and resumes will be wildly inconsistent across the country, Indiana left the Maui event with two wins that should age favorably.
Both Providence and Stanford are picked to finish in the top half of their respective leagues and Indiana beat both teams convincingly. The Tuesday loss to Texas was ugly, but the Longhorns look poised to enter the top 10 nationally after beating North Carolina in Wednesday's championship game.
Indiana's non-conference schedule was ambitious given that five of its seven games are against power conference teams, but with two wins already on the ledger, it now has a solid baseline from which to build an NCAA tournament resumé.
· Indiana needs more from Rob Phinisee: Junior guard Rob Phinisee has been quiet through Indiana's first four games.
Now an upperclassman, Phinisee battled injuries through his first two seasons, but said over the offseason that he was entering his third college season in good health.
And while Phinsee had strong assist and turnover numbers through the team's first three games – eight assists and no turnovers – his play against Stanford was underwhelming. The McCutcheon product did hit two key 3-pointers in the second half of Wednesday's win and played strong defense, but he committed five turnovers and committed four fouls in 23 minutes.
It's still early in the season and it's quite possible that Phinisee will sharpen his play soon, but the breakout junior season has yet to show concrete signs of materializing.
· Franklin delivers the best performance of his career: Al Durham Jr.'s ankle injury forced him to miss Wednesday's game, but the Hoosiers were able to compensate for his absence because of sophomore Armaan Franklin.
It's clear that Franklin worked on his body in the offseason. Against Stanford, he played the entire game and delivered a 15-point, eight-rebound and five-assist stat line. The rebounds are notable because Miller has challenged his guards to be better in that area and Franklin grabbed five or more boards in all three contests in Asheville.
Franklin has also proven that he can guard multiple positions. His work on potential lottery pick Ziaire Williams, who is four inches taller, was impressive.
"Phenomenal," Miller said of Franklin's play. "Becoming one of the best defenders we have. He's guarding bigger players, smaller players, all over the floor. He's accountable right now. He's playing much tougher."
· Through four games, Indiana is doing a much better job taking care of the ball: It remains a small sample size, but Indiana is doing much better limiting its turnovers through four games.
After ranking 135th nationally last season with a turnover percentage of 18.3, the Hoosiers are turning it over on just 16.1 percent of their possessions thus far. As of Thursday afternoon, that ranks 53rd nationally.
Given the continued struggles to shoot from the perimeter, it is imperative that Indiana continues to emphasize taking care of the ball and getting to the free throw line as the pillars of its offense.
(Photo credit: Maui Invitational)
Filed to: 2020 Maui Invitational, Armaan Franklin, Trayce Jackson-Davis