Five takeaways from Indiana's loss to Texas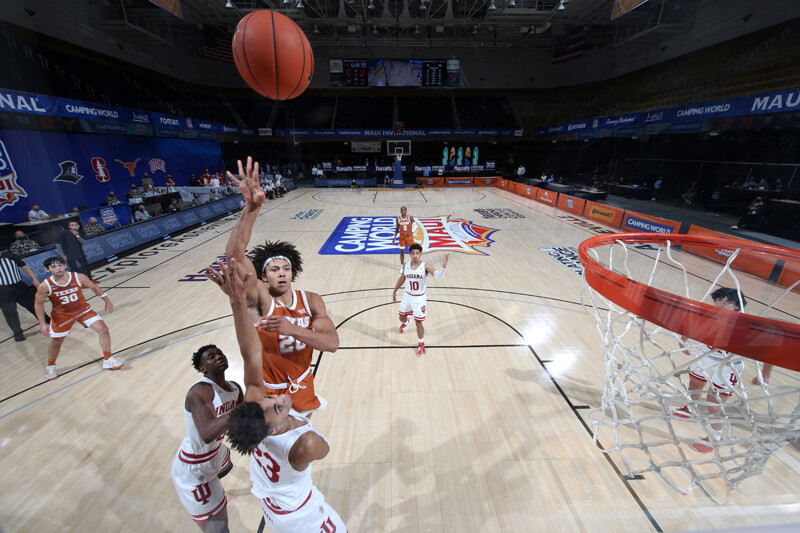 ASHEVILLE, N.C. – By midway through the second half, Archie Miller reached his tipping point. All of the missed shots, all of the sloppy passes, all of the turnovers finally caught up to him. Senior Al Durham had just missed a layup and peered up to the referee in hopes of drawing a foul call. The whistle wasn't blown.
So, Miller uttered something unkind to the referee and was promptly given a technical foul. Miller didn't do much to contest it. He turned his palms toward the sky with his brow furrowed. All he could do then was watch.
After a dominant performance against Providence, Miller knew that Tuesday would take a scrappy effort to win. Playing two games in two days, Miller knew that it would be ugly. But maybe not this ugly.
Indiana was embarrassed by No. 17 Texas 66-44 in the semifinals of the Maui Invitational Tuesday afternoon at Harrah's Cherokee Center, putting up one of their worst offensive performances in a decade. The Hoosiers were outplayed from the start, never holding a lead and were beaten in just about every statistic. There were shades of past years with the inability to put the ball in the basket. Even in year four of Miller's tenure, it hasn't been fixed.
It's these inconsistencies, year in and year out, where Indiana looks like a Sweet Sixteen caliber team one night, and a middling Big Ten competitor the next, that has left Miller's teams to be so criticized.
"And our team, I think in general right now, learned a good lesson today," Miller said. "I think as well as we played, as hard as we played last night, they played harder today, more physical and imposed more will on us today. Got to find a way to respond."
Here are takeaways from Tuesday's game:
· An Abysmal offensive performance: The length and speed of Texas proved to be too much for Indiana to handle. The Longhorns were putting pressure on the perimeter, denying passes and closing driving lanes. After looking like a capable offensive team on Monday against Providence, Indiana was totally out of sync.
At the end of the first half, the Hoosiers made only 5-of-23 field goals, including 0-of-4 from 3-point range. They went long periods without scoring, showing resurfacing signs of extended droughts last season. They were also outmuscled on the boards, too.
It didn't help that sophomore Trayce Jackson-Davis and junior Rob Phinisee both had to take a seat on the bench after picking up their second foul later in the first half. Despite getting totally outplayed, Indiana's own defense kept them in the game and only trailed 31-19 at the break. However, the difficulties in the first half weren't due to a lack of energy or intensity. Indiana was engaged for a majority of the game but just couldn't get any shots to drop.
"I think that Texas a little bit stunned our guys in the first four to five minutes of the game, inability to reverse the ball, inability to connect on the screen, inability to do what we wanted to do," Miller said. "They imposed early on how physical and how tough they were going to play and I thought that played a role to knock us on our heels."
The woes continued on into the second half and Indiana was never able to get into striking distance. This time, though, there was more of a disconnect with the offense.
On a possession in the second half, Franklin had a driving lane but kicked it out instead. Then, Thompson ended up with the ball and looked around like he didn't know what to do with it. A couple of minutes later, Phinisee hoisted up a wild 3-pointer after the shot clock sounded. All five players on the court wore an emotionless, defeated expression on their faces.
In the end, the Hoosiers scored the fewest points in a game since Dec. 22, 2008. Jackson-Davis was the only Hoosier to score in double figures. Indiana finished the game 2-of-10 from 3-point range and 11-46 from the field.
"They beat us in every one of those phases and at the end of the day we were dominated in those little things," Miller said. "You combine the fact that our offense couldn't get anything going, to me, over the long course of the game, they wore us down."
· Trayce Jackson-Davis struggles again: One night removed from a 5-of-15 shooting performance against Providence, Jackson-Davis struggled again. He led Indiana with 17 points, but only shot 5-of-12 and was contained for a majority of the game. And for an Indiana team playing with a small lineup, Jackson-Davis' four rebounds aren't going to cut it, either.
Jackson-Davis has collected a myriad of accolades heading into the season. There have been high expectations, that he hasn't quite played up to yet. For Indiana to be successful, they need him to be a bonafide star inside the paint.
"I think sometimes he is maybe pressing a little too much and sometimes he's bothered that he does miss a shot here or there," Miller said. "But Trayce has always been a guy who's head, mind, and everything is set straight, who always comes to play when it matters the most, and tomorrow is a big day for him and his leadership."
· Al Durham injures ankle: If things couldn't get worse, senior guard Al Durham landed awkwardly on his right ankle after driving to the basket late in the second half. Durham looked to be in serious distress, rolling in pain, and was helped off of the court by members of the medical staff.
Miller said after the game that Durham is being evaluated and is unlikely to play in tomorrow's game. Durham was one of the bright spots for the Hoosiers in the first half, scoring eight points and knocking down 4-of-5 free throws.
In an act of leadership, Durham was helped back onto the bench to support his team in the closing minutes of the blowout. The two-time captain is one of the most experienced players for the Hoosiers and would be a serious loss moving forward.
· Hoosiers record high turnover-low assist numbers: Entering the season, Miller said that one of the most important statistics for Indiana was the assist-to-turnover ratio. At the end of the first half, they had given away nine turnovers, while only dishing out two assists. They finished the game with 14 turnovers and only six assists. Jackson-Davis committed five turnovers alone.
Indiana had been efficient in those categories the first two games of the season. The Hoosiers tallied 16 assists to only nine turnovers in the first-round win against Providence. On Tuesday, Durham was the only player to record multiple assists.
That led to fewer chances in transition as the Hoosiers had only nine fast break points compared to 22 for Texas. Being a more guard-oriented team, Indiana needs to take advantage of opportunities in the open floor.
"I think today we didn't execute our offense," Jackson-Davis said. "We were really soft with the ball so we need to be stronger with the ball, set screens hard. We let their pressure get to us."
· Indiana fails to find spark off of the bench: Early in the game, with the starters out of sorts, Indiana needed a spark off the bench. Last season, with all of his inconsistencies, that guy was Devonte Green. He had the ability to provide high volume scoring when the starters were struggling.
Green has graduated now and key reserves Jerome Hunter and Trey Galloway failed add much in Tuesday's loss. Many hoped that five-star freshman guard Khristian Lander would be able to create off the dribble for Indiana when the offense was stagnant. So far, Lander hasn't been able to make an immediate impact and is slowly getting acclimated to the college game. Freshman Anthony Leal hasn't seen the court much. Senior Joey Brunk was also sidelined for the third consecutive game.
"We play in this event, got a lot of information on what you're going to need to do to be successful and I just think as we keep going here it's going to be really, really imperative to develop our bench and to keep counting on them to give us minutes, you don't want to keep it as a five-man group, six-man group, you got to sprinkle those guys in," Miller said.
The bottom line is that Indiana is still searching for someone that can take control of the game. If Jackson-Davis isn't a star, Indiana needs everyone to chip in. On Tuesday, no one was able to do that. Everyone was looking at each other to lead.
What will be most telling, though, is how Indiana responds less than 24 hours from now.
(Photo credit: Maui Invitational)
Filed to: 2020 Maui Invitational