With confidence, Armaan Franklin is leading the way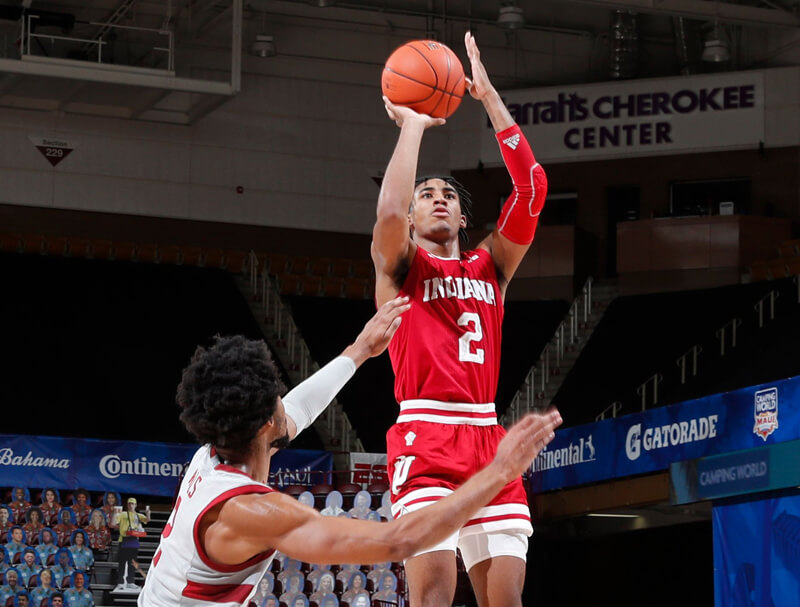 ASHEVILLE, N.C. – It didn't take Armaan Franklin more than a second to digest the question. His eyes darted back and forth as he sat in front of a crimson backdrop covered in script Indiana. Then, without any hesitation, the words spilled out of his mouth.
"I think that it was just 100% confidence," Franklin said.
This was back in mid-October at Indiana's virtual media day. Franklin was asked about what he needed to do to be successful in the upcoming season.
That had been the well-noted theme for Franklin in his young career as a Hoosier. But a couple of minutes later, in that same press conference, Franklin showed a subtle cockiness, boasting a little bit about his game. It was something that had been silent for much of last season.
"I think I can get to the basket really well," Franklin said with an upbeat rhythm in his voice.
On Wednesday against Stanford, it was clear that Franklin's quiet faith in himself was evident.
With Indiana reeling after a blowout loss to Texas. With senior leader Al Durham sidelined after suffering a right ankle injury. With the team playing their third game in three days. All Franklin did was deliver one of the gutsiest performances of his career, a 13-point, 8-rebound 5-assist outing, in Indiana's 79-63 win over Stanford. He never came out of the game.
"And one of the things that I love about Armaan right now is a year ago at this time I was begging him to rebound," Miller said about Franklin after the game. "I was begging him to mix it up and get it dirty."
One year ago, there was a starkly different version of Franklin. He arrived in Bloomington along with Trayce Jackson-Davis as a part of the 2019 recruiting class. Jackson-Davis was a heralded recruit and All-American while Franklin was a three-star recruit.
Franklin's freshman year was filled with more down's than up's. Franklin started the first nine games of the season but struggled with his shot. He didn't show aggressiveness and his confidence plummeted. Miller had to talk to him about his confidence.
Franklin then broke out against Notre Dame, where he hit a game-winning shot in the final minute and it seemed like he'd turned a corner. Instead, the rest of the year was lackluster. He barely averaged seven minutes and two points per game over the last nine contests.
"I think his body language, in terms of being a little down, comes through when he doesn't have that muscle behind him," Miller said at one point last season.
Fast forward to Wednesday afternoon and a self-doubting Franklin was nowhere to be found. He opened the scoring with a pullup jump shot that was pure out of his hand. Then he dished out a dime to Race Thompson followed by another to Jackson-Davis in transition. Later, he drew a foul after simply beating the defense down the floor.
Defensively, Franklin was tasked with guarding five-star freshman and projected lottery pick Ziaire Williams. Franklin berated Williams, eyes locked in, chopping his feet on closeouts and squatting in an athletic stance. In a four-minute period, Franklin poked the ball loose from Williams, forced a shot clock violation and caused Williams to travel.
After fouling out, Williams finished the night with four points on 1-of-10 shooting and 0-of-5 on 3-pointers. As a team, Stanford shot 35 percent.
"Becoming one of the best defenders we have," Miller said about Franklin. "He's guarding bigger players, smaller players, all over the floor. He's accountable right now. He's playing much tougher."
Franklin's performance wasn't perfect, though. He turned the ball over three times, sometimes the ball simply slipping out of his hands. But those were the moments that were most about Franklin's maturity. He responded to seemingly every obstacle with poise.
In the second half, Miller was clearly unhappy, his face scrunched into a knot, screaming at Franklin, Phinisee and Trey Galloway. Shortly after, Stanford went on a 6-0 run and cut the lead to just four. Franklin responded by finding Phinisee in the corner for a 3-pointer. Then, when Phinisee exited with four fouls, Franklin flew through the lane with ferocity and was fouled as he barely missed a monster slam. It was a play Franklin wouldn't have attempted last season.
"To me, growing up, getting bigger, older, stronger," Miller said. "He's a good player and when he plays like that today, we're good."
When Stanford got within striking distance again with just under five minutes left, there was Franklin again knocking down a pair of midrange jumpers. Miller asked Franklin multiple times if he needed a breather. Every time his answer was no.
"At the end of the day, it's all heart," Franklin said. "You just have to lock in."
And so in a game that showed what type of team Indiana will be the rest of the season, the evolution of Franklin was on full display.
All without a doubt to be seen.
(Photo credit: Maui Invitational)
Filed to: 2020 Maui Invitational, Armaan Franklin