6-Banner Sunday: Schedule unveiled as 2020-2021 season nears tip-off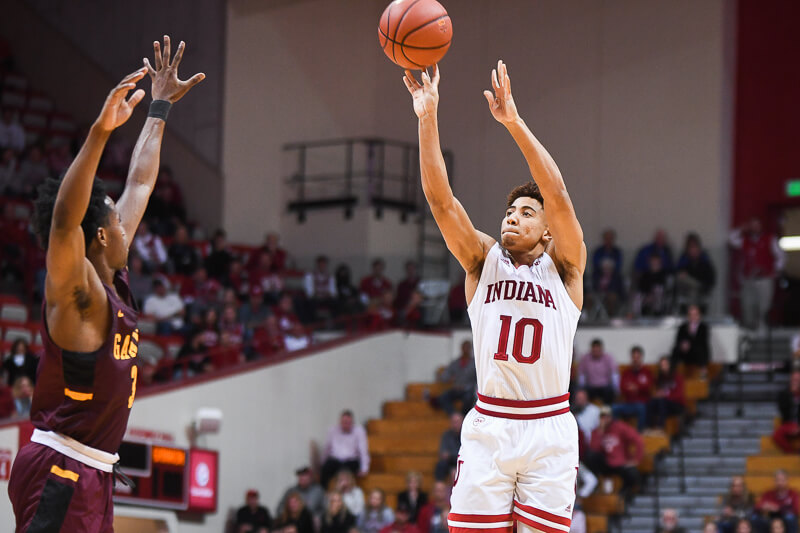 6-Banner Sunday is Inside the Hall's weekly newsletter in partnership with The Assembly Call. More than 7,500 Indiana fans receive the newsletter each week. In addition to appearing each week on the site, you can also opt to receive 6-Banner Sunday by email. A form to subscribe via email is available at the bottom of this week's 6-Banner Sunday.
Welcome to another edition of 6-Banner Sunday, a joint production between The Assembly Call and Inside the Hall where we highlight the five most essential IU basketball stories of the past week, plus take a look at how the other IU sports programs are doing.
At last, after months of waiting, opening week for Indiana basketball is finally here. In three days, the Hoosiers will start the season against Tennessee Tech Wednesday in Assembly Hall at 8 p.m. on Big Ten Network. Shortly after, Indiana will be off to Asheville, North Carolina for the first round of the relocated Maui Invitational. They'll take on Providence at 2:30 p.m. on November 30 and the game will be televised on ESPN2
As the season is set to get underway, more news has been released regarding what college basketball will look like over the course of the year. This week, Indiana confirmed that fans won't be allowed in Assembly Hall for an indefinite period of time. The NCAA announced that the recruiting dead period will be extended until April 15, 2021 for all Division I sports, meaning in-person campus visits can't be carried out.
The NCAA also said that March Madness in 2021 will be at a single geographical location. Indianapolis, which was slated to host the Final Four, has emerged as the favorite.
"We are developing a solid plan to present a safe, responsible and fantastic March Madness tournament unlike any other we've experienced," NCAA Senior Vice President of Basketball Dan Gavitt said.
With many programs around the country still paused due to positive COVID-19 tests, it will surely be an unprecedented season. But everyone, including the NCAA, is still preparing for the end goal of playing for a national championship this spring.
You can check out this week's edition of Assembly Call Radio here.
• Big Ten unveils conference schedule
• Indiana picked eighth in Big Ten preseason media poll
• Four-star Mason Miller to announce college decision Monday
• Calbert Cheaney joins Indiana Pacers staff
• Indiana makes cut for 2022 guard Isaac McKneely
• Indiana Sports Round Up
Banner #1
Big Ten unveils conference schedule
The long-awaited conference slate was finally released Thursday evening, meaning Indiana's full schedule is complete.
Despite the fact that the total number of games played this season is less than a normal year, the Big Ten still forged ahead with a regular 20-game league calendar. That means Indiana will play seven nonconference games rather than the usual 11.
The Hoosiers are faced with a fairly challenging Big Ten lineup of games. Indiana got a tough draw and will have to face Illinois, Michigan State, Iowa, Rutgers, Michigan, Purdue and Northwestern, in both home and away games. Indiana will take on Penn State, Maryland, Minnesota, Wisconsin, Nebraska and Ohio State, on only one occasion.
The Hoosiers will be tasked with an extremely difficult 7-game stretch from the end of January to the beginning of February where they'll play Purdue, Michigan State, Iowa (twice), Rutgers, Michigan and Illinois.
This odd season also brings some changes to the normal flow of games, with four contests set to be played on Christmas Day. Indiana, however, won't play on Christmas, but will take on Illinois on Dec. 26. There are also collapsible bye weeks in January, February and March to allow scheduling flexibility and the ability to makeup games that were postponed due to the COVID-19 pandemic.
Banner #2
Indiana picked eighth in Big Ten preseason media poll
Although there is no official preseason media poll in the Big Ten, Brendan Quinn of The Athletic and Adam Jardy of The Columbus Dispatch surveyed 28 writers from around the conference to predict the upcoming year.
This season, Indiana was picked to finish eighth, one spot above rival Purdue. One writer had the Hoosiers as high as fifth. Illinois was the favorite to win the conference, earning 16 first place votes, followed in order by Iowa, Wisconsin, Michigan State, Rutgers, Michigan and Ohio State. The bottom of the standings were rounded out by Penn State, Nebraska and Northwestern.
Indiana sophomore forward Trayce Jackson-Davis was included in the preseason All-Conference team along with Luka Garza, Ayo Dosunmu, Kofi Cockburn, Nate Reuvers and Franz Wagner. Indiana point guard Khristian Lander received the second most votes for preseason Freshman of the Year, only behind Illinois' Adam Miller. Jackson-Davis and Lander were the only Hoosiers to receive votes in the poll.
Banner #3
Four-star Mason Miller to announce college decision Monday
Class of 2021 four-star forward Mason Miller is set to choose between Indiana and Creighton on Monday at 8 p.m. EST, he told Inside the Hall. Miller, the son of former NBA player Mike Miller, is one of Indiana's top targets in the class, along with five star small forward Aminu Mohammed.
"The coaches call me everyday," Miller told Inside the Hall earlier this week. "They have a great program there and a lot of good fans. They DM me every day basically about going there. So, yeah, it's a really good place."
The 6-foot 9-inch Miller is ranked as the No. 65 player in the nation and No. 17 power forward, according to the 247Composite. As a junior at Houston High School in Germantown, Tennessee, Miller helped lead his team to a state championship appearance before the game was canceled due to the COVID-19 pandemic.
Mike Miller has ties with Indiana assistant coach Tom Ostrom that go back to his time as a college player at University of Florida. Ostrom worked as an administrative assistant and video coordinator for the Gators during Miller's playing days there.
After missing out on Silver Creek star forward Trey Kaufman, Miller has become the top option for Indiana to bolster the future of its frontcourt. Following this season, there's a chance that both Joey Brunk and Trayce Jackson-Davis will be gone. As of right now, Indiana's lone commitment in the 2021 class is center Logan Duncomb, who penned his national letter of intent last week.
Banner #4
Calbert Cheaney joins Indiana Pacers staff
Former IU basketball star Calbert Cheaney is set to make his return to the state of Indiana and join the Indiana Pacers coaching staff, according to a report from Adrian Wojnarowski.
Cheaney, who's the Big Ten's all-time leading scorer, played for Indiana from 1989-1993. Over his four year career, he averaged 19.8 points and 5.4 rebounds per game, while being named the AP Player of the Year in his senior season. He was selected as the No. 6 overall pick in the 1993 NBA Draft and went on to play in 13 seasons.
In 2011-13, Cheaney spent time in a player development role under former Indiana coach Tom Crean and worked with former IU standout Victor Oladipo. He then took a job as an assistant coach at St. Louis University before landing on the staff of the Atlanta Hawks' G-League affiliate, the College Park Skyhawks.
Banner #5
Indiana makes cut for 2022 guard Isaac McKneely
Indiana was included in the final-8 schools for four-star combo guard Isaac McKneely, he announced via social media Sunday afternoon. The other teams on the list were Kentucky, West Virginia, Illinois, Purdue, Louisville, North Carolina and Virginia. Kentucky, North Carolina and Virginia haven't offered McKneely yet, but are showing interest.
McKneely, a native of Poca West Virginia, is ranked as the No. 57 overall recruit and No. 7 combo guard, according to the 247Composite. Last season, McKneely averaged 22 points per game as a sophomore at Poca High School, while converting on 45 percent of his attempts from beyond the arc.
"I just think that Indiana, a lot of boxes are checked in terms of what they offer and what he's looking for," McKneely's trainer Christian Kezmarsky told Inside the Hall earlier this week. "Again, it's going to come down to what he thinks, it's his decision. But there's definitely some fit there, no doubt about it."
There's still a great deal of time left in McKneely's recruitment, but he'll be a name to watch in the coming months.
Banner #6
Indiana Sports Round Up
By Aaron (Ari) Shifron
IU Football showed they are correctly ranked in the top 10 by going toe to toe with highly ranked Ohio State, before falling to the Buckeyes in the end. Also, a few more recruits were signed in other Hoosier sports news this week.
• Football just missed coming all the way back and lost to Ohio State for their first blemish of the season, after the 4-0 start. In other news, WR Ty Fryfogle was named Big Ten offensive player of the week after a huge game against Michigan State, and was even better in the loss to OSU, which put him up for a possible postseason award. In other recognitions, OL Harry Crider was also put on an award watch list as was Tom Allen.
• Softball and Soccer announced their 2021 recruiting classes.
• Women's basketball announced their non-conference schedule. Also, Hoosier star Ali Patberg was named to two different pre-season award lists as the preseason Big Ten favorites are ranked at No. 15 to start the season.
• 14 former Soccer players will be in the MLS playoffs.
• A couple Wrestlers competed at the UWW Junior Nationals.
• IU Athletics had strong GSR scores.
Thanks for your continued support for The Assembly Call. We'll be back next weekend with a new roundup.
Now go enjoy yourself a 6-banner Sunday.
Tyler Tachman – Student Intern The Assembly Call
Filed to: