Q & A: Trainer of 2022 four-star guard Isaac McKneely discusses his recruitment and development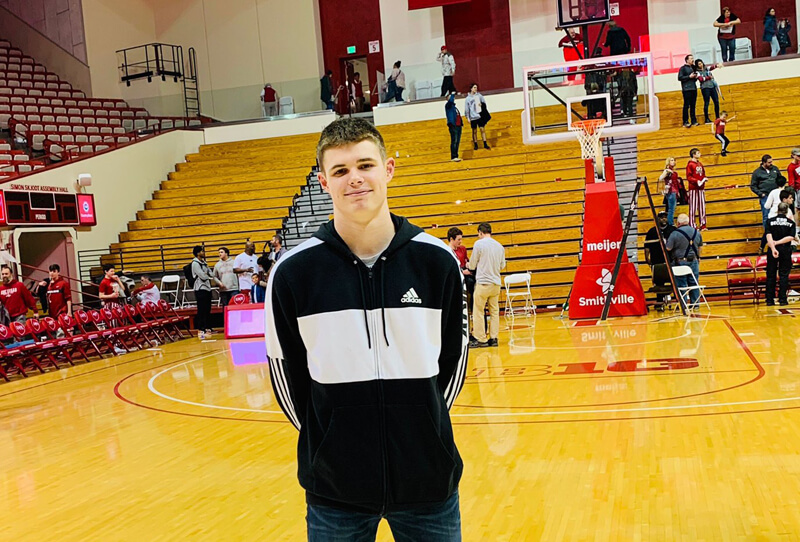 Indiana made the cut for 2022 four-star guard Isaac McKneely's top-8 schools, he announced via social media on Sunday afternoon.
Among the other programs to make the list were Kentucky, West Virginia, Illinois, Purdue, Louisville, North Carolina and Virginia. Kentucky, North Carolina and Virginia haven't offered McKneely yet, but are showing interest.
Listed at 6-feet 4-inches and 170 pounds, McKneely is ranked as the No. 57 prospect in the 2022 class, according to the 247Composite. McKneely, who's from Poca, West Virginia, is a knockdown shooter and also rated as the No. 7 combo guard in the nation.
As a sophomore at Poca High School, McKneely averaged 22 points per game, while putting in 45 percent of his attempts from beyond the arc. In a drill about one month ago, McKneely made 102 3-pointers in a five-minute span. While there's still a lot of time left in his recruitment, McKneely has the potential to provide the Hoosiers with a reliable high-volume shooter from deep, something that has lacked in recent seasons.
McKneely's national profile took off over the summer, earning offers from NC State, Iowa and Maryland, all who have since been eliminated from his recruitment. In July, Indiana extended an offer, as well as Illinois. Recently, he made highlights when he hammered down a right handed dunk at a top-150 camp.
McKneely visited Bloomington last winter and was in attendance for Indiana's game against Arkansas at Assembly Hall. Over the summer, Poca high school coach Allen Osborne told Inside the Hall that McKneely hopes to take another visit once on-campus recruiting resumes.
Indiana doesn't have any commits in the 2022 class yet, although they have dished out a handful of offers after Kenya Hunter was hired in September. As of right now, the lone crystal ball prediction has McKneely choosing West Virginia. Morgantown is about two and a half hours away from his home in Poca.
McKneely's trainer, Christian Kezmarsky, has developed a strong relationship with McKneely after helping coach his 15U team. McKneely often travels to Pennsylvania to train with the Pittsburgh based Kezmarsky.
Inside the Hall recently spoke with Kezmarsky about McKneely's skillset, recruitment and possible fit with Indiana:
Was there a moment that you realized Isaac was a special player?
"He was just consistently good all year at 15 and under when I first met him. I'm from Pittsburgh, he's from West Virginia. Our West Virginia guys in our program were telling us that they were bringing this kid I didn't know too much about him. The very first workout we ever had I knew that he was really good. He was just consistently really good for us all spring and summer as a 15U. We started working more and more. Those trips up to Pittsburgh became more and more frequent. I've known for a while that he's special. I think people are going to see that he's nowhere near as good as he's going to be. He's probably the best shooter that I've ever met. Like he can really shoot the ball."
What was it like to see his recruitment take off over the summer?
"As a 15U, it's hard to get coaches. No one's really coming to 15U, but we'd have coaches sneak by every now and then because we were really good. He got West Virginia as a sophomore because he had a really good sophomore season. Then he got Xavier right before his sophomore season. This summer, I think that if we'd been able to play in the spring, it would have been similar to what happened. But I think that it just went crazy within a three-week period. The next thing you know he has 20 offers. It seemed to happen rather quickly."
What allowed him to gain that attention this summer?
"I think it was a mixture of him having a really good high school season… but we had an event that we live streamed that he played really good at. I think his high school season and the film from that is what ultimately got people intrigued because he shot the ball really well and he had film to back it up. He grew a little bit, so now you're able to tell guys that he's 6-foot-3 and he puts 20 pounds of muscle, so now everyone's intrigued. He's a kid that you want your program to offer and recruit because he's that good of a kid. You'll have one conversation with him and be like 'damn, I want this kid in my program.' Not only is he a good basketball player, I think guys were really able to, as they got to talk to him more, they were able to see how good of a kid he was to go on top of that talent. It was like a no-brainer to offer."
How would you describe him as a person?
"He's honestly too good to be true sometimes. He's a top-50 kid in the country but he also has all A's in school. He's 'yes sir, yes ma'am' to everything, he works hard, he doesn't have an ego. It's a compliment to his mom and dad. They're, on record, probably the two nicest people that I've ever met. It definitely shows in Isaac. He's just someone you want to root for. I think wherever he goes, he'll be a fan favorite. People are going to love him on and off of the court."
What has he told you about his relationship with Indiana?
"We talk about pretty much every school every day. He's very in house, like he doesn't really show a whole lot of emotion toward any of the schools. He does a really good job of actually evaluating each school, the pros and cons. I know that he has a good relationship with coach (Archie) Miller and coach (Tom) Ostrom and they're building that relationship day by day. I know that it's pretty solid and I would imagine that it's going to continue to take steps forward.
What has Indiana's pitch been to him?
"I think that it's just the style of play, their culture that they have, the things that they're going to have there with him. They run a similar offense to some stuff that he runs in high school. The big thing is that he fits there and that's what they're pushing him on like you fit here, you fit culture wise, the guys that we have are a lot like you and you can be really successful here."
From the conversations you've had with Isaac, what's most important to him in his college decision?
"I think it's a mixture of where he feels most comfortable, does he fit their style of play well, does he fit there culture wise. Is he going to be able to fight for some minutes, he wants to play for a team that's going to win. But I would say the main one is style of play. From our conversations, I'd say that's what's kind of important to him. He's a basketball junkie, so a lot of his questions are basketball based."
How do you think he could fit in with Indiana's style of play?
"From just what I've been able to see, I think that everything that they're showing him, there's some sense to it. They shoot the ball, they run some sets to get shooters open, culture wise you see that they always have high-level guys being recruited and coming in there. I just think that Indiana, a lot of boxes are checked in terms of what they offer and what he's looking for. Again, it's going to come down to what he thinks, it's his decision. But there's definitely some fit there, no doubt about it."
Filed to: Isaac McKneely