Class of 2021 power forward Mason Miller talks top-2, decision timetable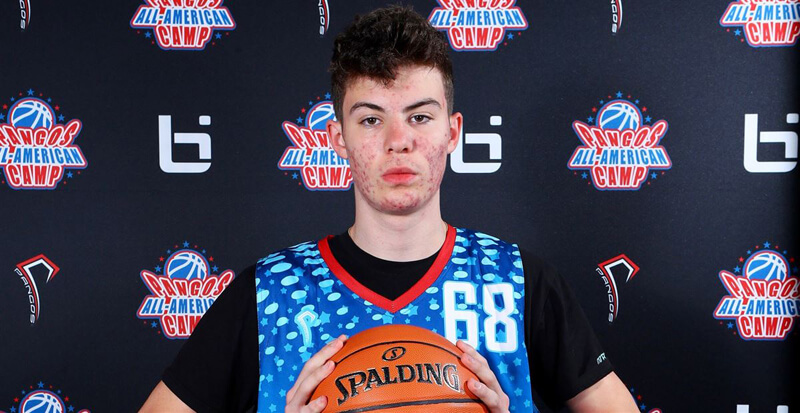 Class of 2021 four-star power forward Mason Miller is down to Indiana and Creighton, he announced via social media on Saturday.
The 6-foot 9-inch 180 pound Miller is ranked as the No. 65 player in the nation and No. 17 power forward, according to the 247Composite. The southpaw is comfortable playing on the perimeter and can handle the ball. Last season, as a junior at Houston High school in Germantown, Tennessee, Miller helped lead the team to a state championship appearance before the game was canceled due to the COVID-19 pandemic.
Miller, who was offered by Indiana in July, has never been on IU's campus, but is scheduled to take a virtual visit this week. On the other hand, Creighton was one of the first teams to offer Miller back in April of 2019. He has already completed a virtual visit with Creighton earlier this year.
This season at Houston High School, Miller will be coached by his father, and former NBA player, Mike Miller. Memphis was once seen as a contender in Mason Miller's recruitment before Mike stepped down from his position on the Tigers' coaching staff in June.
The older Miller has ties with Indiana assistant coach Tom Ostrom. Miller played at Florida while Ostrom worked as an administrative assistant and video coordinator.
Miller has become an extremely important target in the 2021 class for Indiana after Silver Creek power forward Trey Kaufman committed to Purdue two weeks ago. After this season, there's a chance that both Joey Brunk and Trayce Jackson-Davis will be gone, leaving a major hole in the Hoosiers' frontcourt depth. Indiana's lone commit in the 2021 class is center Logan Duncomb.
Miller recently spoke with Inside the Hall about his top-2 schools and a decision timetable:
Has your dad given you any specific advice through the recruiting process?
"Basically, just go with what you want. No one can tell you what to do with yourself."
What stands out to you about Indiana?
"The coaches call me everyday. They have a great program there and a lot of good fans. They DM me every day basically about going there. So, yeah, it's a really good place."
What's Indiana's pitch been to you?
"Basically just saying that I can play the two through four, five, everything. I'll be very versatile for them. That's basically been their biggest pitch."
What stands out to you about Creighton?
"I love their offense. They have a good offensive build, shooting a lot of threes and getting a lot of shots up. I like that a lot. And also the coaches there. They're nice, too."
Do you have any more meetings scheduled with Creighton?
"I might call them once this week, but I'm going to do a virtual meeting with Indiana this week."
What does the virtual visit with Indiana entail?
"They're going to show me basically how they play, the campus, what they do, their daily routine, talk to the strength coach. All of that stuff."
How would you describe your game?
"Just very versatile. I can shoot threes, get to the rim, lengthy defender so I can the two, three, four, five, all of that. Basically just pretty versatile."
When are you hoping to make your decision by?
"Getting down to maybe this Wednesday or next Monday."
How will it be announced?
"I'll probably do it on social media. I can't really do anything at school or anything. Can't really do all of that because of COVID, so probably on social media for sure."
Besides basketball, what else have you been doing for fun during COVID-19?
"Basically just chilling with my friends. Basically stuff like that, playing XBOX. I've been playing a little bit of 2K."
Do you ever play with your dad's character in any of the throwback teams on XBOX?
"Yeah, I used to do that all of the time."
Filed to: Mason Miller