6-Banner Sunday: Archie Miller offers a pair of 2022 shooting guards and Trey Kaufman is forging his own path in recruitment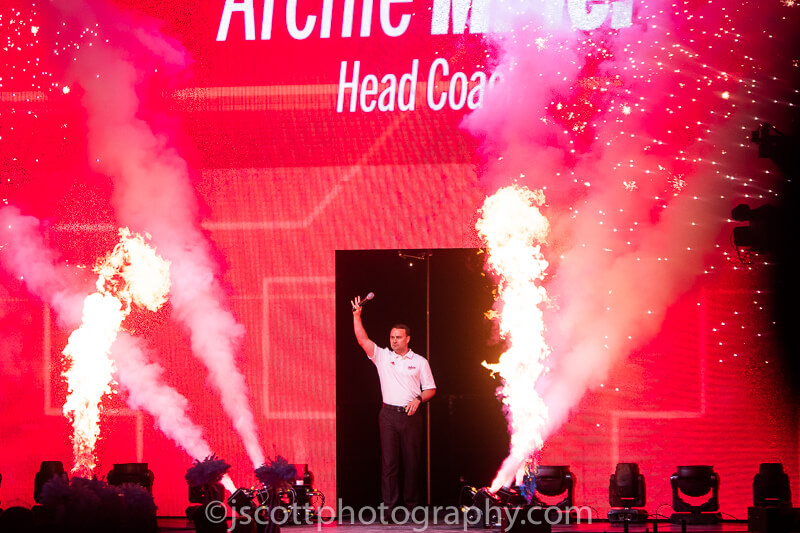 6-Banner Sunday is Inside the Hall's weekly newsletter in partnership with The Assembly Call. More than 7,000 Indiana fans receive the newsletter each week. In addition to appearing each week on the site, you can also opt to receive 6-Banner Sunday by email. A form to subscribe via email is available at the bottom of this week's 6-Banner Sunday.
Welcome to another edition of 6-Banner Sunday, a joint production between The Assembly Call and Inside the Hall where we highlight the five most essential IU basketball stories of the past week, plus take a look at how the other IU sports programs are doing.
It was a busy week for Archie Miller's 2022 recruiting endeavors, as he extended scholarship offers to a duo of shooting guards. Early on in the recruiting cycle, Miller has targeted CJ Gunn and Isaac McKneely as possible additions to Indiana's 2022 class. In other recruiting updates, in state power forward Trey Kaufman has continued to be diligent in his commitment process and isn't conforming to others.
In the NBA playoffs, Juwan Morgan has emerged as a key cog in the Utah Jazz rotation. Eric Gordon and OG Anunoby have also continued to be mainstays for their respective teams.
In Bloomington, Trayce Jackson-Davis looks build off of last season and progress into one of college basketball's top front court players.
All of that, plus what there is to know about students returning to campus.
• Duo of 2022 recruits land Indiana offers
• Trey Kaufman is forging his own path during recruitment
• Former Hoosiers feature in NBA playoffs
• Trayce Jackson-Davis looks to become a premier big man
• Indiana students return to campus for fall semester
• Hoosier Sports Roundup
Banner #1
Duo of 2022 recruits land Indiana offers
Archie Miller has been open to talking about the recruiting challenges he has faced since the COVID-19 pandemic hit. While speaking with media in late July, Miller mentioned how he, like many other coaches, have had to adjust to a Zoom-based recruiting strategy that includes virtual campus visits.
Miller has gotten acclimated to the new-look communication and has been logging hours on the screen, maybe even enough to accumulate some frequent Zoom rewards points. His work on the stay-at-home recruiting trail has become apparent on Thursday when two class of 2022 recruits were offered by Indiana.
CJ Gunn, a three-star shooting guard from Lawrence North High School, and Isaac McKneely, a four-star shooting guard from Poca, West Virginia, both earned offers from Indiana.
Early in the 2022 recruiting cycle, Miller is predominately targeting guards to fill future holes in the roster. By 2022, now-senior Al Durham will already be one year removed from the program, Rob Phinisee will have just departed and Khristian Lander will have most likely already moved on to the NBA.
Banner #2
Trey Kaufman is forging his own path during recruitment
Trey Kaufman is one of the most sought after recruits in Indiana and Archie Miller has identified him as a top priority for the Hoosiers. Kaufman, a four-star power forward from Silver Creek High School, has established himself as an early Indiana Mr. Basketball favorite for the upcoming season.
What most people don't know about Kaufman though is that he's ranked No. 1 in his class academically. He's also a burgeoning magician, attends birthday parties for young fans, once played an entire state tournament with the flu and mono (enter Michael Jordan flu game), and maybe the most compelling of them all: he hates jeans.
I talked to Trey, his high school coach and his math teacher to get an idea of what type of person he is on and off of the court. There's no timetable for Kaufman's decision but things have gotten more competitive for Indiana's chances to land him as North Carolina recently extended an offer.
As the year wears on, all eyes will be on Kaufman's decision.
Banner #3
Former Hoosiers feature in NBA playoffs
The NBA's regular season slate in Orlando came to an end last week with multiple former Indiana players being forced to pack their bags. Yogi Ferrell, who concluded the season averaging 4.4 points and 1.4 assists per game, missed the playoffs with the Sacramento Kings and Thomas Bryant, who averaged 18 points and almost nine rebounds in the bubble, came up short of a playoff appearance with the Washington Wizards.
While Ferrell and Bryant will venture away from Disney, a handful of other former Hoosiers are still on the hardwood.
In his first career playoff game, Juwan Morgan earned a bid in the starting lineup for the Utah Jazz. He grabbed seven rebounds and dropped in three points over 25 minutes in Utah's game one loss to the Denver Nuggets on Monday. In game two, Morgan made another appearance in the starting five, this time snatching two rebounds and netting five points in just 14 minutes. In game three, Morgan played 22 minutes off of the bench. Morgan's performances were discussed on this week's addition of Assembly Call Radio.
Eric Gordon put up a pair of solid performances for the Houston Rockets. In game one, Gordon tallied 21 points on 7-17 shooting. He added another 15 points in the following contest, despite shooting a dismal 0-10 from beyond the arc.
Over the first two playoff match ups for the Toronto Raptors, OG Anunoby scored a combined 18 points and logged 70 total minutes on the hardwood. For the Boston Celtics, Romeo Langford contributed 23 minutes off of the bench in game two, despite playing through a torn ligament in his right wrist. Also, Victor Oladipo scored 22 points in Game two for the Pacers after leaving early in the first game with an eye injury and not returning, while Noah Vonleh has only played three minutes total in the Nuggets three playoff games so far.
Banner #4
Trayce Jackson-Davis looks to become a premier big man
Enter his first year at Indiana, there was skepticism about whether Trayce Jackson-Davis would be able to immediately jump start an Indiana lineup that lacked star power. By the end of Hoosier Hysteria, after Jackson-Davis flashed his athleticism and won the dunk contest, the was an increased buzz about his potential. By the end of the regular season, nobody questioning his prowess.
Jackson-Davis proved himself as an elite freshman in the Big Ten, averaging 13.5 points, 8.4 rebounds and 1.8 blocks per game. He was the heart-beat of the Indiana team for a majority of the year, only scoring in single figures in ten contests. He then secured a spot on the Big Ten All-Freshman team and was the runner-up for the conference's Freshman of The Year.
Now, many of the Big Ten's dominant big men have moved on to the NBA. Maryland's Jalen Smith, Ohio State's Kaleb Wesson and Michigan State's Xavier Tillman, all of whom presented challenges to Jackson-Davis, have left their respective universities.
This season, new questions will arise for Jackson-Davis. He established himself in year one, but now it'll be about making the jump as one of the best players in the country.
Banner #5
Indiana students return to campus for fall semester
And we get to the fun part: discussing college students' abilities to make responsible decisions. As classes begin on Monday, it'll take the entirety of the student body's cooperation to keep the university from sending everyone home. We've already seen North Carolina and Notre Dame transition to an all-online schedule in the past week following Covid-19 outbreaks on campus.
A video of a large group of unmasked students circulated on Twitter last Wednesday, spurring frustration among students, staff and members of the Bloomington community. The university said that they would be investigating the matter.
On Friday, Bloomington Mayor John Hamilton issued an emergency executive order, stating that all private gatherings were restricted to 15 people, a decrease from the earlier number of 50.
Restrictions have been put into place, now its in the hands of students to abide by them.
Banner #6
Hoosier Sports Roundup
• Football had media availability with head Coach Tom Allen. Also, senior husky Marcelino Ball was named to a top 250 list
• Baseball gave an update on current players in the Pro's
• Soccer announced the opening of their new facility. They also had media availability and talked about the cancellation of the fall season not affecting their title aspirations.
• Several current and former Hoosiers were named to the National Team roster for swimming.
Thanks for your continued support for The Assembly Call. We'll be back next weekend with a new roundup.
Now go enjoy yourself a 6-banner Sunday.
Filed to: