6-Banner Sunday: Forecasting Khristian Lander's freshman season and IU's team chemistry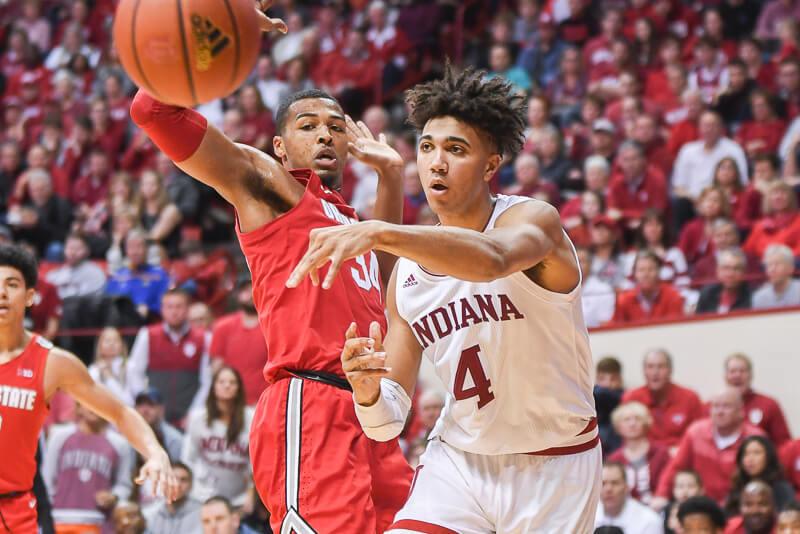 6-Banner Sunday is Inside the Hall's weekly newsletter in partnership with The Assembly Call. More than 7,000 Indiana fans receive the newsletter each week. In addition to appearing each week on the site, you can also opt to receive 6-Banner Sunday by email. A form to subscribe via email is available at the bottom of this week's 6-Banner Sunday.
Welcome to another edition of 6-Banner Sunday, a joint production between The Assembly Call and Inside the Hall where we highlight the five most essential IU basketball stories of the past week, plus take a look at how the other IU sports programs are doing.
If a college basketball season is to be played in 2020, Indiana will have to rely on team chemistry and youth in amounts it previously hasn't in the Archie Miller era.
Part of this is due to the talent found in IU's four-man 2020 recruiting class, which most notably features a five-star recruit in guard Khristian Lander. But Indiana's freshmen will also have to be guided toward collegiate success, a task passed along to IU's upperclassmen and one made more difficult by an abbreviated offseason.
Of course, the status of a 'normal' college basketball season seems to change on a daily basis, but assuming the season is played, Indiana will need the likes of Lander to be at their on-court best, especially given the gauntlet of a Big Ten season that awaits the Hoosiers.
All of this, plus a look at former Hoosiers who have now resumed their NBA seasons, comprised the biggest stories of the past week for IU basketball.
• Khristian Lander ready to make an impact for IU
• Indiana's team chemistry grows during difficult offseason
• Big Ten Basketball roundup
• Big Ten's COVID-19 response plans
• Former Hoosiers return to NBA action
• Hoosier Sports Roundup
Banner #1
Khristian Lander ready to make an impact for IU
Ever since Khristian Lander officially reclassified and became the fourth and final member of IU's 2020 recruiting class, speculation has followed about the type of impact the talented but young Lander could have in the IU back court next season.
Lander, who turns 18 years old soon, will be one of the youngest players in recent history when he takes the floor for the Hoosiers this fall, although all indications are that he's ready to make a meaningful contribution right away.
Alex Bozich of Inside the Hall took a wider look at the challenges that await Lander this season in Bloomington, and what realistic expectations should be for him.
Going along with this is the leadership that will need to be provided to Lander by IU's older guards. Zach Osterman of The Indianapolis Star explored this angle as well, with a particular focus on the way Al Durham and Rob Phinisee are emerging as leaders.
Banner #2
Indiana's team chemistry grows during difficult offseason
Part of that increased leadership from Durham and Phinisee has come as the result of a trying and unconventional offseason for the IU program.
While offseason workouts certainly took on a new look for the Hoosiers during the summer months, Inside the Hall's Tyler Tachman took a look at how this may actually improve IU's team chemistry for the upcoming season, something especially important since Archie Miller's IU teams haven't always been known for their camaraderie.
Additionally, if this increase in team chemistry is to truly materialize, it will be spearheaded by IU's upperclassmen who are now assuming the role of leaders.
Jon Blau of the Bloomington Herald-Times took a look at this aspect of IU's growing leadership, the kind coming from experienced players like Joey Brunk and Race Thompson who are eager to share their knowledge.
Banner #3
Big Ten basketball roundup
It was a busy week in the Big Ten, as the conference continues to take shape ahead of its still anticipated men's basketball start date in early November.
More decisions were made in terms of star players either staying in school or electing to enter the 2020 NBA Draft, which in turn affects the way we look at where IU should be projected to finish in what appears to be another stacked season of elite Big Ten teams.
The deep nature of the Big Ten has been reflected in the number of its teams featured in preseason national rankings, and more specifics on the conference's 14 teams can be found in the latest edition of Inside the Hall's Big Ten Power Rankings.
More discussion about the Big Ten's offseason story lines was featured in this week's episode of Assembly Call Radio, featuring Chad, Coach and Ryan on the mics.
For its part, Indiana was listed as having the seventh-best odds of any Big Ten team to win the 2021 NCAA Championship, with IU coming in with 40-1 odds to bring home a sixth banner.
Banner #4
Big Ten's COVID-19 response plans
While in a normal offseason spending time exclusively looking at predictions and projections for the upcoming IU season would be warranted, in 2020 it also means the simple occurrence of a college basketball season is still up in the air.
This week brought slightly more clarity to the ever-changing situation, as the Big Ten Conference announced its plans for a fall football season (still scheduled to start in early September), as well as medical protocols for those programs. In particular for Indiana, this news struck home after news surfaced of freshman football player Brady Feeney's hospitalization following a COVID-19 diagnosis.
Dominoes are quickly falling elsewhere, though. It was reported Saturday the Mid-American Conference would cancel its fall sports season, making it the first major college football conference to cancel its season. The Big Ten Conference also released a statement Saturday that limited the planned progression for offseason football workouts.
New Indiana Athletic Director Scott Dolson touched on the resumption of college sports in a Zoom meeting with media members last week, although he didn't discuss a potential bubble being used for Big Ten basketball, something that was reported as a possibility for the 2020-21 season.
This week's Podcast on the Brink with Alex Bozich of Inside the Hall and Ryan Phillips of The Assembly Call and The Big Lead discussed the likelihood of a college football season taking place, as well as IU basketball related questions.
Banner #5
Former Hoosiers return to NBA action
The return of the NBA regular season inside the league's bubble in Orlando meant plenty of former Hoosiers returned to the hardwood in pursuit of an NBA title.
I recapped the return of IU's involvement in professional basketball for Inside the Hall. So far, the bubble has featured plenty of big performances from the likes of OG Anunoby (Toronto Raptors) and Thomas Bryant (Washington Wizards), while Victor Oladipo (Indiana Pacers) also made a last-minute decision to change his mind and play in the bubble for the home state Indiana Pacers.
One of the IU alums who seemed to be benefiting the most from the bubble restart was Juwan Morgan, who had begun to carve out a rotation spot with the Utah Jazz during the team's opening bubble games.
But that came to an abrupt halt Friday afternoon when Morgan went down with an apparent knee injury during Utah's loss to San Antonio. Morgan had to be helped off the court and needed a wheelchair to reach the Utah locker room, although a post-game MRI revealed no significant damage to Morgan's knee.
Banner #6
Hoosier Sports Roundup
While College Sports are still very much up in the air, Pro Sports are working through Covid as most Professional Leagues have now resumed in some form. Several former Hoosiers are a part of this as described below. Even more significant though and leading off is IU's progress towards the Name-Image-Likeness debate.
• The Indiana athletic department as a whole is getting ahead of the Name-Image-Likeness by inking a deal with Opendorse should this legislation pass.
• Football provided tentative guidance on tickets should a season be played.
• Former IU Soccer players competed in both the Quarter and Semi Finals of the MLS Tournament. Also a feature was done on the life of the late IU legend Ken Snow who died tragically of Covid-19 recently.
• Wrestling's recruiting class was ranked in the top 25.
• Former IU golf great Jorge Campillo is competing at this weekend's golf major The PGA Championship.
Thanks for your continued support for The Assembly Call. We'll be back next weekend with a new roundup.
Now go enjoy yourself a 6-banner Sunday.
Filed to: