How a shortened summer may prove to be crucial for Indiana's ever-developing team chemistry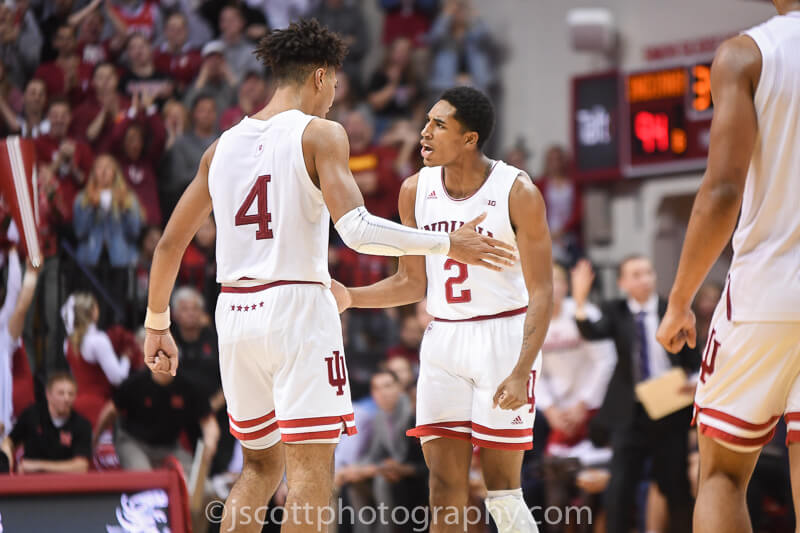 In Archie Miller's Bloomington tenure, it's evident that Indiana hasn't always displayed unshakable cohesiveness. Miller hasn't tried to keep it a secret, either.
Last season, in early December, Indiana suffered a 20-point beat down at the hands of Wisconsin, marking their first loss of the year. The lethargic Hoosiers were dominated in all facets of the contest, making only 42 percent of their shots from the field and 65 percent from the free throw line.
Then-junior captain Al Durham did all he could to jump start the team's lack of urgency. At a timeout, he yelled and threw his hands toward the scoreboard, hoping to stress the importance of the situation.
After the game, Miller explained: "We had a quiet group."
This was after the Hoosiers had already put in a summer's worth of workouts, a fall's worth of practices and eight games of early-season tuneups. In the Big Ten, being quiet and on the road isn't exactly a winning formula.
Almost exactly one month later, as the season neared the halfway mark, Indiana still hadn't worked out its dilemma. The Hoosier had a near-scare in Assembly Hall against a 5-8 Northwestern squad.
Yet again, a sluggish Indiana team, which had been defined by their inconsistencies, fell into a three-point deficit at the break. Despite 16 turnovers and shooting a dismal 37 percent from the field and 21 percent from beyond the arc, the Hoosiers managed to pull out a four-point victory.
The narrow win was accompanied by a flood of concerns.
"Over a 14 or 15 game span you hope that you can develop your chemistry and your rhythm," Miller said after the game. "It just doesn't seem like our group is locked in on 'I do my job when I come in the game' and it just seems like we have some guys that are really unsure.
"It takes the camaraderie out of your group and they start to worry about themselves a little bit more. That's where we are right now, searching for ourselves, rather than that unconditional approach and buying in to win a game and how fun it is to compete."
Miller's point is what so many fans have been frustrated with. There doesn't always seem to be a sense of unity and selflessness within the team.
Now, however, even just in the brief window of workouts this summer, there have been signs of a shift. It all starts with the friendship of sophomores Trayce Jackson-Davis and Armaan Franklin, whose burgeoning relationship was well documented during their first year at Indiana.
During a press conference last season, the two roommates were asked about their chemistry. Almost in unison, Jackson-Davis and Franklin turned to each other, with their eyes-brows raised and giddy grins.
"Um, great chemistry," Jackson-Davis said, as Franklin let out a chuckle.
Jackson-Davis and Franklin knew each other before coming to school, but created a deeper bond during their first summer and became almost inseparable. They watched Will Farrell movies, notably Step Brothers, an estimated six times. They played video games, duking it out in Madden, FIFA and Call of Duty.
"We're brothers, we love each other," Jackson-Davis said.
During the press conference after the Crossroads Classic win against Notre Dame, Jackson-Davis appears to fidget under the table in an attempt to mess with Franklin. Pursing his lips and tightening his cheeks to hold back a smile, Franklin's eyes darted over to Jackson-Davis before responding to a question.
That same energy has continued with this year's newcomers. Freshmen Khristian Lander, Trey Galloway and Anthony Leal all played travel basketball together on Indiana Elite. And Lander, who was originally in the class of 2021, came to Bloomington a year early to ensure he'd get on the floor with Jackson-Davis.
Since arriving on campus for summer workouts, the group has hung out together and made appearances on live streams on Instagram. Lander, Galloway and Leal, all of whom are from Indiana, fall into never-ending debates on who would have won the Indiana state high school basketball championship had it not been canceled. Or, predicting who would win theoretical two versus two matchups from the IU team.
Jordan Geronimo, a New Jersey native and the fourth member of the freshman class, isn't quite as familiarized with his teammates, but has seemed to fit in quickly. Geronimo, who's a fan of rapper Travis Scott, has already been ribbing Leal about his taste for country music.
Geronimo has also seemed to have emerged as the chef of the group. One night, Geronimo channeled his inner Food Network Star by whipping up a pizza. The aroma caught the attention of Franklin, who was moseying by with a bag of junk food, inducing him to snare a slice. Galloway was left sipping only a cup of Hawaiian Punch.
Besides hanging out in their room, different combinations of the underclassmen have spent time together swimming at Monroe Lake, paint balling and taking part in recovery dancing after practice.
Along with the culture shift of the young wave of Hoosiers, there is also a cast of upperclassmen promoting a close-knit feeling.
"I've been trying to keep their heads high, keep their confidence, talk to them as much as I can," Durham said last Tuesday. "Get to know them – where they like to shoot from, where they like the ball at. Get to know what kind of guys they are, what kind of players they are."
When Durham was a freshman, he spent time in his first media day talking about how he wanted to put in work for the senior class. Now, he's a senior himself.
There was a four-game stretch last season when then-junior Joey Brunk only averaged nine minutes on the court. Yet, he continued to support his teammates and came through in a critical win against Minnesota in early March, dropping in 12 points and snatching eight rebounds in 28 minutes of action.
Over the summer, Brunk reached out to Jackson-Davis about attending a peaceful protest following the death of George Floyd. Jackson-Davis didn't seem surprised by Brunk's initiative knowing "Joey and the guy he is," Jackson-Davis said on Tuesday.
When Jackson-Davis walked the streets of Indianapolis with his right fist stretched into the air, Brunk was beside him, arm raised, too.
A cohesiveness, driven by the young Hoosiers and backed by the experienced ones, has grown even in a shortened summer.
The willingness and desire to play together can be the difference in games like the four-point loss in the second meeting with Wisconsin, and the one-point loss to Maryland. It can be even more crucial on the road, with the ability to flip the outcome in games like the one-point loss at Illinois last season.
A family atmosphere is one that almost every coach tries to promote, but is arduous to create organically. For many programs, the levels of energy and effort are byproducts of the actions in the locker room.
So far, it appears that this Indiana team has created chemistry of its own. With no shortage of jokes, or pizza, either.
Filed to: Al Durham, Anthony Leal, Archie Miller, Armaan Franklin, Joey Brunk, Jordan Geronimo, Khristian Lander, Trayce Jackson-Davis, Trey Galloway