6-Banner Sunday: Another non-con opponent is known, and a top recruit announces his decision date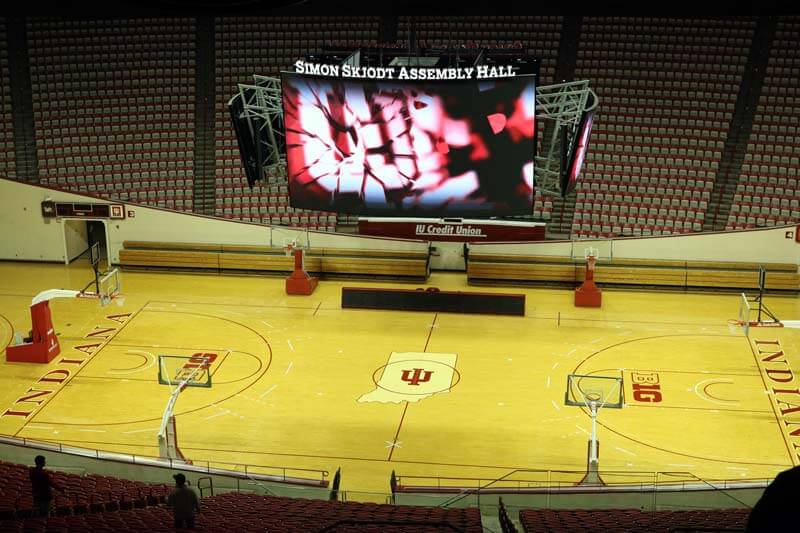 6-Banner Sunday is Inside the Hall's weekly newsletter in partnership with The Assembly Call. More than 7,000 Indiana fans receive the newsletter each week. In addition to appearing each week on the site, you can also opt to receive 6-Banner Sunday by email. A form to subscribe via email is available at the bottom of this week's 6-Banner Sunday.
Welcome to another edition of 6-Banner Sunday, a joint production between The Assembly Call and Inside the Hall where we highlight the five most essential IU basketball stories of the past week, plus take a look at how the other IU sports programs are doing.
Sports have rightfully taken a back seat nationwide in recent weeks as demonstrations and protests continue in the United States against police brutality, racism and other injustices committed against African Americans.
Indiana basketball joined the discourse on this issue last week, in particular when forward Race Thompson shared a powerful account of his experience participating in the protests in his home city of Minneapolis.
While this topic remains more important than all the rest, there was some other notable IU basketball news last week, including another Inside The Hall Q/A with a former player and an announcement about IU's season opener for the 2020-21 season.
• Indiana basketball condemns racism in video
• Indiana to play NJIT in season opener
• Trey Patterson announces decision date
• Indiana guard Matt Roth on being an 'IU guy' for life
• IU recruit Blake Wesley making the most of his situation
• Hoosier Sports Roundup
Banner #1
Indiana basketball condemns racism in viral video
Across its social media channels last week, the Indiana men's basketball program publicly condemned racism and the barrier it presents to members of society.
The video was released following days of nationwide protests after the death of George Floyd, an African American man at the hand of a former Minneapolis Police Department officer. Demonstrations against police brutality and as part of the Black Lives Matter movement have continued into their second week, and the IU basketball video opens with an anecdote from Minnesota native Race Thompson about his experience protesting in Minneapolis, where Floyd was killed.
"My feelings about this are hard to explain right now," Thompson said. "I am both saddened and inspired and I am ready for change."
The video features IU players and coaching staff each reading part of a complete statement, in which the program urges people to listen and support one another on the path to seeking equality. It ends with Archie Miller voicing the program's position on this issue in no uncertain terms.
"Racism is one of the great barriers in our society," Miller said. "It in no way, shape or form can be tolerated."
IU Athletic Director Fred Glass also released a thoughtful statement last week on the issue and the ways in which he is supporting IU student-athletes as they participate in protests around the country.
The Assembly Call team of Jerod, Andy, Ryan and Coach published this statement as well, and we hope you'll take the time to read and stand with them on this monumentally important issue.
This week's edition of Assembly Call Radio featured special guest Bill Murphy sharing stories about Bill Garrett and George Taliaferro, a pair of African-American IU athletic legends.
Banner #2
Indiana to play NJIT in season opener
Weeks like this make the return of sports seem almost trivial, but we now know the date Indiana will hopefully return to the hardwood in game action.
A public records request made by D1Docket revealed Indiana will open its season on November 10, a Tuesday, at home against the New Jersey Institute of Technology. IU has never played NJIT before, and last season the Highlanders, who are members of the Atlantic Sun Conference, finished 9-21 overall and were No. 296 in the KenPom rankings.
This is IU's third confirmed game against a non-power conference opponent for next season, joining late December contests against Robert Morris and Nebraska-Omaha.
The work toward preparing for those games will begin soon, as IU announced a plan last week for athletes to return to campus for training.
Voluntary men's basketball workouts are scheduled to begin on June 18, with a pre-participation process set up to ensure the safety of athletes as they return to Bloomington. Specific guidelines have also been established regarding training procedures once the athletes arrive.
This was touched on further by outgoing Athletic Director Fred Glass and incoming Athletic Director Scott Dotson when the pair chatted with Don Fischer on Friday night.
Banner #3
Trey Patterson announces decision date
While the recruiting dead period remains in place by the NCAA until at least July 31, an important recruiting day is fast approaching for Indiana.
Class of 2021 forward Trey Patterson from Rutgers Preparatory School in New Jersey will announce his college choice on Thursday, June 18.
Indiana made the cut of Patterson's top 10 schools in late May, alongside the likes of Auburn, Maryland, Memphis and Rutgers.
Patterson is a top-40 prospect nationally who made an official visit to IU during his junior year, during which he averaged 20 points and 10 rebounds per game for Rutgers Prep.
Banner #4
Indiana guard Matt Roth on being an 'IU guy' for life
Matt Roth joined Indiana basketball at its worst and helped bring it back to its best.
A consistent 3-point shooter who filled out his role well on those IU teams from 2008-2012, Roth lost basically his entire sophomore season due to a broken bone in his foot.
But he finished his time at IU strong. As a senior during the 2011-12 season, Roth shot a Big Ten-best 54.5 percent from 3-point distance and was a key part of IU's return to the NCAA Tournament and eventual run to the Sweet 16.
I was able to speak in-depth with Roth last week about the four years he spent at IU, the controversial end to his college career with the Hoosiers and his current life living in Fort Wayne, Indiana.
Banner #5
IU recruit Blake Wesley making the most of his situation
Class of 2021 shooting guard Blake Wesley has had to adjust to life as a college basketball recruit under quarantine orders.
He has no choice, as one of the top recruits in the state of Indiana in his class.
A rising senior at South Bend Riley, the alma mater of former IU player Damezi Anderson, Wesley is rated as a four-star prospect and has deep ties to the state. His father Derrick played college basketball at Ball State and his mother is an IU grad.
Dylan Wallace caught up with Blake's father Derrick, and Blake's current high school coach at South Bend Riley Andre Owens, to learn more about how an outstanding summer on the AAU circuit in 2019 helped propel Blake Wesley to become one of the most sought after high school prospects in Indiana.
Banner #6
Hoosier Sports Roundup
Outside of the basketball program, other IU sports spoke out against racism as well and a few other topics are touched on at the bottom.
• In Football, Tom Allen was quick to share his views against discrimination. Sadly, the life of former player Chris Beaty was taken during protests in Indianapolis, a tragedy Allen expressed his condolences about.
• Women's Basketball players Danielle Patterson and Jaelynn Penn talked in a ten minute YouTube Video about Inspiring Change.
• Coach Todd Yeagley released a statement along with the other Big Ten soccer coaches, also condemning racism.
• Women's Soccer coach Erwin Van Bennekom released a statement expressing his commitment to equality.
• While baseball coach Jeff Mercer did not release a statement, he did show his support for the black community, posting a photo in support of #BlackOutTuesday. Swimming and Diving did the same, as did Men's Tennis, Women's Tennis and Water Polo. Rowing took theirs a step further adding a moving quote from Gandhi.
• Volleyball Coach Steve Aird posted a photo attending a protest with his young daughter with a statement that preaches teaching love over racism.
• Softball Coach Shonda Stanton posted a statement about a book that addresses the issue.
• Wrestling Coach Angel Escobedo released a statement thanking people for standing up against racism.
• Track and Field released a statement as well on the issue.
• In other news Women's Basketball lost assistant coach Janese Banks Constantine, but added two 2021 top 100 recruits in Keyarah Berry and Kaitlin Peterson, Women's Tennis had their recruiting class ranked in top 20, and Volleyball announced the hiring of a volunteer assistant.
Thanks for your continued support for The Assembly Call. We'll be back next weekend with a new roundup.
Now go enjoy yourself a 6-banner Sunday.
Filed to: