Thursday notebook: 2021 target Trey Patterson sets decision date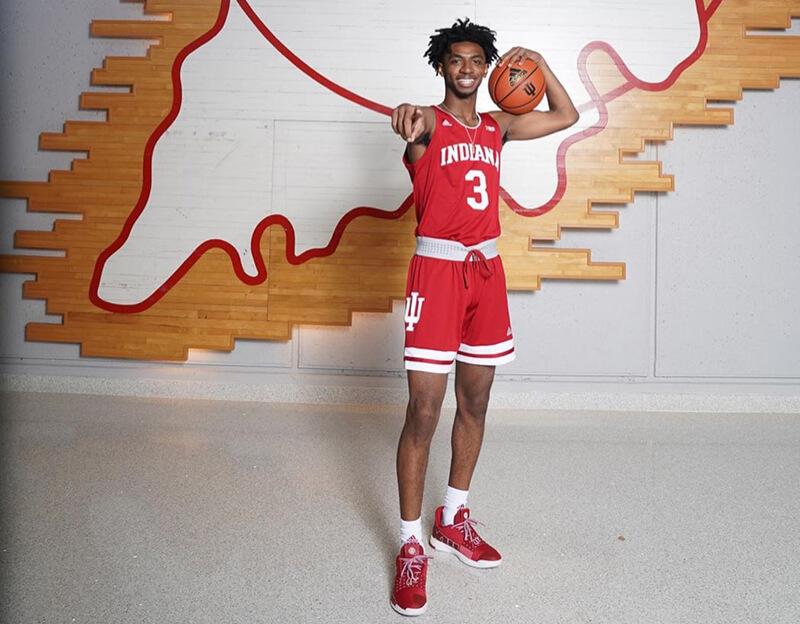 Class of 2021 Rutgers Preparatory School (NJ) forward Trey Patterson has a date set for his college announcement.
Patterson, a top 40 prospect nationally, will announce his college choice on Thursday, June 18.
In late May, Patterson announced a list of 10 schools which includes Arkansas, Auburn, Florida, Indiana, Maryland, Memphis, Rutgers, Tennessee, UConn and Villanova.
The 6-foot-8 forward took a junior year official visit to Indiana.
There are three 247Sports Crystal Ball picks logged for Patterson and each is for Villanova. The Wildcats are considered the favorite to land his commitment.
Indiana rises in ESPN bracketology for 2021
It may be more than nine months from the 2021 NCAA tournament, but ESPN's Joe Lunardi has Indiana rising in his latest projection.
Indiana is a No. 6 seed in Lunardi's latest projection, which was updated on June 3.
The Big Ten has nine teams in his early projected field including Indiana, Michigan, Michigan State, Purdue, Illinois, Iowa, Wisconsin, Rutgers and Ohio State. All are projected to be a No. 9 seed or higher.
Ferrell speaks on planned restart of NBA season
WISH TV sports reporter Olivia Ray spoke on Wednesday with former Indiana guard Yogi Ferrell about the planned restart of the NBA season.
Although no plan has been officially announced by the NBA, the league is believed to be eyeing a late July restart at the Walt Disney World Resort's Wide World of Sports.
Here's what Ferrell told Ray about the potential for the Sacramento Kings to grab a spot in this season's playoffs:
I caught up with former #IUBB star @YogiFerrell11 today- just as the reports of NBA's return to play plans surfaced.

These were his thoughts on the 22-team format (which ????? include his @SacramentoKings)

• Plans to return July 31 / 8 reg season games per team. pic.twitter.com/5B4X02EFvB

— Olivia Ray (@OliviaRayWISH) June 4, 2020
Hoosiers show up on early 2021 NBA draft big board
Indiana freshman guard Khristian Lander and sophomore forward Trayce Jackson-Davis are both in the top 30 of a recently released big board for the 2021 NBA draft.
Jeremy Woo of SI.com released a 30-player big board for 2021 on May 26 and had Lander at No. 17 and Jackson Davis at No. 29.
Here's what Woo wrote about each player:
Lander
Lander recently made official his decision to reclassify and attend Indiana this fall and should figure into next year's draft picture in some capacity, albeit he has some things to prove first. He's smaller and slight of build, but possesses breakneck end-to-end speed and excels in the open floor and dictating pace. Lander changes speeds and direction effectively off the dribble, which makes his high-end run-jump athleticism impressively functional for a player his age.

The early questions here revolve around his ability to finish at the rim against bodies, his extreme left-hand dominance as a passer and scorer and the consistency of his jumper (which is capable but streaky). But he should be among the better guards in the Big Ten right away, and there's a chance he'll break out immediately if afforded proper space to operate. Scouts will have to get over the size issue, but if he can gain some strength over the next year or so, Lander has a chance to make a quick leap.
Jackson-Davis
Jackson-Davis had a productive freshman year on whole for Indiana and has some definite strengths from an athletic standpoint. He's a terrific rebounder who has managed to score efficiently at this stage despite completely lacking utility in his off-hand and being a non-shooter. Jackson-Davis profiles well statistically, but his improvement and long-term prospects are contingent on whether he can flesh out his skill set in those areas. His feel is just average, but his motor was consistent and covered for his weaknesses pretty effectively as a freshman. He's already 20 years old and may need a big leap to move much higher than this, but his NBA bloodlines and overall productivity should get him an opportunity.
Filed to: Khristian Lander, Trayce Jackson-Davis, Trey Patterson, Yogi Ferrell