Q & A: Former Indiana guard Matt Roth on being an 'IU guy' for life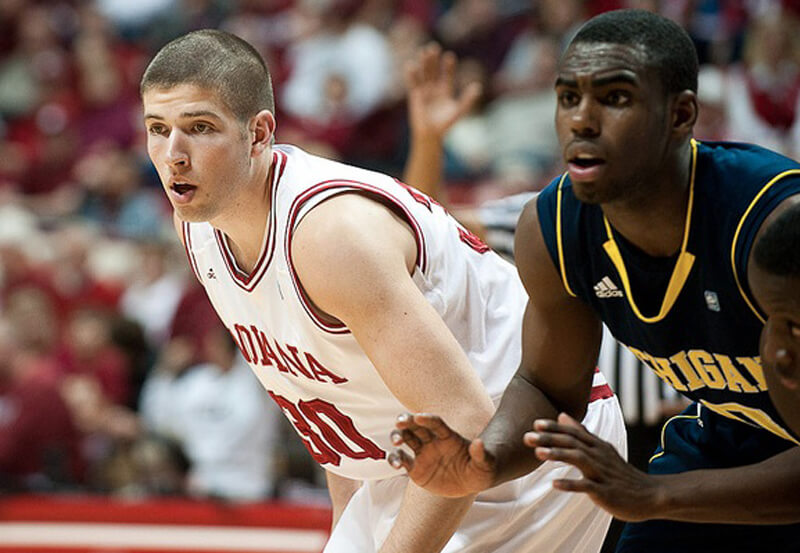 Former Indiana guard Matt Roth played at IU from 2008-2012, filling an important role for Tom Crean's early Indiana teams as a consistent 3-point shooter.
Roth was a career 41.4 percent 3-point shooter at IU, and during his senior campaign in the 2011-12 season he shot a Big Ten-best 54.5 percent from distance (the second-best single season 3-point shooting mark in IU history).
Now residing in Fort Wayne, Indiana, Roth spoke at-length with Inside the Hall about the awkward ending to his time at IU, his detail-oriented style as a player and the camaraderie that comes with playing for the Hoosiers.
Here is our full Q & A with Roth:
Inside the Hall: For those who may not know, what have you been up to since last playing for Indiana in 2012?
Roth: I live in Fort Wayne, Indiana, now. I married Lindsay (Enterline), who I dated through college and who played basketball and volleyball at IU. We moved up here around 2013, so about a year after I got done playing.
I work now at an orthopedic hospital with their sports medicine program, Optimum Performance Sports, overseeing the facility and their basketball academy here in Fort Wayne. I have three children: A soon-to-be six year-old, a soon-to-be four year-old and then a two year-old daughter. So two boys, one little girl.
(I've) been here at the hospital in this position for about five years now.
ITH: You did a bit of high school coaching at Fort Wayne Blackhawk as well. How was that experience?
Roth: When I moved up to Fort Wayne I wanted to stay involved in the game any way I could, so I was a varsity assistant (coach) there at Blackhawk for three years, then the workload of working in sports medicine, the coaching and also having a young family…I had to make some decisions and it led to me stepping away from coaching so I could spend more time at home with my wife and my kids.
So I still get my basketball fix through work and working with our basketball academy here, but I stepped away from the coaching world about three or four years ago.
ITH: Looking back at your Indiana career, I wanted to start at the end. It's been almost a decade since the scholarship situation that prevented you from staying at Indiana for a fifth season in 2012-13. What do you remember from that and the abrupt way in which everything kind of ended for you?
Roth: Looking back, I came out of high school and we had a coaching change and obviously all kinds of changes around the program, and one of the big reasons for me sticking with my commitment as a senior in high school was the idea of being a part of rebuilding something, being a part of helping to change the culture and the mentality that was there with that program.
That was a large part of why I stayed with Indiana. Then the way my career ended, I had a great four years, one bad injury sophomore year which was part of it, and a big growing process for my life where you kind of get the game taken away from you. You kind of have to find a new identity. So I think that year lost because of injury actually came back to help me in the long term.
That situation at the end of my career…I look back at it and two things really stand out to me. I went to college not really worried about what I was going to study, what I was going to do, and I walked away after four years with an undergraduate degree and a master's degree in administration management, which led me to the role I'm in now.
Then two, one of the things that was always a 'piece of mind' thing, something I was aware of with the older players like A.J. Guyton, Calbert Cheaney, the guys who were around us, guys who I watched play and kind of idolized, they talked about what it means to be an IU guy for life. To be a part of a program where you put in your four years and you give it everything you've got.
And I look back on it and I know I gave it everything I had, to the program, for four years. I achieved all my goals and beyond, to be able to play at that level, make an NCAA tournament run, and ultimately leaving there with two degrees.
Was it a little bittersweet? Probably yes, but I look at the value in the long term of what it means to be an IU guy.
I thought it was really fitting, Coach (Matt) Painter of all people had some great comments I thought, even though it was controversial a little bit, on the Dan Dakich show. But he was talking about being a 'Purdue guy,' finishing your career there, earning everything, earning your degree from that university and what that does long term…there's nothing out there that was going to bring (me) a sense of accomplishment like what my senior year was: Turning the program around, finishing in the top four or five in the Big Ten, then making a great run in the NCAA tournament and then losing what I still consider the best game of the tournament to Kentucky in the Sweet 16.
We played toe-to-toe in a high-flying offensive game and there's no shame in how that went down. We knew going into it that if someone was going to beat Kentucky, it was going to be us. That was our mentality within the locker room as players and from the coaching staff.
ITH: As someone content with what their life has become post-basketball, were there ever any thoughts or regrets over the last eight or so years about not transferring somewhere to finish your career or not continuing your basketball career overseas to try and carve out a professional path in basketball?
Roth: I have no regrets about it. I had a couple opportunities to go pursue things, but it wasn't a good situation. It wasn't a part of the world where I felt comfortable going to. It all worked out and I had opportunities manifest themselves in the business realm that I could move on to.
I was with my college fiancée and soon-to-be wife for over three-and-a-half years and we had some plans for a wedding after the season ended…I was very content with what I had achieved.
I had the goals of going to a Big Ten program, and then also with the coaching change and the re-direction of the program, I got to help rebuild it and bring it back to the reputation of being a place where people want to go. A place where basketball wasn't just a memory of how it used to be.
I took great joy in watching my teammates win a Big Ten title, (earn) the No. 1 overall seed in the tournament. At the same time, the frustrations of seeing them not being able to make a deeper tournament run that year… Again I always go back to the value of what I was able to do for four years and what it means long term. For me to be an IU guy for life and have the backing of all those former players who in a heartbeat, just like I would do for them, they would do anything to help me now.
I think I had a really good grasp of that, in terms of my mentality. It's tough with everything. I still live and breathe by every game those guys play. I understand some of the frustrations, and now with Archie there and some of the guys and some of the struggles they've had over the last couple years, I can relate to that. We've been there where we've lost games we should have won or we let one slip away, playing on the road in the Big Ten and all those types of things.
Looking back on it, I would do it all again in a heartbeat.
ITH: You have pretty good first-hand experience with the growing pains of establishing a college basketball program, in particular with the six-win 2008-09 season. From a player's point of view and a freshman's point of view like you had for that season, what's it like to go through the process of trying to get better while the same end result keeps happening?
Roth: If it did one thing in my mind, it put a greater value on all the details, all the little things. Coming into college I had a very successful high school career, just like most of my teammates did who were freshmen or new to IU that first year, and so you overlook some of those details along the way.
You really have to fine tune all that. You have to go back to the drawing board, you've got to pay attention to every detail on the scouting report, you've got to pay attention to different strategies, different schemes. What coach is going to be more inclined to change a gameplan when you're playing them?
I can remember back to that freshman year. We had a chance to beat Northwestern. We're playing this tight game, we're doing everything right, and with like five minutes to go in the game they went to their trademark 1-3-1 (defense) and we just completely froze. And the game was over just like that.
Did we know how to play against a 1-3-1? Absolutely.
But in the heat of a Big Ten game, you lose track of possessions and every one of those matters. The Big Ten, every year it's in the argument for best league in the country. I think it probably is talent-wise, it's a no-brainer. But I think physicality-wise and how well the coaches scout and the level of competition night-in and night-out, I would stand by that. It's the toughest league to play in.
We saw it last year in the Big Ten again where… it was absurd that home teams won like the first 30 games of league play or something. During the game obviously coaches call timeout, coaches can adjust things on the fly, but when the crowd's on top of you, it's you and four of your teammates out there. You've got to trust each other and know what everyone's going to do each moment.
ITH: Your calling card throughout your college career was 3-point shooting. After you lost basically your entire sophomore season after breaking a bone in your right foot, what was the process like to regain your rhythm, timing, everything about your shot especially considering that's what you mainly brought to the table?
Roth: I think the process going through it, initially it really helped me because, being able to hop around on one foot and not really use my right leg at all, I was still shooting in practice, I was still shooting free throws. Kind of all those things when you talk about the details of the game, shooting has a lot of details, so it forced me to kind of go back and reset and do all the little things again.
But then as the rehab process got me ready to go, that time away from jumping and landing on my right foot, and trusting that it's not going to stop again, the bone is not going to give out or a different bone in my foot is not going to give out, I think once you check all those areas and feel comfortable… until you go up for a shot or a rebound or come down on somebody's foot, that's a whole another level.
So there's a lot of little things within that rehab process. I think it was important to take care of all the details in my shot preparation, in my form, in my technique. And being so confident in all of those things… one of the big things is just getting up repetition after repetition of game-like shots and forcing myself to trust that foot again.
All of those little things forced a reset in my mentality and forced me to focus more on my shooting and my footwork. But the other thing I really took away from it was just sitting there and being on the bench and watching (games), it really allowed me to know what you do well when you play on a team.
When the coaches are looking forward to getting you back out there because they want you to go make shots. So it forced me to focus on my importance to what I was bringing to the team following the injury.
ITH: Leading into that 2011-12 season, was there the sense that something special was brewing and you would have such a successful season by finishing above .500, making the NCAA tournament and beating No. 1 Kentucky?
Roth: Yeah I think we knew going into it, even going back to my junior year, we had a pretty good team, but we were missing a big-time, high-profile post player. We had a lot of guys who were rotating in and out of there, a lot of guys who were great compliment players to Cody (Zeller), but you bring in a guy like that, a 7-footer who on day one can step in and play and do what he did and ultimately after his freshman year have an opportunity to go and pursue the NBA if he wanted to, that was a huge change for us.
Being able to put him on the floor and put him with great athletes like Victor (Oladipo) and Will (Sheehey) and guys like myself and Jordan (Hulls) and Christian (Watford) who were all 43 percent (or better) 3-point shooters that year… it allowed everybody to focus on their role and excel in it.
So we knew going into it that we would have a chance at a really good year. We obviously got off to a great start that year, but I don't know if we have that same season if we don't win that game at NC State in the Big Ten-ACC Challenge, just because it gave us the ultimate confidence from playing on the road against a really good team. To be down late and still come back and find a way to win, that game kind of spring-boarded us and gave us momentum heading into the second half of nonconference play.
ITH: When you look at your senior season as a whole, in particular what you were able to accomplish shooting so well from 3-point range and helping the team make its NCAA tournament return, did you realize in the moment what you were doing for the long-term benefit of the program or was that something that took longer to sink in?
Roth: I think the answer to that is probably both. I think in the moment we were so caught up trying to take care of our business every day, trying to compete for that NCAA tournament berth and be in the running in the Big Ten and all of that stuff, but you could start to see the difference in the excitement level of the program.
Not only is this a great year, but we're built for the next two, next three, next four years. We were recruiting well, we started to land more of those big-time recruits and some great players who've come into the program since, and those are little things that lead to the long-term success of the program, but also are reflective of what the players in the program are doing.
They're so vital in the recruiting process and having high-level players… if you don't get a Cody Zeller, do you get some of the other bigs who have come in and performed at such high levels? If we don't get Victor and Jordan Hulls, do we get a Yogi Ferrell? Where do we go?
The success of all of our guys and the success of the program, with Coach Crean and now with Archie there with his model and the way players are able to develop and play well and showcase themselves, will lead to the recruiting process. You sit back now and look back at the program, you can just appreciate what we were able to achieve that year, the level we were able to compete at each day and then also the type of players that we had.
We had high academic guys, we had several guys get multiple degree programs taken care of through that process, then you look at the relationship we all still have. We've all gone different ways now with our lives, but that ability to stay in touch, that ability to, when we do get together, have that common ground of what we stand for and the body of work we put in over our four years or our three years for the guys who left early. There's a sense of belonging.
Where it really hits home, at least in my opinion, is when we do get together as a program. We get the opportunity to get back to some games and have a winter reunion now and then our summer reunion, where you're around not only the guys you competed with, but you get to be around the players who were there before you. The players who built the program up through the 70s, 80s, 90s. You can hear them echo home those same things about the pride they took in watching us rebuild and care for the program that they helped build when they were there.
When you look at that stuff, when you get the group together, there's that sense of pride and that sense of accomplishment in knowing that we've all paid our dues. We've all taken care of the program, and ultimately now it's in great hands. The players who are there (now) are doing all the right things, I think they were well on their way to an NCAA tournament appearance this year before the virus and I expect more of the same as they continue to keep building things up and that's all part of the process, but also part of the expectation when you go to Indiana.
You take care of your business and you do the right thing for the program.
ITH: What are you most appreciative of from your time with the IU men's basketball program?
Roth: It's a true brotherhood. You've got older brothers and younger brothers within that family setting, but the one thing that I've found that amazes me whether it's here in the States, I've been in Hawaii a couple of times, you run into people. You run into guys who were managers at one point or different players from different eras and it's just… everybody takes care of each other.
Once you put in your time there. Once you become an 'IU guy' it carries on for life and just goes wherever you go. Every city that I've gone to when I'm traveling, you run into people and they'll always go above and beyond to take care of you. I'm enjoying that now as an adult and knowing that I have guys who will come to me or move to Fort Wayne or maybe something comes up and guys are reaching out checking on you, all those kinds of things.
It's just a big family and everybody takes care of each other. If someone ever needs me I'm always available, and likewise. It's just a huge family and it takes care of itself and it takes care of each other. The guys there (now) are learning that and Archie's experienced that and learned that from day one on the job and he and his staff are doing a great job of making sure they help take care of the family by providing opportunities for us to get together and share memories, but also continue to build friendships and all of that.
Filed to: Matt Roth