2021 guard Blake Wesley making the most of his situation, both on and off the court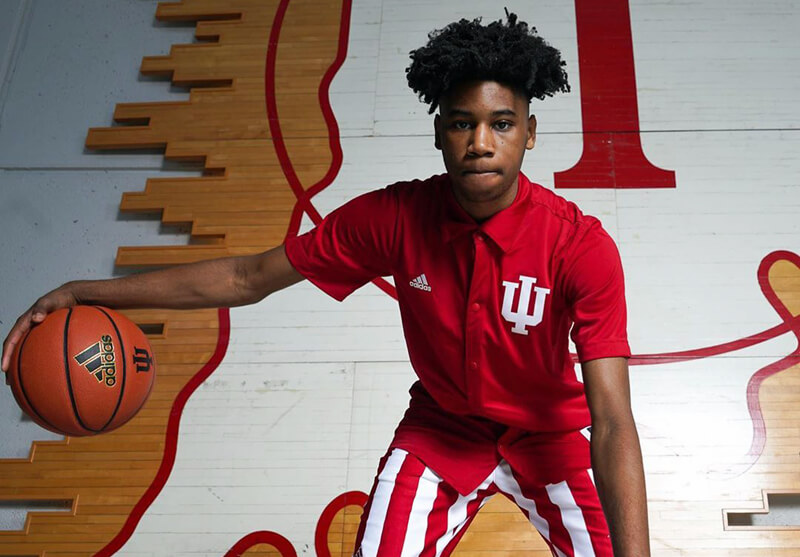 The stay-at-home orders across the world have been an adjustment for everyone, each individual having their own way of trying to stay busy.
For Blake Wesley, basketball has been his method to make the most of the situation.
According to his father Derrick Wesley, Blake has been getting in three to four workouts each day, improving his game as his senior season at South Bend Riley is on the horizon. He has also added about seven pounds since the quarantine started.
"To be honest, I'm really enjoying being able to get more personal development for Blake," Derrick Wesley told Inside the Hall.
Blake is one of the top recruits in Indiana for the class of 2021. A four-star shooting guard, Blake has caught the attention of many schools, including Indiana.
He grew up in South Bend, and his father played basketball at Ball State from 1984-88 while his mother is an IU grad.
Andre Owens, Riley's current head coach, used to work at The South Bend Salvation Army Kroc Center, where he first met Blake, who was 7 years old at the time.
"I knew when I met him at seven, he was going to be pretty special," Owens said.
Owens went on to coach Blake in middle school, where the team won the championship when Blake was in seventh grade. Blake's skill at that age allowed him to play up on the eighth-grade team as well.
"He just had a feel for the game at that age," Owens said. "He was very determined to win. He enjoyed playing, and he was very competitive. Those qualities are real hard to come by nowadays."
About a year and a half ago, Blake barely had any offers. But according to Owens, he had an outstanding summer in 2019 in AAU. As the offers started to pile on, Blake kept a cool head. His father said they've actually enjoyed the recruiting process and haven't allowed it to become much of a burden.
With Zoom calls as the way of communication for the immediate future, it has been an adjustment for recruits all around to communicate with teams. In this past basketball season, Blake had visited the big four Indiana schools — IU, Purdue, Butler, Notre Dame — but his visit to Ohio State was put on hold due to COVID-19.
"His desire to be the best player he can be is really what drives him," Derrick Wesley said. "He understands this recruiting stuff is just part of the process."
In regards to his relationship with Indiana, his dad said assistant coach Bruiser Flint is in regular contact, and they knew him because he recruited Damezi Anderson as well, who also played at South Bend Riley.
"IU has been great," Derrick Wesley said. "They really want him, and they demonstrated that to us and told us that."
Any speculation that Damezi Anderson's recent transfer would affect the decision of Blake is unfounded, according to his father.
"We're going into it with a clean slate," Derrick Wesley said. "Blake is a different player. He can play three positions, possibly four. We know it's a completely different situation."
His dad said Blake was recently working out with Armaan Franklin, whose aunt is now an associate head coach for Notre Dame's women's basketball program. Blake and Franklin played basketball together in middle school before Franklin moved to Indianapolis. Blake is also friends with Trayce Jackson-Davis.
When Blake was working out with Franklin, Purdue's 2020 4-star commit Jaden Ivey was there, as well as Notre Dame commit J.R. Konieczny. His father said it was an "interesting contrast" with each player trying to pitch their respective in-state schools.
Off the floor, Blake is a laid-back kid who likes to hang out with his friends, and he's also very caring. In the final week of March, right when everything began to get shut down, Blake helped his mother at a food drive at the Brown Community Center, passing out food to families in need.
"He's a people person. He loves his family and teammates. He helped his mom with the food drive because our school corporation wanted to help some of the kids who are less fortunate and don't always have food," Owens said. "That tells you what kind of character kid he is and what kind of background he comes from. It's a blessing to have a kid like that on the team, knowing he'll help people in need."
As for on the court, Owens want to see Blake grow in making the players around him better, which he is confident he will do.
Blake is 6-foot-5 and can handle the ball like a point guard. His shooting is one of his strengths, and he can even go into the post if needed.
"The great thing about Blake is he plays on both ends of the court and plays just as good defense as he does offense," Derrick Wesley said.
"He's one of those kids that can do it all," Owens said. "He's a very dynamic and versatile player, and the sky's the limit for him. We've only seen the beginning."
Filed to: Blake Wesley