Hoosiers look to continue home success against ranked foes as MSU returns to Bloomington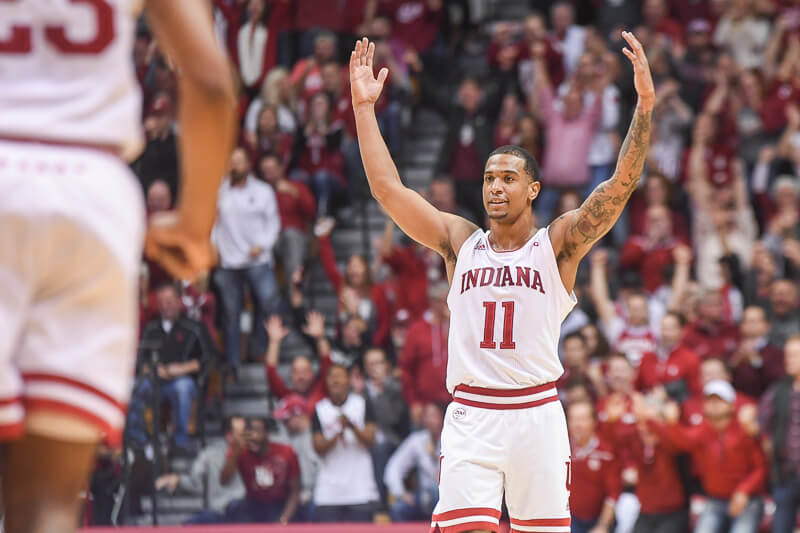 Al Durham lifted his left index finger to his mouth and pressed it against his lips.
The gesture came in response to a seemingly innocent statement from a media member during Wednesday afternoon's interview session with Durham and senior guard Devonte Green.
Indiana has won its last four games inside Assembly Hall against ranked opponents, and the question eventually posed to Durham and Green concerned carrying momentum from those past upset wins into tonight's primetime meeting with No. 11 Michigan State.
Durham was having none of it.
Each season brings a new complexion to each team's roster: The upset wins toward the end of last season against Wisconsin (a double-overtime victory clinched by a Romeo Langford layup) and Michigan State (the win sealed with defense from Rob Phinisee) have little, if any, on-court correlation with this season's home triumphs over Florida State and Ohio State.
Coaches come and go, players fluctuate and no two editions of the same team are alike.
Some things remain though — like the building, the crowd and the overall atmosphere created in Bloomington when a top-25 team comes to town.
"For our guys it's another opportunity at home in the Big Ten against a great opponent. And hopefully the environment is electric and we compete because that's what it's going to come down to in terms of our effort level," Archie Miller said Wednesday.
Home-court advantage is a prized asset in college basketball, and perhaps no conference has displayed it the way the Big Ten has this season.
Home teams are a combined 43-10 in Big Ten play this season through Wednesday's games.
It's quickly become a cornerstone for each team in the conference to defend its home court, something that's always a priority but has emerged as a near-necessity this season.
"Our league being what it is right now, how difficult it is to go on the road, you've got to find a way to win home games," Miller said. "That's not easy as well. It's really not. But we have one of the best home courts in college basketball."
Tonight also marks the first designated Indiana home game for students since classes resumed on Jan. 13.
This month's win over Ohio State came the Saturday before the spring semester, so while the Hoosiers had the benefit of a vocal crowd behind them against the Buckeyes, Miller admitted the environment of the arena changes when students are inside.
"Our students change the complexion of the energy level in our arena and we're going to need it in every game moving forward, because I think that every game is so valuable," Miller explained. "Without question, Simon Skjodt Assembly Hall, when it's ready and our players are giving them something to be ready about, it's a great place to obviously compete."
Miller is a coach who operates in the moment. Any question asked about something too far in the future or too distant in the past will bring about a similar response.
Miller will touch upon that subject, then quickly pivot to the task at hand, usually an upcoming game or practice.
This week's stretch of games against No. 11 Michigan State and No. 17 Maryland has brought more of the same.
Any talk of Indiana's potential NCAA tournament résumé, or even the building blocks for it, is shot down by the Hoosier head coach.
It's a mindset that has also extended to a pair of players, Durham and Green, who are each in their third seasons playing under Miller's guidance.
"We take every game just like the last, like, we take every opponent just as serious no matter if the year changes or what happens," Green said. "We know anybody can be beaten or can beat you on any night."
"You prepare for each game the same way," Durham offered. "No opponent is less worthy than the next, so I feel like you approach each game like it's, I would say, like your last and you play as hard as you can."
Little is left to the imagination when it comes to what the Hoosiers and Spartans will offer on the court.
Even the expected Assembly Hall environment has been replicated plenty of times before.
What's left are the players, and their ability to harness everything into a game that could loom large for Indiana come March, even if no one wants to acknowledge that in January.
Filed to: Al Durham, Archie Miller, Devonte Green