News and notes from Archie Miller's radio show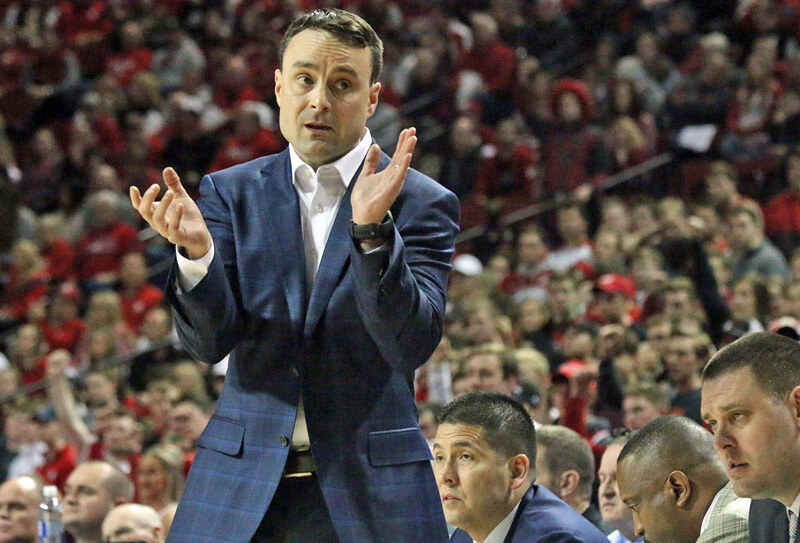 "Inside IU Basketball with Archie Miller" returned Monday night with Archie Miller and freshman forward Trayce Jackson-Davis spending a combined hour with host Don Fischer to discuss Indiana's recent Big Ten games, including Indiana's first true road win of the season last Saturday night at Nebraska.
The show also touched on Indiana's recent defensive improvements and the challenges posed by upcoming opponents, in particular No. 11 Michigan State on Thursday night in Bloomington.
Here are the highlights from Miller and Jackson-Davis' evening with Fischer.
– When discussing last Wednesday night's loss at Rutgers, Miller said Indiana got knocked back early against the Scarlet Knights and credit should be given for the defensive mindset and the effort level that Rutgers brought to the game.
– Regarding specific reasons for the loss, Miller cited live-ball turnovers at the end of the first half and the way in which Rutgers controlled the final five minutes of the game after a missed 3-pointer by Jerome Hunter.
– When discussing last Saturday night's win at Nebraska, Miller said Indiana survived a couple punches from Nebraska during the first four to eight minutes before the Hoosiers established their inside-out style of play. He described the final 10 minutes of the first half as one of the best offensive stretches the Hoosiers have had this season, something which carried over to the start of the second half.
– Fischer told Miller that it appears like Indiana is handling "offensive stagnation" and "slumps" in scoring well on the defensive end, and Miller agreed. "We went from a bad defensive team in November, to an average defensive team in December, to now as January has grown, pretty good. We're better right now than we were a week ago, we're way better than we were two weeks ago…we are a more connected team (on defense)."
– Miller reiterated earlier concerns from the Wisconsin loss this season when he said communication remains something Indiana must get better at. He even quantified this, saying the Hoosiers could probably save six points a game defensively by just talking and communicating better.
– Looking at the defensive performance of his guards against Nebraska, Miller said the Hoosiers were dominated by Cornhuskers in early December when it came to Nebraska's guards beating Indiana's off the dribble. He said Indiana has grown in this area of the game though, and that was reflected during Saturday's win. "We weren't just getting broken down and giving up kick-out 3s."
– Fischer asked Miller about the team's improved shooting from the Rutgers loss to the Nebraska win, and Miller singled out Hunter and Armaan Franklin as players who made 3-pointers when the Hoosiers needed them in the first half. Speaking about his team as a whole, Miller said the Hoosiers were "shot-ready" coming into the Nebraska game.
– Miller expanded on his thoughts concerning Hunter, explaining how Hunter lost his rhythm with the game of basketball because of how long he was sidelined from the start of last season into the middle of last summer. Miller said he has recently seen growth from Hunter in the areas of being physical on cuts, his rebounding and his off-ball defense.
– When discussing Joey Brunk, Miller said initial discussions about Brunk transferring to Indiana centered around the passion, size and work ethic he would bring to Bloomington. But as the season has progressed, it's been clear to Miller that Brunk has gotten better: "He's gotten a lot better, if you look at November, to December and then now in January…he's really rebounding for us, he continues to be a great rim presence for us in transition…he's been able to handle a pretty big load for us."
– Looking ahead to Thursday night's home game against No. 11 Michigan State, Miller said the Spartans have been the most consistent team in the league so far, a statement substantiated by both the conference standings and the latest edition of Inside The Hall's Big Ten power rankings.
– Miller also offered his thoughts on Cassius Winston, who Miller called "the premier point guard in college basketball." Miller said Winston is difficult to deal with in a variety of situations, from transition play, to off-ball screens and in the halfcourt as well. He said not only can Winston shoot the ball and score, but he also makes things easier on Michigan State's frontcourt players. The key to the game, Miller said, is not letting Winston just pick the Hoosiers apart.
– When Fischer asked him about his progression over the course of the season, Jackson-Davis said that teams didn't scout him as much at the start of the season compared to now. He mentioned a meeting with Miller in which Miller told him that every Big Ten team will have Jackson-Davis on its radar. Jackson-Davis added that his ability to adapt on offense to opponents double-teaming him is an important step.
– Fischer also asked Jackson-Davis about some of his teammates. Jackson-Davis said Brunk and Justin Smith have helped him the most as a basketball player (including working out with Brunk almost every night), Armaan Franklin (his roommate) is the player he's closest with and the funniest player is walk-on forward Nathan Childress.
Filed to: Archie Miller, Trayce Jackson-Davis