Big Ten Power Rankings: January 20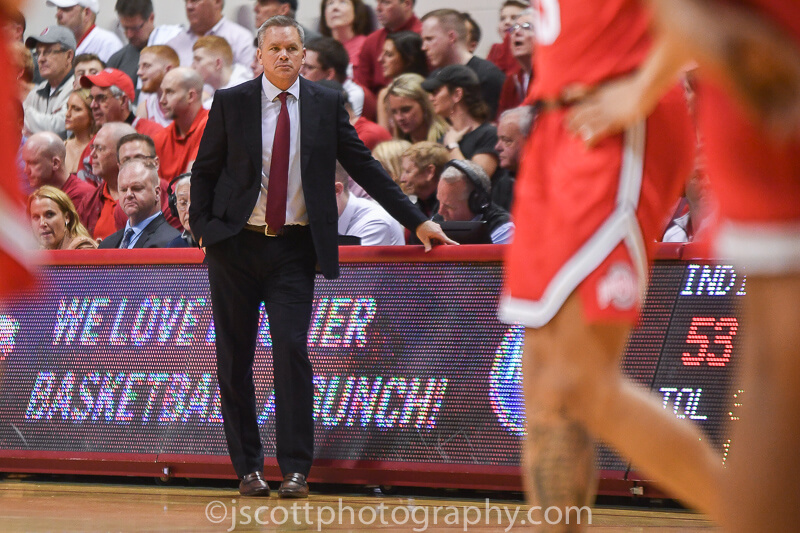 Michigan State continues to lead the Big Ten standings, but has Rutgers and Illinois right on its tail in second place. Beyond that, the middle of the league is a jumbled mess as home teams continue to hold serve (42-7). Unless that changes, the Big Ten has 12 teams with legitimate NCAA tournament hopes.
The power rankings will run each Monday throughout the remainder of the regular season.
14. Northwestern (1-6, . 954 PPP, 1.05 PPP allowed)
The Wildcats have been competitive on the road in league play with an average defeat margin of just 7.7 points in their four losses. Their latest setback, 75-71 on Saturday to Illinois in Champaign, was Northwestern's best offensive performance so far in league play. The Wildcats put 1.16 points per trip on Illinois as they knocked down eight 3-pointers and turned it over just five times.
13. Nebraska (2-5, .997 PPP, 1.053 PPP allowed)
It was a two-loss week for the Cornhuskers as they fell 80-68 to Ohio State in Columbus and returned home and dropped a contest on Saturday to Indiana, 82-74, at Pinnacle Bank Arena. Nebraska's lack of size in the post continues to be a major problem as Ohio State's Kaleb Wesson went for 13 points and 14 rebounds on Tuesday and Indiana's Trayce Jackson-Davis put 18 points and 13 rebounds on the Huskers in Lincoln.
12. Penn State (3-4, 1.039 PPP, 1.109 PPP allowed)
The Nittany Lions are still in solid shape for the NCAA tournament at 13-5 overall, but a brutal schedule thus far in league play has been difficult to navigate. According to KenPom, Penn State has played the 3rd toughest schedule in league play so far. The Nittany Lions did get back on track with a home win against struggling Ohio State over the weekend, but another tough test awaits on Wednesday in Ann Arbor.
11. Ohio State (2-5, 1.045 PPP, 1.068 PPP allowed)
The Buckeyes have dropped five of their last six games, but the schedule opens up over the next 12 days as the Buckeyes host Minnesota, travel to Northwestern and host Indiana. Win those three games and Ohio State's recent skid will quickly be in the rearview mirror.
10. Indiana (4-3, .997 PPP, 1.008 PPP allowed)
Indiana is the lowest 4-3 team in our power rankings and that's mostly because the Hoosiers have played a weak schedule in league play so far. All four of its wins have come against teams currently in the bottom half of the league standings and three of them are over Nebraska or Northwestern. The strength of schedule is about to heat up in Bloomington as the Hoosiers host Michigan State and Maryland this week.
9. Purdue (3-4, .922 PPP, .932 PPP allowed)
Purdue is still treading water in the middle of the league thanks to its defense. The Boilermakers are just 10-8 overall and 3-4 in the league, but own the nation's sixth best defense according to Pomeroy's adjusted defensive efficiency rankings. The Boilermakers are 0-4 so far in Big Ten road games, but have been competitive recently with a double overtime loss at Michigan on Jan. 9 and a seven-point setback at Maryland on Jan. 18. And don't forget, Purdue's 29-point trouncing of Michigan State at Mackey Arena is one of the better wins so far in league play this season.
8. Michigan (2-4, 1.082 PPP, 1.138 PPP allowed)
The Wolverines are in a rut, but when you dig a little deeper, there are a few extenuating circumstances that may offer an explanation. Isaiah Livers remains out with a groin injury and he's arguably Michigan's most important player not named Zavier Simpson. Michigan has also played the toughest schedule so far in conference play, which is a big reason the defense is currently the worst in the conference. Michigan's upcoming schedule (Penn State, Illinois, at Nebraska, Rutgers at MSG, Ohio State) is quite favorable and should offer Juwan Howard an opportunity to get this team above .500 in league play.
7. Minnesota (4-4, 1.043 PPP, 1.068 PPP allowed)
Daniel Oturu is firmly in the mix for first team All-Big Ten honors and is in the discussion with Luka Garza and Kaleb Wesson for the league's best frontcourt player. The sophomore is an elite shot blocker, rebounder and finisher at the rim. The Golden Gophers have a lot of work to do to get on the right side of the NCAA tournament bubble due to a rough non-conference resume and the next five games could be tough. KenPom projects four losses in Minnesota's next five.
6. Iowa (4-3, 1.119 PPP, 1.044 PPP allowed)
The Hawkeyes picked up a road win last week at Northwestern and then returned home and hung 90 points on Michigan in a win at Carver Hawkeye Arena. Iowa continues to boast one of the nation's most potent offenses, but it remains difficult to trust a Fran McCaffery led team based on precedent. The Hawkeyes have had plenty of solid starts in league play only to fall apart down the stretch, so trust this group at your own peril.
5. Illinois (5-2, .986 PPP, .937 PPP allowed)
Was Saturday's performance against Northwestern the first sign that Illinois has been punching above its weight in league play? The Illini gave up 1.16 points per possession to lowly Northwestern in Champaign. Illinois isn't going to be able to get away with that kind of defense when it plays five of its next eight on the road. KenPom projects the Illini will win just one of their next eight contests.
4. Maryland (4-3, .936 PPP, .916 PPP allowed)
Maryland continues to win games in an ugly manner as the Terps own the Big Ten's best defense, but the league's second worst offense. Turnovers have been a major problem for Maryland as the Terps rank 14th in league play in turnover percentage at 21.1. Maryland is winless on the road this season, but has two opportunities this week at Northwestern and Indiana.
3. Wisconsin (4-3, 1.03 PPP, .996 PPP allowed)
The Badgers aren't the Big Ten's most talented team, but they own an impressive resume in league play with road wins over Ohio State and Penn State. Wisconsin isn't turning it over in Big Ten play and the Badgers currently rank second in 2-point and free throw percentage against conference foes. That's a formula for winning and given the homecourt advantage the Kohl Center provides, Wisconsin looks like a solid bet to finish in the top half of the league.
2. Rutgers (5-2, .996 PPP, .916 PPP allowed)
Rutgers is reaching new heights under Steve Pikiell as the Scarlet Knights have earned this spot in the power rankings. Rutgers is second in the league standings and also second in efficiency margin. The RAC has provided a huge advantage this season as Rutgers is 13-0 at home.
1. Michigan State (6-1, 1.044 PPP, .931 PPP allowed)
The Spartans recovered from a 29-point beatdown in West Lafayette with a solid 12-point win at the Breslin Center against Wisconsin on Friday night. Michigan State has a five-day break before traveling to Bloomington on Thursday to face Indiana and Minneapolis on Sunday to take on Minnesota.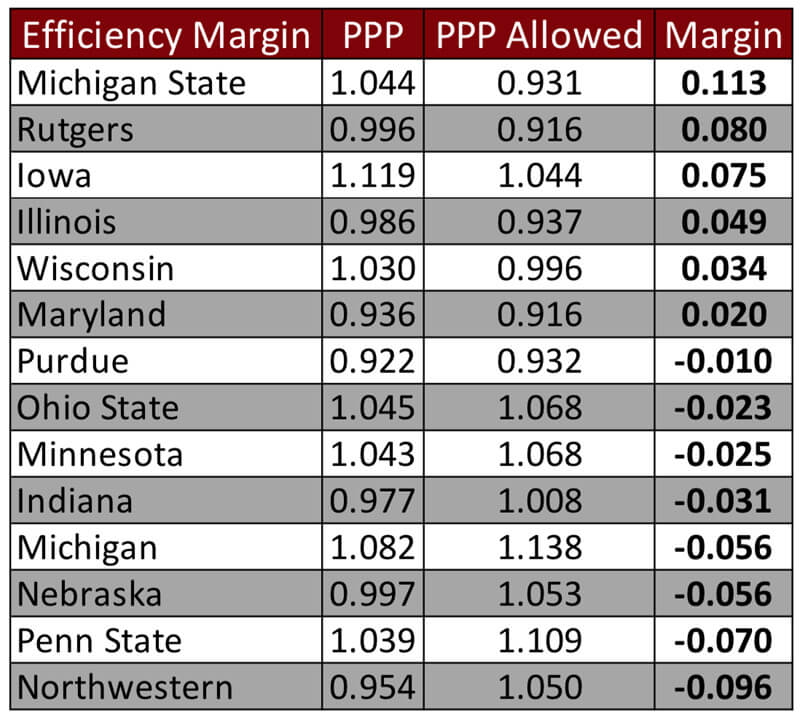 Filed to: Big Ten Power Rankings