Five takeaways from Indiana's win at Nebraska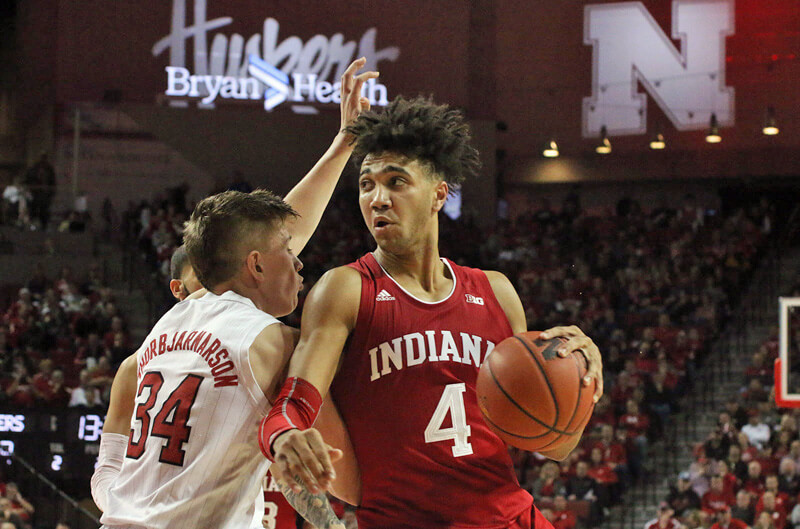 Indiana recorded its first road win of the season on Saturday in Lincoln. The Hoosiers led by as many as 19 in the second half before holding off a late rally by the Cornhuskers for an 82-74 win.
Here are five takeaways from the win over Nebraska:
· Hoosiers get hot from perimeter: Indiana has struggled to make perimeter shots for most of the season, but the Hoosiers found their touch in the first half at Pinnacle Bank Arena.
Indiana trailed by nine points at the 12:18 mark of the first half, but rallied in large part due to a flurry of made 3-pointers. The Hoosiers made five of their six first half 3-pointers in the final 12:02 of the half as four different players connected from the perimeter in that stretch.
"Offensively, we were able to make a few shots, gave us some confidence," Archie Miller said postgame. "We then went from being a tight team to being a team that I thought played a little more free."
For an offense that has struggled with confidence and long scoring droughts, it was easy to see the change in the body language as the shots began to fall. And much of that confidence carried over into the second half as Indiana built a 19-point lead on two separate occasions.
· Trayce Jackson-Davis dominates Nebraska again: Nebraska's lack of a legitimate big man has been an issue for Fred Hoiberg all season and freshman Trayce Jackson-Davis has taken advantage in both matchups against the Cornhuskers.
Jackson-Davis put 25 points and 15 rebounds on Nebraska back on Dec. 13 in Bloomington and he followed that up with 18 points and 13 rebounds on Saturday night in Lincoln.
The Center Grove product was an efficient 6-for-7 from the field and 6-for-8 from the free throw line and also added four assists, a blocked shot and no turnovers in 36 minutes.
In seven Big Ten games, Jackson-Davis is averaging a team-high 12.9 points to go along with 7.4 rebounds and two blocks in 28.7 minutes per game. For the season, Jackson-Davis has the nation's ninth best offensive rating according to KenPom.com.
· Freshmen provide spark off the bench: After scoring just two bench points in Wednesday's 59-50 loss at Rutgers, Indiana got major contributions from a pair of freshmen in Lincoln.
Armaan Franklin and Jerome Hunter combined for 14 of Indiana's 20 bench points in the win and both were on the floor when Indiana went from down nine to up one in a 5:28 stretch of the first half.
Hunter only played a total of eight minutes, but knocked down a pair of 3-pointers in the first half. While his overall 3-point percentage remains under 20, Hunter continues to shoot with confidence.
Franklin logged 23 minutes, the most he's played since IU's loss at Wisconsin in early December, and scored eight points, grabbed six rebounds, dished out four assists and added a blocked shot and a steal. He did commit three turnovers, but he provided a major lift on a night when Devonte Green (three points in 15 minutes) contributed very little.
· Brunk, Smith continue to produce reliably: Indiana's frontcourt isn't just a one man show with Jackson-Davis.
Joey Brunk (16 points, five rebounds) and Justin Smith (15 points, seven rebounds) were both major contributors in Saturday's win.
Over Indiana's last four games, Smith is averaging 13.5 points and 5.5 rebounds per game. He remains one of the team's most reliable defenders and despite his penchant for taking unnecessary 3-point attempts, Smith has been one of the best finishers in the Big Ten through seven games. His 2-point field goal percentage of 60.4 ranks eighth in the conference.
Brunk has been equally impressive as he's scored eight or more points in seven of Indiana's last nine games. He's been Indiana's best rebounder in league play as he currently ranks in the top five in the conference in both offensive and defensive rebounding percentage.
· Turnovers remain a major issue: Indiana once again struggled to take care of the ball and was fortunate that Nebraska wasn't able to capitalize on its 16 turnovers. The Cornhuskers scored just 13 points off of turnovers in the IU win.
Indiana's turnover percentage (21.2) was over 20 for the fifth time in six games, a disturbing trend for a team that isn't good enough offensively to continue to win games when not taking care of the ball.
In Big Ten play, Indiana's primary ball handlers have struggled with their decision making as Al Durham Jr. (24.2), Rob Phinisee (26.1) and Armaan Franklin (24.6) all have turnover percentages in the mid 20s.
You don't have to dig deep into Saturday's game to see how big of an impact turnovers have on stalling out the IU offense. In the first 9:06 of the second half, Indiana committed just one turnover and scored 24 points. In the final 10:54 of the game, Indiana turned it over eight times and scored just 12 points.
Filed to: Armaan Franklin, Jerome Hunter, Joey Brunk, Justin Smith, Nebraska Cornhuskers, Trayce Jackson-Davis