6-Banner Sunday: Indiana earns first true road win of the season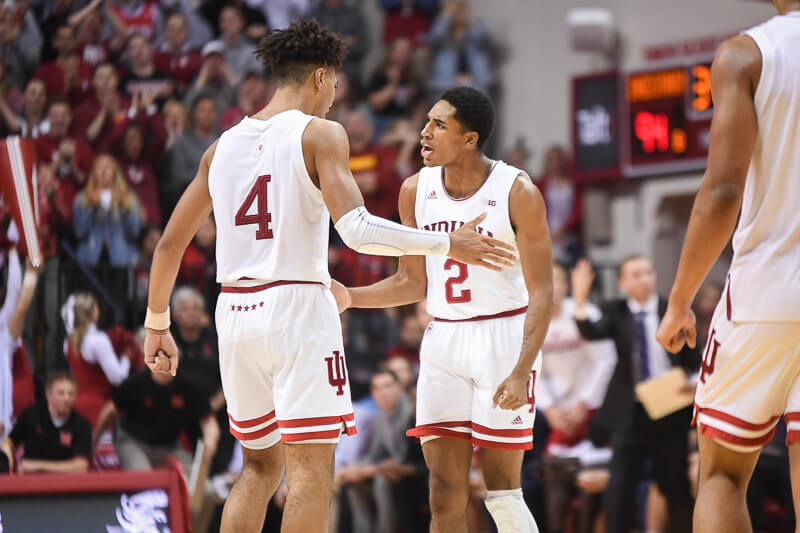 6-Banner Sunday is Inside the Hall's weekly newsletter in partnership with The Assembly Call. More than 7,000 Indiana fans receive the newsletter each week. In addition to appearing each week on the site, you can also opt to receive 6-Banner Sunday by email. A form to subscribe via email is available at the bottom of this week's 6-Banner Sunday.
Welcome to another edition of 6-Banner Sunday, a joint production between The Assembly Call and Inside the Hall where we highlight the five most essential IU basketball stories of the past week, plus take a look at how the other IU sports programs are doing.
If Indiana's season bottomed out with a 2-19 three-point shooting performance during a midweek loss at Rutgers, then the way Indiana responded by securing its first true road win of the season at Nebraska showed there's plenty of fight left in the Hoosiers.
The past week in Indiana basketball was defined by change.
The Hoosiers altered their offensive approach and their willingness to make meaningful passes from the Rutgers defeat to the Nebraska win. In-depth stories also displayed the progressions Trayce Jackson-Davis and Jerome Hunter have gone through as they continue to adapt to the college game.
All of that and more highlight the past week for the Hoosier program.
In this week's edition:
• Indiana bottoms out with distance shooting at Rutgers, recovers well against Nebraska
• Trayce Jackson-Davis adapts to Big Ten play
• Looking at the Big Ten in the big picture of the NCAA Tournament
• A deep dive into Indiana's offense
• Jerome Hunter continues his college journey
• Hoosier Sports Roundup
Banner #1
Indiana bottoms out with distance shooting at Rutgers, recovers well against Nebraska
The 2-19 three-point shooting performance that Indiana had at Rutgers last Wednesday was likely the low point of the season to date.
There was no shame in losing at Rutgers in a home-court environment that's claimed plenty of victims this season. But it was the manner in which the defeat occurred that most troubled Hoosier fans. Indiana looked lost on both ends and the field-goal scoring droughts continued for Archie Miller's team.
There was one particularly bad field-goal drought against Nebraska (which lasted longer than eight minutes in the second half), but improvements came in virtually every other category during a stabilizing Saturday night win over the Cornhuskers.
Road wins are hard to come by in a deep Big Ten this season and the Hoosiers erased an early deficit to become one of the few teams with a road win in conference play.
It was Indiana's first true road win of the entire season and it came with a performance that included 21 assists, eight made three-pointers and Trayce Jackson-Davis' sixth double-double of the season (and his first double-double since the first time Indiana and Nebraska faced each other).
There are still plenty of issues with the Hoosiers, in particular inconsistent backcourt play, but it seems the team has turned the corner in terms of avoiding a catastrophic nosedive like last season's.
Banner #2
Trayce Jackson-Davis adapts to Big Ten play
It's fair to say that plenty of eyes were watching Jackson-Davis during non-conference play and his effectiveness at both ends for Indiana made him a central figure for opponents to study in Big Ten play.
The results are plain to see.
Jackson-Davis remains the IU team leader in points per game (14.2), rebounds per game (8.2) and field goal percentage (63.4). However, recent games have brought a downturn in statistical production from the freshman big man.
Three of his last five games featured single-digit scoring, and in four of those five games he's been below his season average in rebounding (he reverted back to form against Nebraska).
Before that trip to face the Cornhuskers though, Archie Miller had a talk with TJD.
The importance and potential ramifications of that discussion is explained by Zach Osterman of The Indianapolis Star, who wrote about how Jackson-Davis has tried to adjust to becoming the focus of attention for Indiana's Big Ten opponents.
"Talking to Trayce, one thing I think young guys have to understand, especially at this time of year, is you're a player now," Miller said Friday afternoon. "Not only are you a player for our team but you're a player on the other coach's mind."
Banner #3
Looking at the Big Ten in the big picture of the NCAA tournament
Ask Archie Miller, or any coach around the Big Ten Conference, and they'll tell you the same thing: The Big Ten is an absolute gauntlet of a conference to play against and it commands plenty of respect nationally.
That's reflected in just about all of the mid-January editions of bracketology that came out over the past week. Andy Bottoms of Inside The Hall has 11 Big Ten teams in his field, while Joe Lunardi's prediction for ESPN includes 12 teams from the Big Ten.
Indiana has frequently been selected as an 8 or a 9 seed in these early projections and since every game left on Indiana's schedule has a good chance of falling in the Quad 1 section for NCAA Tournament committee purposes, the Hoosiers will have plenty of chances to make or break their tournament hopes in the coming weeks.
The strength of the Big Ten, and how the conference shapes up now compared to in the past, was a talking point on this week's Podcast on the Brink featuring Alex Bozich and Ryan Corazza of Inside The Hall.
Banner #4
A deep dive into Indiana's offense
Leading up to and in the immediate aftermath of last week's loss at Rutgers, Indiana's shooting struggles were a popular topic of conversation.
So, I deciding to do a little bit of investigating for Inside The Hall.
Before the match-up with the Scarlet Knights, I looked at the lengthy field-goal scoring droughts that have affected basically every Indiana game (and have continued to do so) since the Florida State win. The Hoosiers were still able to come out with wins against the likes of UConn, Notre Dame, Ohio State and Nebraska despite these scoring droughts from the field and this was in part due to the frequency with which Indiana makes it to the foul line.
It's no secret that Indiana needs to shoot a lot of free throws in order to best function offensively.
Secondly, it's also not a secret that Indiana has struggled from 3-point range this season. Each of Archie Miller's three Indiana teams have found it hard to shoot from distance, so I decided to look at the progression of each Indiana player as a 3-point shooter during their time under Miller after that aforementioned poor showing against Rutgers.
What I found was some consistency and even improvement from veteran guards like Al Durham and Devonte Green. However, I also found plenty of inconsistencies from younger players like Armaan Franklin and Damezi Anderson who shoot 3-pointers far too often given their lack of long distance success.
A deep-dive of Indiana's offense (what shots are being taken and which players are doing the shooting) was also released this week prior to the Nebraska game by Andy Wittry at The Assembly Call and this week's edition of Assembly Call Radio prominently discussed Indiana's shooting woes and the measures the Hoosiers should take to fix them.
In its first game since these discussions, Indiana went 8-26 on 3-pointers against Nebraska.
Banner #5
Jerome Hunter continues his college journey
To properly understand the story of Hunter and the perseverance he's already shown in his Indiana career, it's important to talk to those who know Jerome best.
And that's exactly what Inside The Hall's Dylan Wallace did.
Dylan spoke with Hunter's trainer and childhood friends to learn what made Hunter such a sought-after recruit coming out of Pickerington, Ohio, how Hunter handled last season's serious injury setback and the path forward to realizing his future basketball goals.
Hunter's production on the court, in particular from 3-point range, may still be behind schedule, but this story puts you in Hunter's place: A player re-learning the game of basketball while also figuring out how to contribute aside from his scoring ability.
Hunter's trainer, Andreas James, is featured prominently in the piece and believes Hoosier fans are yet to truly see what Hunter can do on the basketball court.
"To be all the way the honest, Jerome has a whole other level that he is capable of playing at," James said.
Banner #6
Hoosier Sports Roundup
This content was contributed by Aaron Shifron.
Former Hoosier Noah Vonleh makes an appearance in this week's 6-Banner Sunday while lots of news took place off the field with various awards, coaching and recruiting announcements. Competition wise this week was a struggle for IU outside of Men's Tennis.
• I did an exclusive interview and story with former Hoosier and now Minnesota Timberwolves forward Noah Vonleh.
• IU's legendary broadcaster Don Fischer was named Indiana Sportscaster of the Year.
• Football will see three former Hoosiers compete in the Conference Championship games today. They also filled out their coaching staff.
• Men's Soccer saw a third player taken in the MLS Super Draft and had another leave early with a Homegrown Contract will being announced to the U-20 team.
• Volleyball added a transfer and saw an incoming recruit named the Gatorade Nevada Volleyball Player of the Year.
• Women's Soccer added a volunteer assistant and a director of operations.
• IU Rowing unveiled a new facility called the Erg Room.
• Women's Basketball finally had major stumbles this week losing large leads and falling to Iowa and Northwestern to give up their place atop the Big Ten. They did receive good news though with a candidate for an award.
• Swimming and Diving fell to Michigan but received two weekly awards.
• Track and Field competed against Tennessee at home which led to two athletes receiving weekly awards. They then headed to the Volunteer State and competed in Nashville in the Vanderbilt Invitational.
• Men's Tennis beat Ball State and Memphis.
• Wrestling lost to Illinois and Northwestern.
Thanks for your continued support for The Assembly Call. We'll be back next weekend with a new roundup.
Now go enjoy yourself a 6-banner Sunday.
Filed to: