6-Banner Sunday: Indiana's mentality change sparks win over No. 11 Ohio State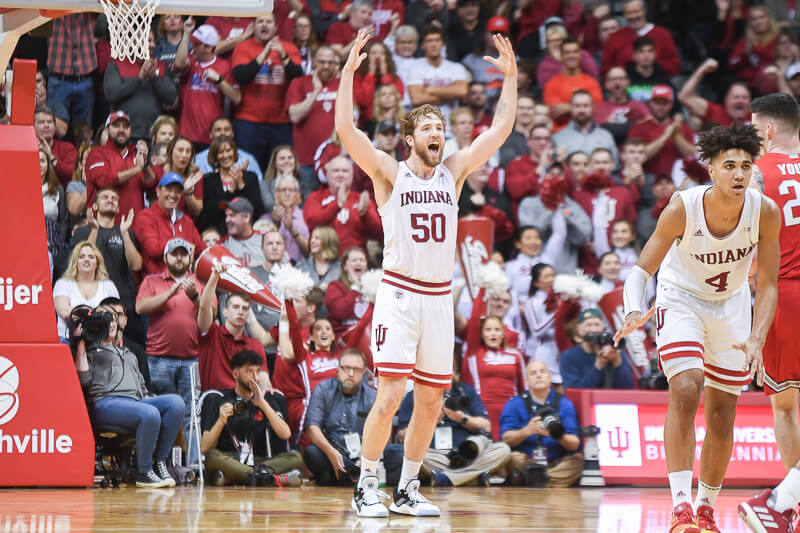 6-Banner Sunday is Inside the Hall's weekly newsletter in partnership with The Assembly Call. Close to 7,000 Indiana fans receive the newsletter each week. In addition to appearing each week on the site, you can also opt to receive 6-Banner Sunday by email. A form to subscribe via email is available at the bottom of this week's 6-Banner Sunday.
Welcome to another edition of 6-Banner Sunday, a joint production between The Assembly Call and Inside the Hall where we highlight the five most essential IU basketball stories of the past week, plus take a look at how the other IU sports programs are doing.
It was a stressful and, at times, painful week for Indiana basketball. But despite that, the Hoosiers came out of it with two Big Ten victories.
The 66-54 home win over No. 11 Ohio State marks Indiana's best win since knocking off current No. 10 Florida State in December. Add the Ohio State win to a 66-62 victory over Northwestern, and now Indiana is 3-2 in Big Ten play and 13-3 overall.
It was certainly a week of highs and lows for the Hoosiers, but the way it ended should have Indiana fans more optimistic going forward.
In this week's edition:
• Seniors step up when needed
• Indiana goes as Rob Phinisee goes
• Northwestern woes spark change in effort
• Will Bob Knight ever return to Assembly Hall?
• Victor Oladipo announces return to the court
• Hoosier Sports Roundup
Banner #1
Seniors step up when needed
A picture surfaced after the Northwestern game that didn't look good for Devonte Green and De'Ron Davis. While Indiana was making its run in the second half against the Wildcats, the whole IU bench was standing up and cheering, except for Green and Davis.
People questioned where their heads were at, and in certain quotes from Archie Miller after that game about players not being about the team, speculations were made that it was about the two seniors.
But on Saturday, Green and Davis played key roles in the win over Ohio State.
Green looked confident in himself again as he led the team in scoring with 19 points on 5-8 shooting and 2-3 from beyond the arc. Davis only had two points and took just three shots, but when Joey Brunk and Trayce Jackson-Davis were in foul trouble, Davis stepped up and played his most meaningful minutes of the season, helping contain the Wesson brothers to limited second-half scoring.
More importantly, the two looked engaged on the floor and on the bench, standing up and cheering and chest jumping their teammates when good things happened.
Banner #2
Indiana goes as Rob Phinisee goes
Rob Phinisee has yet to get fully healthy this season, but he's shown flashes of how important he is to this team.
On this week's edition of Podcast on the Brink, there was a segment that talked about the stability Phinisee brings to the floor and the necessity he is for the Hoosiers.
His performance against Ohio State solidified those sentiments. Phinisee started the game 3-3 from the 3-point line, sparking Indiana from the start. He finished the game with 13 points on 5-12 shooting, which is the most shots he's taken in a game this season. This was also Phinisee's first start, and he played the most minutes he has played this season at 29.
Because of his stellar performance, Phinisee received the game ball on the Assembly Call IU-Ohio State Postgame Show. The more aggressive Phinisee is, the better the result for the Hoosiers.
Banner #3
Northwestern woes spark change in effort
Despite the excitement from the Ohio State game, Indiana's week started out poorly with a lackadaisical performance against Northwestern on Wednesday.
Indiana showed toughness when they trailed by 10 with 10 minutes go, and made a comeback to get the victory, but a majority of that game was met with minimal effort and energy against one of the Big Ten's bottom-feeders.
After the game, it seemed like Miller was fed up, claiming that he might shorten the 11-man rotation if guys aren't going to give it their all. How the rotation will shake out was a big topic discussed leading up to Saturday, including on this week's edition of Assembly Call Radio.
Miller said Indiana needed to punch through a wall to break through their struggles, and it seemed like the Northwestern game woke the Hoosiers up. The rotation wasn't altered too much, but everyone was alive and engaged for Ohio State.
Indiana may have finally punched through that wall.
Banner #4
Will Bob Knight ever return to Assembly Hall?
Unsubstantiated rumors swirled that Bob Knight was going to be in Assembly Hall for the Ohio State game yesterday. It would've marked Knight's first appearance in the venue since he was fired in 2000.
Knight was not in attendance (and, to be fair, never indicated he would be), but his recent move to Bloomington and other public appearances still leave Hoosier fans hopeful that he will come back.
Inside the Hall writer Cameron Drummond wrote about the potential of Knight returning and how some people believe it is important to mend that previously burned bridge.
In the article, ESPN commentators Seth Greenberg and LaPhonso Ellis gave their input on the matter, talking about Knight's greatness and how it would be great for the community and program to have him back in the arena he hung three banners in.
"You can bring all the factions together and be one Indiana," Greenberg said. "I think that makes sense."
Banner #5
Victor Oladipo announces return to the court
After rupturing his quad last January, Indiana Pacers star Victor Oladipo has gone over a year since playing in an NBA game. But the wait to see the former Hoosier take the floor is almost over.
Oladipo made a video announcing his return to the court, which will be at home on Jan. 29 against the Chicago Bulls. The Pacers are currently sixth in the Eastern Conference with a 24-15 record, and Oladipo's return will only better their chances to compete in the East.
"That could change. That might not change. Who knows?" Oladipo told Stadium in a video published Wednesday. "It's definitely good to have something to look forward to, especially after 12 months of wondering."
A few weeks ago, Oladipo was assigned to the Fort Wayne Mad Ants, the Pacers' G-League affiliate, to practice with contact and get adjusted to game-speed. But now, he is back practicing with the Pacers and hopes to return in three weeks.
"I'm way stronger now than I was before, especially mentally," Oladipo told Stadium. "I just feel like nothing can faze me; I've been through the worst. My better days lie ahead."
And in other Hoosiers-in-the-pros news … Juwan Morgan scored his NBA points, prompting this celebration from teammate Donovan Mitchell.
Banner #6
Hoosier Sports Roundup
This content was contributed by Aaron Shifron.
Winter sports are now in full swing as classes resume at IU this week. Lots of news both on and away from game competition this week.
• Women's Basketball continued its finest season in program history with victories over Illinois and rival Purdue to remain atop the Big Ten undefeated at 4-0. Also redshirt junior point guard Ali Patberg was named to the midseason Wooden List.
• Swimming and Diving fell to Michigan.
• Wrestling lost to top ranked Iowa.
• Men's Soccer saw both Jack Maher and Simon Waever selected in the MLS SuperDraft.
• Football announced their season opener for next year at Wisconsin has moved up a day from Saturday Sep. 5 to Friday Sep. 4. They also named Nick Sheridan offensive coordinator to replace Kalen DeBoer who left to be the head coach at Fresno State. And another important assistant coach hire was announced as well.
• Women's Soccer added an assistant coach.
• Track and Field announced the passing of former assistant coach Phil Henson who was also an IU assistant professor until his retirement in 2013. He was one of my professors when I was in school in the late 2000's and really enjoyed his class. We pass along our condolences to his family and the IU track community. On a more positive note, the program ranks no. 5 in the country currently according to the USTFCCCA preseason index.        
Thanks for your continued support for The Assembly Call. We'll be back next weekend with a new roundup.
Now go enjoy yourself a 6-banner Sunday.
Filed to: