De'Ron Davis and Devonte Green show the importance of Indiana's seniors in win over Ohio State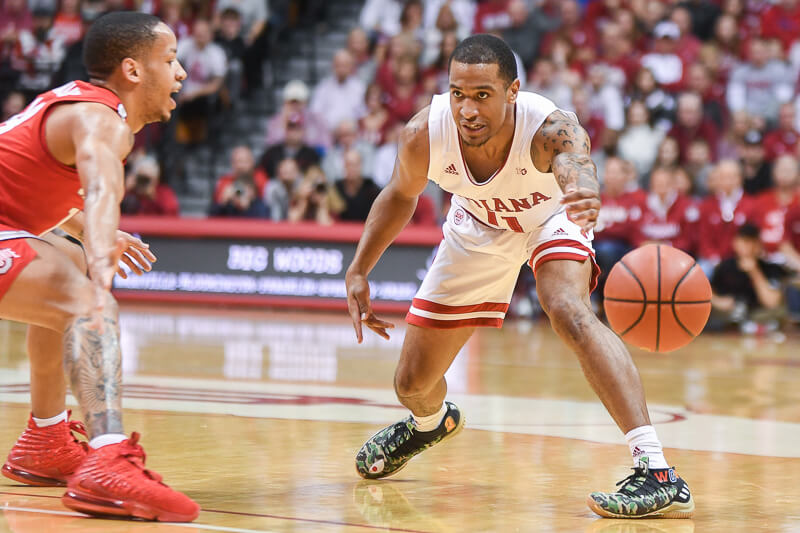 Devonte Green rose above the court, and his teammates followed in lockstep.
The outcome of Saturday's game had already been decided. Indiana was going to win, and did so somewhat comfortably, against No. 11 Ohio State inside a vocal Simon Skjodt Assembly Hall.
It could serve as a defining moment in the 2019-20 season and in the coaching tenure of Archie Miller, with the win coming in response to questions about the team's commitment and the program's direction.
With the win secured, and the criticism silenced at least for a moment, Green put an emphatic stamp on the result.
A breakaway opportunity presented itself, and with the Hoosiers up 10 points on a top-15 team at home, no one would deny Green a moment of exuberance.
He gathered the ball with two hands and lunged up and toward the rim, while those on the Indiana bench behind him did the same.
Nathan Childress, a walk-on freshman forward, leaped the highest, but reserve guard Cooper Bybee and forward Race Thompson were right there with him, celebrating Green's two-handed jam.
The metaphorical hammer fell with Green's dunk, and with it came a joyous end to one of the toughest weeks of his Indiana career.
Wednesday night's home win over Northwestern was accomplished, in part, due to the benching of Green by Archie Miller.
Green's night, which featured an 0-for-6 showing shooting field goals and repeated lackadaisical efforts on defense, came to an end with 11:04 left in the game. He was hurting the Hoosiers with his shot selection and selfish play, and Miller elected to not use him down the stretch against the Wildcats.
Cryptic postgame remarks followed from Miller about certain Indiana players not playing team-oriented basketball, and it wasn't hard to read between the lines.
This prelude, as well as a storm of social media condemnation and a sluggish start against Ohio State (Green went 1-4 from the field in the first half Saturday), made Green's dunk all the more enjoyable.
A week of frustration turned into a celebration of his response.
"I thought he got recommitted to doing things the right way every day," Miller said postgame of Green. "It's not about game day. We just talked about it the other day, you can't practice soft and play hard. For a guy that has a lot of pride in being a good player, I thought he'd taken a notch down on his daily approach to how competitive he is.
"He did a really good job today, and then we just wake up tomorrow and hopefully we're going to see him do a good job tomorrow because it is what it is…When he plays well, we're a different team."
Talk of leadership and accountability on this year's Indiana team usually touches on a few players before winding its way to the team's two seniors.
The calm presence of Rob Phinisee in the backcourt, along with the poise shown by Trayce Jackson-Davis and the savvy of Joey Brunk in the frontcourt, are usually some of the first talking points.
Eventually it leads to Green and forward De'Ron Davis, who are looking to avoid the infamy of becoming the first members of a four-year senior class at Indiana to not make the NCAA tournament since the 1970s.
Both men have had moments in their Indiana careers of being the go-to player for points. One of the defining ones for Green came earlier this year against Florida State.
But those roles aren't consistent. Green came off the bench Saturday, a response to his poor showing against Northwestern, and indicative of the team focus that Miller needs his most prolific scorer to have.
"The game never changes," Green said Saturday. "Some days it's good, some days it's bad. You've just got to bounce back from the bad ones. That was the mindset I had coming into today, to the next day and to every day moving forward. I always want to have a better day than the last, bad or good."
Davis' return to playing key minutes was born more out of necessity than anything else.
With Brunk and Jackson-Davis in foul trouble (both were called for their fourth fouls during the second half) and the fearsome Wesson brothers posing an interior scoring threat for Ohio State, Miller had little option but to deploy Davis.
For Indiana and college basketball at large, the days of the old-school big man are gone. But as Miller has mentioned many times over the last few months, certain matchups and game situations in Big Ten play will force Indiana to not only go big on the court, but do so using the player who typifies the size and strength that used to be cornerstones of the game.
Saturday was one of those occasions.
"I will tell you that De'Ron played key minutes in this game," Miller said.
Davis' unremarkable final stats of two points scored and three rebounds gathered don't jump off the page, but stats for the Wesson brothers in the second half do.
In the second half, Andre Wesson went 1-3 from the field, while Kaleb Wesson went 1-5.
Those struggles were only part of an overall offensive struggle for Ohio State, as the Buckeyes scored just 20 points on 21.4 percent shooting in the second half.
Davis helped cause those numbers though, proving Miller prophetic.
Road tests at Rutgers and Nebraska in the coming week will indicate Indiana's ability to put together consistent conference showings. This applies to the tactical aspect of scoring against a zone defense as much as it does simply bringing the required energy level to the arena each night.
Saturday confirmed that in both pursuits, Indiana needs its seniors to be there.
Filed to: Archie Miller, Deron Davis, Devonte Green