6-Banner Sunday: Armaan Franklin steps up, Fred Glass announces he'll step away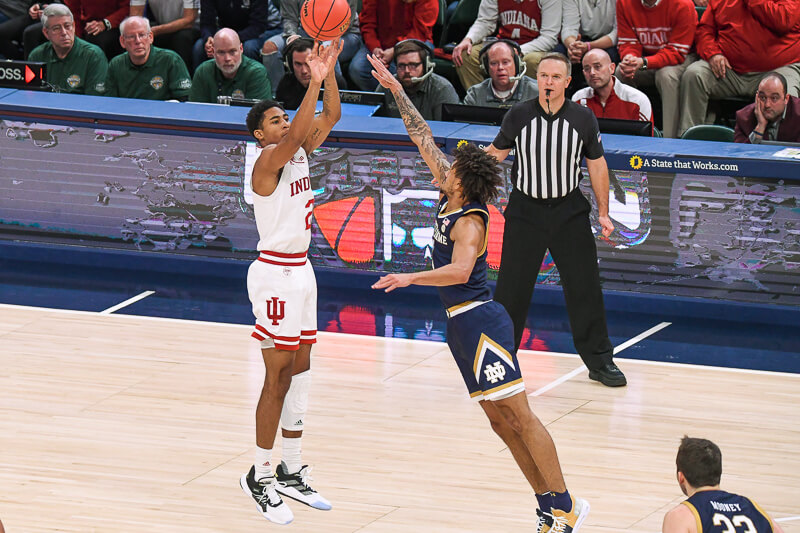 6-Banner Sunday is Inside the Hall's weekly newsletter in partnership with The Assembly Call. More than 6,500 Indiana fans receive the newsletter each week. In addition to appearing each week on the site, you can also opt to receive 6-Banner Sunday by email. A form to subscribe via email is available at the bottom of this week's 6-Banner Sunday.
Welcome to another edition of 6-Banner Sunday, a joint production between The Assembly Call and Inside the Hall where we highlight the five most essential IU basketball stories of the past week, plus take a look at how the other IU sports programs are doing.
Archie Miller's first two Indiana teams won their Crossroads Classic games by three points each. On Saturday against Notre Dame, it looked like IU would finally cruise to a victory … until a second half collapse led to a Fighting Irish comeback.
Luckily for Indiana, Armaan Franklin stepped up to secure a two-point victory.
Indiana's win against the Fighting Irish capped off a week that also featured the announcement that Athletic Director Fred Glass will retire at the end of the academic year (in May 2020), as well as the first NBA points for Romeo Langford.
In this week's edition:
• Armaan Franklin scores career-high 17 points
• Fred Glass announces upcoming retirement
• Highlights from Indiana recruits in action
• Damezi Anderson's sophomore progression
• Hoosiers in the NBA recap
• Hoosier Sports Roundup
Banner #1
Armaan Franklin scores career-high 17 points
Armaan Franklin had hit just four 3-pointers ahead of yesterday's game at Bankers Life Fieldhouse. Then he drained four shots from beyond the arc en route to a career-high 17 points and Hoosier victory.
His last 3-pointer was the game-winner as Indiana trailed by one with 35 seconds left. Trayce Jackson-Davis got the ball in the paint, he kicked it out to Al Durham on the wing, and Durham swung it over to Franklin in the corner, who then rose up and knocked it down.
"Everybody was telling me to keep shooting," Franklin said after the game. "We saw it helped a lot today."
The win improves the Hoosiers to 11-1 on the season with just one nonconference game left against Arkansas on Dec. 29 in Assembly Hall.
In the Assembly Call IU-Notre Dame Postgame Show, Jerod Morris and Ryan Phillips talked about Franklin's performance, as well as how good of a position the Hoosiers are in with their record, despite some of the concerns on the court.
Banner #2
Fred Glass announces upcoming retirement
Following the end of the spring semester, Indiana will have a new athletic director.
On Monday morning, Fred Glass announced his plans to retire from his position as Indiana's athletic director at the end of the academic year, meaning he will see out the 2019-20 men's basketball season before leaving his post.
Glass was appointed IU's athletic director at the start of 2009. While his tenure has featured unquestioned success and growth in sports like men's soccer, women's basketball, and football, along with plenty of renovations to existing athletic facilities and the construction of entirely new ones, Glass' time as AD will always be tied to the performance of the men's basketball program, the flagship athletic team at Indiana.
So far during his time as AD, Indiana has reached the NCAA Tournament four times, advancing as far as the Sweet 16 on three occasions. He was in place for the coaching transition from Tom Crean to Archie Miller, and reflected on where the men's basketball program is now compared to when he started his job during a press conference last Monday afternoon.
Archie Miller, as well as other IU coaches, spoke about Glass' upcoming retirement and his legacy at Indiana.
Miller used his Monday night radio show to specifically mention what Glass has meant to him since Miller was hired in March 2017.
"He cares very deeply about not just our success, but about our progression and where things are going to go," Miller said.
Banner #3
Highlights from Indiana recruits in action
Last weekend's FORUM Tipoff Classic in Indianapolis was an opportunity for Indiana fans and coaches to take an up-close look at some of the most prized recruits in the state of Indiana for the 2020 and 2021 classes.
Bloomington South's Anthony Leal, Evansville Reitz's Khristian Lander, Silver Creek's Trey Kaufman, and Fort Wayne Blackhawk Christian's Caleb Furst were the primary Indiana targets who played in the event, and myself and Dylan Wallace were there inside the Southport Fieldhouse to capture highlights of each of the recruits in action on the court.
Leal, the prolific guard from Bloomington South, was the lone player at the event who is committed to Indiana. Culver Academy guard Trey Galloway was supposed to square off against Leal, but a wrist injury kept him out of the game.
Regardless, Furst impressed with his inside play, Kaufman scored clutch points to carry Silver Creek to a win, and Lander made a series of strong drives to the rim that you can enjoy viewing at the links above.
Banner #4
Damezi Anderson's sophomore progression
Saturday's meeting between Indiana and Notre Dame was also the first opportunity for sophomore Damezi Anderson to play against his hometown team.
Anderson was a four-year starter at Riley High School in South Bend, Indiana, as a youth.
But success hasn't come as easy for him at Indiana as it did during his prep days.
Ahead of the game against Notre Dame, Tom Noie of the South Bend Tribune spoke with Anderson and reflected on his inconsistent freshman season and the way in which Anderson has earned the trust of Indiana coach Archie Miller to play in key game situations, like Anderson did during overtime of the Big Ten win against Nebraska on Dec. 13.
"Beginning of freshman season when I first started practice, that's when I really realized, 'Geez, I've got to get good," Anderson told Noie.
"I couldn't be out here B.S.-ing. I had to grind every day."
Banner #5
Hoosiers in the NBA recap
It was a busy week for Indiana's nine former players who are currently in the NBA, highlighted by Romeo Langford's first points in the NBA.
The Boston Celtic scored his first career NBA points Friday night, recording six points on 3-5 shooting in a home win over the Detroit Pistons. Earlier in the week, Langford made his regular season NBA debut against the Dallas Mavericks after overcoming right knee and right ankle injuries while with both the Celtics and their G League affiliate, the Maine Red Claws.
Elsewhere, OG Anunoby of the Toronto Raptors had two of his highest scoring games of the season this past week, posting 19 points and 18 points in wins for Toronto against Detroit and Washington. Despite not playing in the NBA Finals last season, Anunoby nonetheless became the seventh former IU men's basketball player to be part of a team that won the NBA Finals, and he's now averaging more than 11 points per game and more than 29 minutes per game in the month of December entering Saturday's games.
Meanwhile in Charlotte, power forward Cody Zeller has kept up a stellar pace during the month of December as well. In 10 games, Zeller has recorded nine double-digit scoring games and he's brought down at least five rebounds in each game, as Zeller continues to justify the big-money extension he received back in 2016.

Banner #6
Hoosier Sports Roundup
This content was contributed by Aaron Shifron
Despite a lack of games this week due to final exams, there was no shortage of news off the field. Across the IU Sports spectrum a couple major headlines broke this week.
• In news that affects all sports, Athletic Director Fred Glass announced his retirement effective at the end of the school year.
• Current IU Coaches reflected on the news. Also record setting fundraising was achieved by the Athletic Department as a whole.
• Football was equally prominent in the news this week. Offensive Coordinator Kalen DeBoer moves on to Fresno State to be the head coach there after a highly successful season with the Hoosiers. Also National Signing Day took place this week for the team and they inked a top 50 class.
• Women's Basketball defeated Youngstown State last Sunday as a result of their depth. They next take on UCLA in a top 15 showdown at home.
• Softball signed a top player.
• Women's Soccer saw players honored as did Wrestling and Track and Field.
And The Assembly Call had the chance to interview Yogi Ferrell when the Sacramento Kings visited the Indiana Pacers. Here is video of the interview and story: After stellar IU career, Yogi Ferrell is beating the odds to succeed in NBA.
Thanks for your continued support for The Assembly Call. We'll be back next weekend with a new roundup.
Now go enjoy yourself a 6-banner Sunday.
Filed to: