6-Banner Sunday: No timetable set for Rob Phinisee's return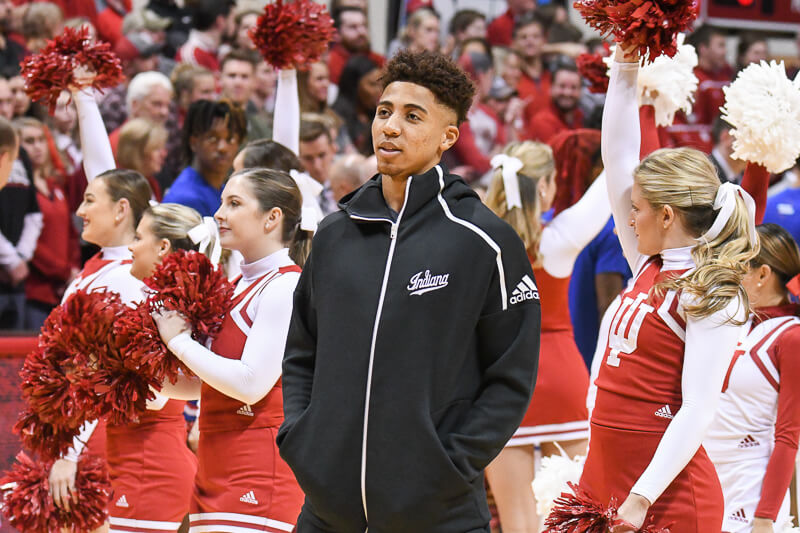 6-Banner Sunday is Inside the Hall's weekly newsletter in partnership with The Assembly Call. More than 6,500 Indiana fans receive the newsletter each week. In addition to appearing each week on the site, you can also opt to receive 6-Banner Sunday by email. A form to subscribe via email is available at the bottom of this week's 6-Banner Sunday.
Welcome to another edition of 6-Banner Sunday, a joint production between The Assembly Call and Inside the Hall where we highlight the five most essential IU basketball stories of the past week, plus take a look at how the other IU sports programs are doing.
While teams like Duke and Kentucky are no longer among the few unbeaten teams left in college basketball (and both took losses in games assumed to be victories), the Indiana Hoosiers are still among that select group.
The past week saw the Hoosiers improve to 7-0 on the season as Archie Miller's team progressed through the final portion of its soft nonconference schedule. Wins against Louisiana Tech and South Dakota State (both without the services of an injured Rob Phinisee) at Simon Skjodt Assembly Hall offered plenty of food for thought for Hoosier fans around the Thanksgiving holiday. And now the Hoosiers' first marquee nonconference game approaches against Florida State on Tuesday night.
Indiana's step up in competition comes right as the rest of the conference finished out its "Feast Week" tournaments against brand-name opponents, and also right after the stars of the future began play as the Indiana boys high school season started up.
In this week's edition:
• Indiana still perfect on the season
• No timetable for Rob Phinisee's return
• A look around the Big Ten
• Indiana boys' high school season begins
• IU legend Kent Benson facing new challenges
• Hoosier Sports Roundup
Banner #1
Indiana still perfect on the season
The Hoosiers matched their best start record-wise since the 2012-13 season by reaching the 7-0 mark this week, although both wins against Louisiana Tech and South Dakota State came with their flaws.
Last Monday's win against the Bulldogs was marred by a sluggish second half performance in which the Indiana offense frequently turned the ball over and couldn't find ways to score.
Saturday night against South Dakota State, Indiana was forced to take a ton of jump shots after the Jackrabbits packed the paint with bodies. Poor free throw shooting also reared its ugly head again, offsetting what had been an impressive start to the season for Indiana from the charity stripe.
Miller has had a chance to work in a nice rotation of players so far this season, and the continued development of Trayce Jackson-Davis, who has four double-doubles this season, puts the Indiana frontcourt among the best in the conference.
The backcourt is a different story for Miller's team though.
"I continue to be concerned about our defense," Miller said after the South Dakota State win. "I think at the end of the day our lack of depth at guard is really going to get exposed as we start to play the talent level and the guards on the other team."
The soft nonconference schedule is done and dusted though, and the first real measuring stick moment for Indiana comes in a few nights.
Banner #2
No timetable for Rob Phinisee's return
Part of Miller's concern with the Indiana frontcourt comes because Rob Phinisee's presence has been lacking so far this season. Phinisee has played in just four games this season, all off the bench, and hasn't played since the Nov. 20 game against Princeton.
"Hopefully we can get Robert back at some point in time. That's undecided right now," Miller said Saturday night. "I have no idea when he's going to."
Miller went on to say Phinisee is "kind of 50/50 on contact, non-contact," but that there is no medical redshirt on the table right now for the sophomore point guard.
With Phinisee sidelined, players like Damezi Anderson and Jerome Hunter have gotten more of a run within Miller's system, but that still doesn't solve the question of what Indiana will look like once all its scholarship players are available, if that scenario even occurs this season.
Banner #3
A look around the Big Ten
Indiana is one of four unbeaten teams left in the conference.
The Hoosiers are joined by Maryland, Michigan, and Ohio State as the lone teams without a loss in the Big Ten, and all four schools are a perfect 7-0.
Not each resume is created equal, though. Michigan just won the Battle 4 Atlantis after blowing out a pair of top-10 teams in North Carolina and Gonzaga en route to the title, setting up a big time nonconference meeting with Louisville on Tuesday night.
Maryland will face Marquette on Sunday afternoon in the finals of the Orlando Invitational, while Ohio State, which already has an impressive win over Villanova on its resume, will face North Carolina later this week in the Big Ten / ACC Challenge.
Iowa's up and down season already includes a blowout home loss to DePaul and a win over a top-15 Texas Tech squad. And Purdue, now 4-3, gave Indiana a preview of an upcoming opponent by losing to Florida State in overtime Saturday night.
All this is to say the Big Ten Conference has quickly become one of parity. League favorite Michigan State already has two losses, teams like Nebraska and Northwestern have separated themselves at the bottom of the conference, while the Hoosiers are still unsure of what they are given the competition they've faced.
Banner #4
Indiana boys' high school season begins
In gyms across the state, the sound of squeaking sneakers once again filled the air as the Indiana boys' high school season started back up.
Plenty of Hoosier targets in the Class of 2021, as well as signees in the Class of 2020, began their new high school seasons this past week.
Among Class of 2020 commits, Culver Academies guard Trey Galloway opened the season with a 29-point outing against Indianapolis Homeschool, before dropping 35 points just a day later.
Bloomington South guard Anthony Leal had 18 points Saturday night for the Panthers in a win against New Albany, and he began his season a few days earlier with an impressive stat line of 21 points, 5 assists, 3 steals, and 2 blocks.
When looking at a Class of 2021 prospect, Evansville Reitz point guard Khristian Lander had a big Saturday night himself, tallying 21 points, 7 assists, 6 rebounds, and 3 steals in an 8-point win against Jasper.
Banner #5
IU legend Kent Benson facing new challenges
Known as a 'gentle giant' off the court, former IU basketball star Kent Benson is now in need of help.
In a touching article written by Dana Hunsinger Benbow of The Indianapolis Star, Benson's recent trials and tribulations, many of them related to the health of his loved ones, are detailed.
Benson's longtime girlfriend, Ann, has been hospitalized with cancer, while his younger brother, Kim, recently died after a blood clot in his lung made its way to his heart.
These are only two of the sorrowful events explained by Benbow that have affected Benson, now 64 years old.
Benson is well known to those who follow basketball in Indiana. He was the state's Mr. Basketball in 1973 out of New Castle, and played an integral role on Indiana's undefeated 1976 team before becoming the No. 1 overall pick in the 1977 NBA Draft.
But Benbow describes a difficult journey for Benson after his playing career, one featuring financial struggles and now family health challenges.
The story not only brought attention to fundraisers already in existence to help Benson, but it also led to the creation of new ones as Indiana basketball fans from around the world rally to help one of the all-time greats.
Banner #6
Hoosier Sports Roundup
This content was contributed by Aaron Shifron.
This week was arguably the most successful one this calendar year from an IU sports perspective as the Bucket was won back in a heart stopping game, Men's Soccer advanced in NCAA Tournament, and Women's Basketball pulled off arguably their biggest win in program history. If this was not enough, I did an interview with recent former Hoosier star and now NBA player Juwan Morgan.
Former Hoosier Juwan Morgan did an exclusive interview with The Assembly Call earlier this week. This story and interview can be seen here.
• Football won back the Old Oaken Bucket in a thriller in OT for their first eight win season since 1993. Away from the field offensive coordinator Kalen DeBoer continued his pursuit of the Broyles Award for the top assistant as he was named a semi-finalist for the award. Also former defensive lineman Doug Schlereth received the Ford-Kinnick Leadership Award.
• Men's Soccer moved on in NCAA tourney with a win over rival Kentucky thanks to Freshman Victor Bezerra's hat trick. His efforts earned him a CSN Player of the Week Award. The Hoosiers take on UC Santa Barbara at home in Sweet 16.
• Women's Basketball continued its climb up the polls with another week having the highest ranking in school history at no. 17 in AP Poll and 23 in Coaches Poll. IU responded by knocking off traditional power and top 5 team South Carolina . They then fell to No. 2 Baylor. Also sophomore Grace Berger was named Big Ten Player of the Week.
• Volleyball beat Michigan State on senior day before falling to Michigan on the road.
• Men's Swimming took second in a four team Tennessee Invitational featuring all ranked teams. The Women's team was fourth. Meanwhile over at IUPUI, junior Mory Gould posted an NCAA qualifying score. Away from the pool two Hoosiers were named Big Ten Swimmers Of The Week.
• Women's Golf's junior player Priscilla Schmid moved up to no. 20 in the international rankings for Arnold Palmer Cup.
Thanks for your continued support for The Assembly Call. We'll be back next weekend with a new roundup.
Now go enjoy yourself a 6-banner Sunday.
Filed to: