Trend of juxtaposing halves continues in Indiana's win over Louisiana Tech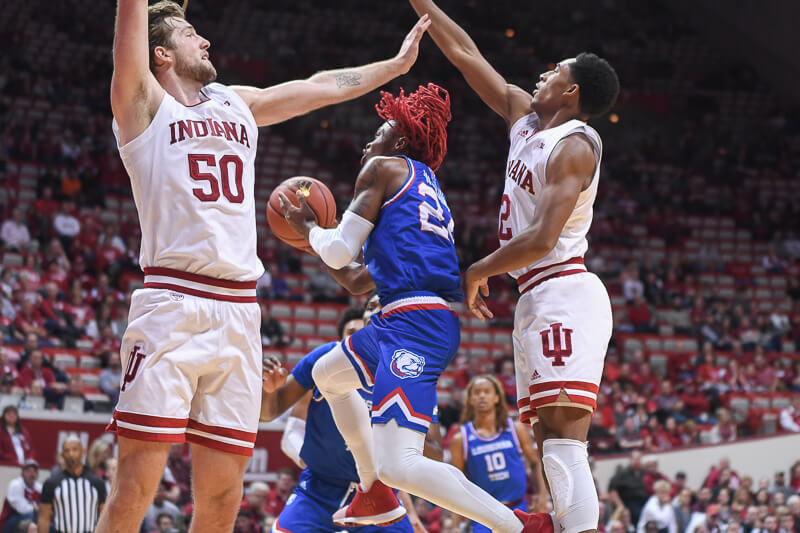 It was a tale of two halves in Indiana's 88-75 victory over Louisiana Tech Monday night.
Typically, IU starts the game slow and makes adjustments in the second half to run away with the game, but Monday was the opposite.
The Hoosiers got out to a hot start, gaining a double digit lead in four and a half minutes. For the most part, their offense and movement was solid as the half went on, but the defense continued to struggle with rotations and getting out to shooters.
With just under five minutes to play in the first half, Al Durham turned the ball over, and Louisiana Tech was out in transition. Guard Derric Jean blew right by Devonte Green as he went to the basket. Joey Brunk and Justin Smith were slow getting back, so Durham rushed to the paint to try and contest Jean, but Jean kicked it to an open Jacolby Pemberton in the corner. Trayce Jackson-Davis sprinted to close out on Pemberton, who swung it over the wing where Amorie Archibald stepped into a wide open 3-pointer that he knocked down while four white jerseys stood cluttered in the paint.
It has been those types of poor transition defense, poor rotations and poor closeouts that have plagued Indiana all season and allowed the Bulldogs to knock down six 3-pointers in the first half.
"Towards the end of the first half we got very sloppy, transition defense-wise, defense in general," Archie Miller said. "And I thought at the end of the first half we didn't play as well."
But Indiana's offense was efficient enough in the first half (61 percent shooting) to keep itself in front by 16. The second half was where things fell apart for the Hoosiers on both ends of the floor.
They turned it over 13 times, shot 32 percent from the field and allowed Louisiana Tech to nearly cut the lead to single digits on a number of occasions.
"Defensively in the second half I think we played out of — we let one thing affect the other," Miller said. "We definitely let our offense and our lack of taking care of it and maybe some of our frustration, we let that carry over to some sloppy transition defense, not communicating, some easy breakdowns and whatnot."
These juxtaposing halves have been the trend for Indiana this season, and this time was the first time the bad half occurred in the final 20 minutes. Monday night was also the first time Indiana's offense looked completely out of sync for that long of a stretch. Despite those offensive struggles, the defense still hasn't improved in the areas Miller wants it to.
He said through six games, the one area of the team that is not a strength is the defense.
Although the Hoosiers are holding opponents to only 32.8 percent from beyond the arc this season, they are allowing a lot of open 3-pointers that just aren't being converted, mainly because of the competition. But in a few weeks' time, those lapses might start to cost them.
According to KenPom, opponents are getting up shots against Indiana in an average of 17.1 seconds per possession. That leaves 13 comfortable seconds on the shot clock for opponents, which has prevented Miller's squad from creating those stifling defensive possessions that he wants them to hang their hat on.
"One thing that we're not where we need to be, I don't think it's going to get there until we get hit in the mouth a few times, but we're not guarding and setting the tone for long stretches," Miller said. "You're seeing very few shot clock violations. You're seeing very few long possessions by the other team. You're seeing quick shots in transition. You're seeing fouls. You're seeing drives that relate to threes."
Louisiana Tech was the first team ranked in the top 100 of KenPom (89) that Indiana has faced this season. After South Dakota State on Saturday, five of the six teams the Hoosiers face in December are ranked in the top 60.
"We're not anywhere near a Big Ten team on defense right now," Miller said. "And do I think we can get there? Yeah, there's some experience things we've got to get done. Rob (Phinisee) helps that cause a lot with another guard in the back court. But we can get there and we're going to get there. It's just going to take some time. And we've got to keep obviously pushing it. It's something we're obviously very aware of right now."
Filed to: Defense, Louisiana Tech Bulldogs