What has Indiana done from 3-point range on offense and defense this season?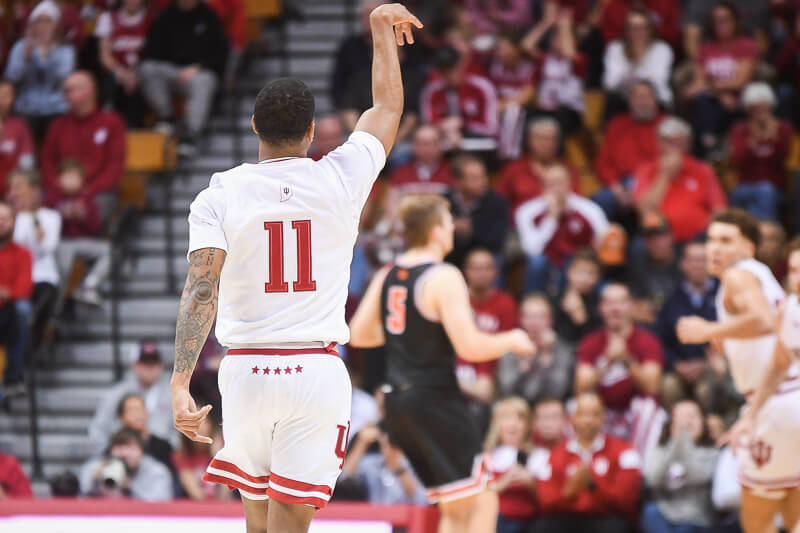 Devonte Green stepped back, swished the shot and sealed it all with a kiss.
As part of a 9-0 scoring run late in the second half of Wednesday night's win over Princeton, Indiana's senior guard splashed in his second 3-pointer of the night, leaving his right arm extended in a follow-through before blowing a kiss into his right hand as he backpedaled.
Green created the space for the shot himself, using two dribbles to briefly drive toward the basket against Princeton sophomore guard Max Johns before shooting from the top of the key.
It was a high-percentage shot by Indiana's most prolific distance shooter.
Increasingly, it's one of the few types of 3-point shots Archie Miller wants his Indiana team to shoot.
All offseason Miller preached the selective approach he wanted Indiana to take to its distance shooting.
Gone are the games featuring isolation heaves from Romeo Langford and Juwan Morgan from last season, and through five games in the 2019-20 season there's also been less of IU's big men taking 3-point shots simply because they're open.
Junior Justin Smith is a prime example, with only seven of his 51 shots coming from deep this season.
So far, when the Hoosiers have shot a three-pointer, it's because they've meant to do so, be it sophomore Damezi Anderson following a good sequence of ball movement or Green using his handle to produce for himself.
"If we take good shots and the guys that are supposed to shoot the threes shoot them, we'll make a good percentage," Miller said Wednesday. "If we take a ton of 3s and a lot of guys (are) shooting them, in my opinion, we won't be a good percentage team."
The numbers back up Miller's assertion.
Indiana averaged 19.31 3-point attempts per game a season ago, and 19.42 attempts per game during the 2017-18 season.
The Hoosiers have averaged 15.8 3-point attempts per game this season.
"If we take good ones, I have no problem with it," Miller said. "But we're clearly a team that aspires to play the break, the movement inside-out, and play off that."
Early-season factors have also dictated that Miller's team focus on playing in the paint more than in years past.
Guards Rob Phinisee (lower abdominal) and Green (hamstring) have both had injury spells, forcing the Hoosiers to rely on the inside presence of Trayce Jackson-Davis.
One of Indiana's projected three-point threats, Jerome Hunter, is continuing to adjust to college action after being sidelined last season.
And Miller's preference for playing Joey Brunk and Jackson-Davis simultaneously in the frontcourt basically eliminates two potential distance shooters for Indiana.
So the recipe has called for significant offensive play around the rim and Indiana has largely stuck to script.
The Hoosiers have outscored four of their first five opponents by at least 18 points in the paint, and the one outlier from this group (an eight-point advantage against North Alabama) was a game in which the Hoosiers attempted 45 foul shots.
Even against unconventional defenses (Princeton trapped Indiana in the post frequently), Indiana hasn't diverted from the plan. The Hoosiers have made a habit of working the ball inside and only taking 3-point shots when they present themselves.
For the season, Indiana has shot 35.4 percent from deep, ranking the Hoosiers near 100th in the country, a jump of more than 200 spots from their final position at the end of last season.
Indiana, along with most other teams in the country given that fact, has been largely unaffected by the introduction of a new 3-point line this season, located at the international basketball distance (22 feet, 1 ¾ inches), more than a foot behind where it was a season ago.
But Indiana's opponents haven't had the same success, and it's not for a lack of trying.
Perimeter defense has been lax from Miller's squad, as the combined forces of Western Illinois, Portland State, North Alabama, Troy and Princeton have averaged 21.2 three-point shots per game.
Part of this is by design. Three of those teams rank 120th or worse in the country in 3-point shooting, and given the composition of Miller's team, he'd rather the Hoosiers use their strengths in the frontcourt to surge past undersized nonconference opponents.
Following next Monday's game against Louisiana Tech, that will no longer be a viable strategy.
Players like Phinisee and Green are Indiana's most active perimeter defenders, willing to pester opponents by staying tight to them. But the first half of the Princeton game still exposed Indiana's weaknesses in transition, allowing Princeton players to take trailing 3-point shots while bigger Indiana lineups lagged behind.
Only four of Princeton's 14 first-half 3-point shots went in, an anomaly for a team that entered the game shooting 31.9 percent from deep.
"If we're giving up threes, we're either not getting back or we're getting beat off the dribble," Miller said. "If we're not getting beat off the dribble, we're getting back and getting set, we should be a tough team to defend the three."
Indiana gave Princeton plenty of chances to keep the game close via the 3-point line.
The Tigers took some of those chances, but squandered most of them.
Against better opposition the Hoosiers likely won't be as lucky, so intrigue remains as to how Miller's team will continue to evolve around the 3-point line on both ends of the court.
Filed to: Princeton Tigers